A vital part of keeping your family healthy is to prepare and consume healthy food. But your attempts to eat healthily can be hampered by using the wrong cookware, crockery, cooking equipment, or food containers.
Both melamine and nylon are very popular kinds of utensils available in the market. Though these two almost look the same, they have some differences also in the case of durability, price, design options, etc.
To decide which are the best utensils for your kitchen, go through this article to the end.
A Quick Comparison Table
Here's a quick comparison table between melamine and nylon utensils so that you can easily decide which one is the best for your everyday use –
| | | |
| --- | --- | --- |
| Specifications | Melamine Utensils | Nylon Utensils |
| Durability | Less | More |
| Flexibility | Less | More |
| Price | Cheaper than Nylon | Cheap |
| Microwave safe | No | No |
| Dishwasher Safe | Yes | Yes |
| Design | More options | Comparatively less than melamine |
Key Differences Between Melamine And Nylon Utensils
Now it's time to break down the major differences between these two in detail –
Durability And Flexibility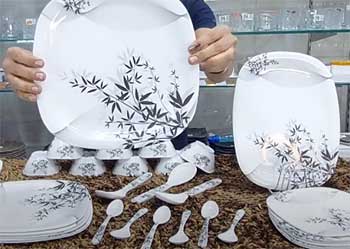 We always look for those products which are durable and long-lasting.
It is important to buy durable utensils for your kitchen because no one wants to deal with a broken utensil while cooking.
If your goal is to buy durable utensils, nylon can be a better option for you.
You will find various types of nylon kitchen accessories in the market, such as spatula, tongs, turners, etc.
Nylon is popular for its sturdiness and durability. It also has a smooth edge, and because of this feature, the nylon spatula does not leave any scratch on the nonstick cookware.
The main problem with melamine utensils is it is easily breakable. Some melamine spatulas are so delicate that they break down with low pressure.
However, several good brands are now producing melamine utensils which are almost as sturdy as nylon utensils.
Another good thing about nylon utensils is that it is flexible. It can handle the pressure impressively.
So, if you are someone who is very clumsy and looking for something which won't break even if you accidentally drop it, you should choose nylon utensils.
We usually buy two types of kitchen utensils. These are- for everyday use and occasional use.
The utensils which we use occasionally are kinda expensive and we do not compromise the quality and design for that. But we tend to go for cheaper options which we use on a daily basis.
Melamine and nylon are both pretty inexpensive materials. Compared to other materials utensils, such as stainless steel, glass, brass, and wood; melamine and nylon are the cheapest options.
Between melamine and nylon, melamine is cheaper than nylon. For example, a single melamine spatula costs around $0.60 to $1.80, whereas a nylon spatula costs $1.10 to $2.15.
This is just an example of a kitchenware brand, but it differs from brand to brand. The price also depends on the design and type of the utensils.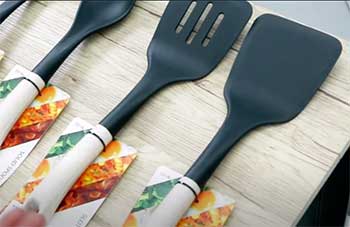 The major disadvantage of melamine and nylon utensils is neither of them is microwave safe.
Nylon is a silk-like material, and it can be melted in high heat.
Although nylon is considered harmless in its natural state, many nylon items have additions that may be dangerous when consumed.
Nylon can be harmful when used in microwaves because it can only endure temperatures of up to 400 °F without melting or degrading. At these temperatures, chemicals may potentially seep into your food.
Melamine is also not designed to tolerate high temperatures or be microwaved, like plastic and nylon, because it can leak chemicals into the food you're eating.
The FDA limits the amount of melamine that is safe to use or can be in a particular product, but the labeling of some of the brands is often misleading.
Chemicals in melamine products that break down or leak into a food can have negative consequences on health, including renal problems in young children.
That's why melamine utensils should not be used in microwaves because of the chemical migration caused by temperature.
For kitchen utensils, be it everyday or occasional use, we always look for the best and most eye-catching designs.
Melamine dishes can be customized to provide a stunning presentation for your meal because they are available in a wide range of colors and patterns.
Melamine dishes will help your food look more appetizing whether you're serving 5-star gourmet meals or just a burger and chips for a snack.
Frequently Asked Question (FAQ)
Are nylon cooking utensils safe?
Up to 400° F, nylon cooking utensils are safe to use. They tend to disintegrate, melt, and contaminate food when exposed to high heat, so it is advisable only to use them occasionally. Avoid extended heat exposure as nylon has a tendency to release hazardous substances into the air.
What is the healthiest material for kitchen utensils?
Teflon, nickel, and plastic are some of the toxins that you should avoid. Food-grade silicone, copper, wood, and stainless steel –are free from toxins and considered to be the healthiest material for kitchen utensils.
Which type of utensils are best for cooking?
Stainless steel, glass, cast iron, brass, bronze, clay pots, etc., are the best type of utensils for cooking. For a spatula, you can also consider wood as it does not give any scratch on the nonstick pan. However, you should avoid aluminum and granite for cooking as these are thyrotoxic materials and bad for your health.
Is nylon safe for nonstick?
Yes, nylon is completely safe for nonstick. Though nylon is sturdier than silicone and melamine, it doesn't leave any scratch on the nonstick, which makes it safe for nonstick.
Final Words
Choosing the right utensils for your kitchen is not an easy task as there are many attractive and cost-effective options available in the market.
That's why you should make the decision carefully and find something durable and safe to use.
Melamine vs. nylon utensils is one of the common topics that we often get confused about while buying utensils. No matter which utensils you've decided to buy, always remember to read the safety guidelines first and use them accordingly.