If you have considered Infinity and Essential windows from Marvin the same thing so far, your knowledge could be different after reading this comparison. Infinity by Marvin is a separate service that provides windows and doors as a replacement for your old installed windows and doors.
However, the Essential windows are newly made windows that can be used as your first option when you build a new house or building. Both belong to the same brand but still come with considerable differences.
A Quick Comparison Table
| | | |
| --- | --- | --- |
| Factors | Marvin Infinity | Marvin Essential |
| Purpose | Works as replacement windows with a totally different adventure | Provides windows for newly constructed houses and doors with new windows and doors |
| Windows Installation Requirements | You have observed significant water damage, Condensation, cosmetic issues, etc. | You have a new property, house, building |
| Offering Windows with Materials | Made only with fiberglass | Made with Wood, Aluminum, and Fiberglass |
| Designs Offerings   | Awning Window, Bay Window, Bow Window, Casement Window, Double Hung Window, Round Top Window, Single Hung Window, Specialty Shape Windows | Essential Casement, Essential Awing, Double Hung, Glider, Picture, Round Top, Single Hung, Specialty Shape Windows |
| Durability | Less durable | More durable |
| Warranties | Limited Lifetime warranty | Up to 10 years of a limited lifetime warranty for interior finish |
| Ensuring Energy Efficiency | Providing energy-efficient windows | Not offering energy-efficient windows |
In-depth Differences Between Marvin Infinity And Essential Windows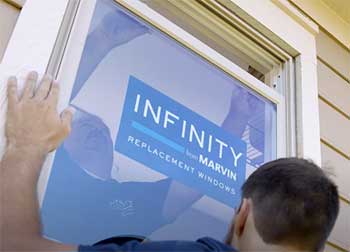 One of the highly significant differences between the Infinity and Essential windows is that the former comes with the purpose of replacement of the old windows.
But the latter comes with pre-made or custom-made window options for your new constructions.
The offerings you will get at Essential are made with durable and robust materials with maintenance-free utility.
But with Infinity, Marvin is making the replacement process of your old window or door as early as possible.
Windows Installation Requirements
At Infinity, you will only contact us when you need to replace your old windows with new Marvin options. These pre-installed windows might go out of use because of water effects, cosmetic issues, climate changes, etc. Let them know, and they'll fix everything.
On the other hand, you can always come to the Essential windows options by Marvin when you need new installation on your new construction.
Offering Windows with Materials
When you ask for a window at Essential, you get windows made with wood, fiberglass, or aluminum. However, the best and highly recommended options are always selecting fiberglass windows from Marvin.
Compared to that, Infinity offers you a complete replacement of your old windows with a new one using only Fiberglass materials.
Being at both the Infinity and essential, you will get a massive selection of designs to bring some new windows inside your home or window. However, at Essential, options like Glider, Round Top, and Picture are unique to offerings provided at Infinity.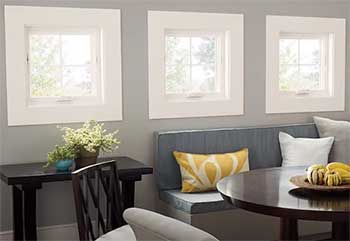 Essential series windows are more durable on the interior as more material is used in their construction.
The good in the long run as well.
But the installation or replacement offered at Infinity may not be as durable as you are considering.
However, it depends on your budget too.
With Infinity, you will get only a limited lifetime warranty on any window or door replacement.
Compared with Infinity, the Essential gives you up to 10 years of a limited lifetime warranty on every single window you bring inside your house.
Ensuring Energy Efficiency
The infinity replacement options provide an additional function of better energy efficiency while replacing windows.
However, you may not find such a feature in the Essential series.
Which Windows Series From Marvin Is Better For You?
Since the brand is the same in both windows series or offerings, choosing either would not make a difference.
You can select from Essential Series Windows both for replacement and new installation on those new constructions. Here is a list of its cool collection!
But with Infinity, you will only be limited to replacing your old windows with new and better ones. So, it's all on you!
Frequently Asked Questions (FAQ)
What Is The Difference Between Marvin Infinity And Essential?
Marvin Infinity offers replacement windows, while the Essential offers new ones for newly developed houses or buildings.
What Are Marvin Infinity Windows Called Now?
The Marvin Infinity windows are called either Integrity Windows or Essential windows these days. But they are totally a different line of business.
Is Marvin Essential A Good Window?
Yes, heavy-duty fiberglass construction and more durability are magnificent windows to consider.
What Is The Top Of The Line Marvin Windows?
Signature Series from Marvin is the top-of-the-line Marvin windows these days.
Final Thoughts
Most people indeed get confused while making a selection between Marvin Infinity and Essential Windows. However, both lines are entirely different from each other.
If replacement is only what you need, you should consider contacting the Marvin Infinity replacement for all types of new window installations.
But when you need to buy some exceptional windows for your new property, choosing the Essential series from Marvin will be the best.