If you're in the market for new windows, two premium brands likely on your radar are Marvin Elevate and Andersen 400 series. Both offer high-end windows made from quality materials, but there are some key differences to consider.
In this comprehensive guide, we'll compare the pros, cons, features, prices and other factors to help you decide whether Marvin Elevate or Andersen 400 is the best choice for your home.
A Brief Comparison Table
| | | |
| --- | --- | --- |
| Feature | Marvin Elevate | Andersen 400 Series |
| Frame Material | Ultrex fiberglass | Fibrex composite |
| Glass Thickness | Thicker | Standard |
| Energy Efficiency | Superior (U-factor as low as 0.16) | Excellent (U-factor as low as 0.25) |
| Styles Available | Casement, awning, double hung, glider, specialty | Casement, double hung, gliding, awning, specialty |
| Warranty Length | 20 years on glass, 10 years overall | 20 years on glass, 10 years overall |
| Price | Higher base price, more custom tiers | Lower base price, consistent pricing |
| Brand Strengths | Maximum efficiency, durability, luxury options | Affordability, broad recognition, smooth operation |
Marvin Elevate Windows Overview
Marvin Elevate windows are built by Marvin, a leading US window manufacturer founded in 1912. The Elevate line is Marvin's most energy efficient and advanced window series.
Some key features and benefits of Elevate windows include: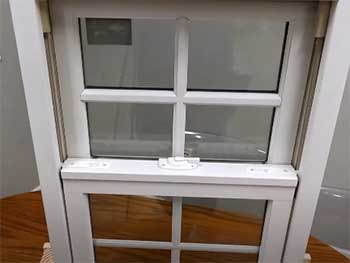 Ultrex fiberglass construction – Durable, long-lasting and low maintenance material. Won't warp, dent or swell like wood or vinyl.
Superior energy efficiency – Elevate windows have an R-value of up to R-7, exceeding ENERGY STAR standards. Multi-chamber frame design improves insulation.
Meets structural DP ratings – Certified to withstand hurricane-force winds and impact.
Variety of styles – Available in casement, awning, double hung, glider and specialty shapes. Lots of customization options.
Built-in Mini Blinds – A nice convenience feature for light filtering and privacy.
Superior glass packages – Options like triple pane, Low E4, laminated and tinted glass provide protection from UV rays, noise, condensation and heat/cold transfer.
Industry-leading warranty – Fully transferable 20-year coverage on glass, and 10 years on manufacturing materials and workmanship.
Overall, Marvin Elevate windows are extremely durable, energy efficient windows built to last decades. They come in many aesthetic styles to match your home's architecture.
Andersen 400 Series Windows Overview
Andersen Windows, established in 1903, is another respected US window manufacturer. The company's 400 Series boasts their best combination of performance and aesthetics.
Here are some of the notable benefits of Andersen 400 Series windows:
Fibrex material – Proprietary composite blend of wood fiber and thermoplastics. Provides strength, stability and low maintenance.
High energy efficiency – 400 Series can achieve U-Factors as low as 0.25, exceeding ENERGY STAR guidelines. Weather-resistant construction improves insulation.
Impact resistant – 400 Series meets the most stringent DP rating standards for coastal/high-wind regions. Laminated glass provides extra protection.
Broad style selection – Many window types and shapes available, including double hung, casement, gliding, awning, specialty windows and more.
Customizable options – Numerous glass, color, hardware and grilles choices allow you to match your home's look and needs.
Limited warranty – 20 years on glass, 10 years on manufacturing materials and workmanship.
Overall, Andersen 400 Series offer very energy efficient, durable and stylish windows available in a huge selection of options. They are backed by over a century of manufacturing experience.
Feature Comparison of Marvin Elevate And Andersen 400 Windows
Now that we've reviewed both window lines, let's directly compare their materials, energy efficiency, warranties, prices and other key factors.
Materials
Marvin Elevate uses Ultrex fiberglass
Andersen 400 Series uses Fibrex composite
Both Fibrex and Ultrex are proprietary materials that combine polymers and fiberglass to create a durable, low maintenance framework.
Ultrex was introduced earlier and has a longer track record, but Fibrex has proven performance as well. The minor differences come down to formulation. Overall, both materials are excellent modern window constructions.
Energy Efficiency
Marvin Elevate: R-7 insulated glass, U-Factors as low as 0.16
Andersen 400 Series: R-6 insulated glass, U-Factors as low as 0.25
Marvin Elevate wins out in terms of maximum energy efficiency with higher R-Values and lower U-Factors. However, Andersen 400 Series still rate very favorably compared to ordinary windows. Unless you live in an extremely cold climate, the difference is moderate.
Glass
Both offer Low E4, triple pane, laminated and tinted glass options.
Both have advanced glazing that provides insulation, UV blocking, solar control and clarity.
Slight edge to Marvin for offering thicker glass, but most won't notice the difference.
It's a close call between Marvin and Andersen when it comes to glass packages. Both use state-of-the-art Low E and triple glazing. Marvin touts thicker glass construction, but Andersen still provides industry-leading insulation and durability.
Styles & Options
Both Marvin and Andersen offer an enormous selection of shapes, styles, colors, hardware and customization choices.
They each provide windows in casement, double hung, awning and specialty styles.
Andersen has a broader tilt-wash double hung model range; Marvin offers more casement varieties.
Overall, the style and option versatility is similar. Both can be configured to match any home design needs.
When it comes to offering different looks, sizes and custom touches, Marvin and Andersen are virtually unparalleled. They offer an endless array of ways to tailor the windows to your aesthetic tastes and architectural needs.
Warranties
The warranties offered by Marvin and Andersen are similar:
Glass Components: 20 years on glass breakage, seal failure and defects from both brands.
Manufacturing: 10 years coverage for material and workmanship defects from both Marvin and Andersen.
Coverage duration: Identical 20/10 protection from both manufacturers.
Transferability: Warranties from both companies transfer to future homeowners and are non-prorated.
Across the board, you get excellent reassurance that these premium windows will hold up for decades without material or manufacturing flaws. It's a wash between Marvin and Andersen when it comes to warranties.
Prices
As premium window brands, both Marvin Elevate and Andersen 400 Series command higher prices than standard vinyl or builder-grade windows. However, there are some differences: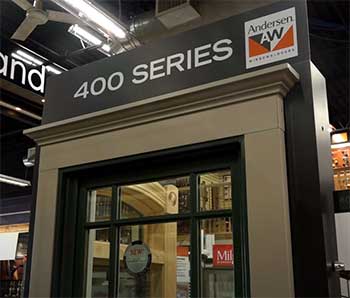 Base prices: Marvin Elevate starts around 25% higher for most standard window sizes.
Range of prices: Elevate has a wider band of prices for different grades and customizations. Andersen pricing is more consistent.
Installation: Andersen includes installation in its pricing, while Marvin installation is often separate.
Overall: You'll generally pay more upfront for Elevate, but have more pricing tiers based on options. Andersen has lower base costs but fewer gradations.
In terms of budget, you'll have more ability to customize with Marvin Elevate, but you often get more baked-in with Andersen 400 pricing. We recommend getting quotes for your exact project specs from each brand.
Which Is Better: Marvin Or Andersen?
With all factors weighed, is there a clear verdict on whether Marvin Elevate or Andersen 400 Series is the better window?
In truth, they are extremely close in terms of features, quality and performance. Both represent the pinnacle of window manufacturing and technology. It's hard to declare one a clear winner.
Here are a few key considerations that may tip the scales in your decision:
Marvin Elevate has a slight edge in maximum energy efficiency. Its thicker glass and lower U-Factors excel in very cold climates.
Andersen Fibrex material costs less than Ultrex while still being highly impact resistant. This can make the 400 Series more affordable.
Marvin offers more custom tiers and upper performance echelons for those wanting max luxury. Andersen provides more consistent baseline prices.
Andersen has strong brand recognition which appeals to many homeowners. Marvin Elevate is less known but has a great reputation in the window industry.
For contemporary or modern aesthetics, Marvin Elevate has some edgier style options to consider.
At the end of the day, Marvin and Andersen are both amazing window lines backed by century-old manufacturers. Focus on finding an authorized dealer in your area with plenty of experience installing either brand. They can help you make the decision based on your budget, climate, home style and needs.
Frequently Asked Questions (FAQ)
Here are answers to some frequently asked questions about Marvin Elevate vs Andersen 400 Series windows:
Is Marvin Windows better than Andersen?
Overall, Marvin Elevate and Andersen 400 Series are extremely comparable. Both make top-tier windows. Marvin has a slight performance advantage for cold climates thanks to better R-Values and glass thickness. But Andersen still offers outstanding efficiency and durability.
Are Marvin Elevate windows good?
Yes, Marvin Elevate are among the best windows money can buy. Their Ultrex fiberglass construction is highly impact resistant while remaining slim and attractive. Elevate windows meet the top certification standards and carry great warranties.
Are Andersen 400 series worth it?
Andersen 400 Series windows justify their higher cost in many ways. The Fibrex material provides great insulation and strength. Andersen tests all 400 Series products to meet tough performance benchmarks while still offering beautiful aesthetics and customizability. For a durable, energy efficient and stylish window, they are worth the investment.
Why is Renewal by Andersen so much more expensive?
Renewal by Andersen is the company's direct sales division focused on full window replacement services. Because the Renewal division handles the entire replacement process in-house rather than going through dealers, they often charge a premium over Andersen's dealer pricing. The convenience and quality control come at a higher cost.
The Bottom Line
Hopefully this detailed comparison has helped you understand the pros, cons, similarities and differences between Marvin Elevate and Andersen 400 Series windows.
Both excellent window lines with slight variances. Work with an experienced local dealer to determine which is right for your home and budget. With either brand, you can feel confident you're getting an elite, energy efficient window built to impress and perform for decades.