So, you want to purchase a Load Trail dump trailer, but where to begin?
We've got you. Choosing the right trailer can get quite confusing given that it's hefty equipment and could easily cause a faulty investment if the features aren't up to the mark.
Thus, to give potential buyers the actual picture, we will elaborate on every feature of Load Trail dump trailers, so you can bag the perfect choice and never have to look back!
Let's dive in.
Features of Load Trail Dump Trailer

There are endless perks of owning a dump trailer, and even better if you own a Load Trail dump trailer! But why? It's time to address what makes Load Trail trailers better than the rest.
So, sit tight and keep reading.
One thing that Load Trail dump trailers win at every time is their available sizes and weight range. Their monstrous trailers can carry enormous weights.
Some of their offerings include 2000 lbs with 72'x10′ for the Beam Frame Single Axle design, 7000-lbs with 83'x16′ for the Beam Frame Tandem Axle design, 14000-lbs with 83'x16′ for the Beam Frame Heavy-Duty Low-Pro design, 21000-lbs with 96'x16′ for the Beam Frame Heavy-Duty design, and the list goes on!
It's safe to say, Load Trail dump trailers have something for everyone and every need, making them unmatchable.
It's no wonder that Load Trail dump trailers have the strongest built. Their raw materials and metals are all grade-A and tested to withstand maximum weights while lasting a long time.
People always keep relying on Load Trail for extensive value-for-money deals, but that's only possible because of the top-tier construction.
However, even with such hefty material build and usage, Load Trail manufacturers don't compromise on the outlook of the dump trailers and bring out the most in them with TGIC polyester gloss powder topcoats and Sherwin-Williams black powdura primer.
Lastly, their finish is long-lasting because they incorporate mechanical and chemical pre-treatment paint adhesion for absolute and unmovable results.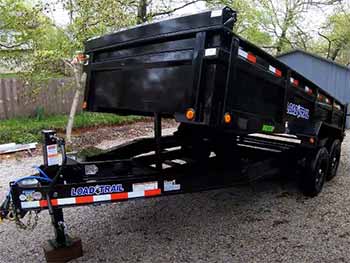 When it comes to dumping trailers, safety shouldn't be a second option.
Luckily, Load Trail is well aware of that and caters to such security rules and features without hesitation.
The Load Trail trailers are built with 7-way plug systems, a front tongue toolbox mechanism, LED lights, and spare tire mounts.
All in all, the electrical and safety features in Load Trail dump trailers are top-notch.
They ensure that riders have a crystal clear view along with ample plug-in and security options laid out around the trailer.
Load Trail dump trailers come with heavy-duty eight-hole wheels and electrical brakes. Those who love quick and fast responses while driving know what these features mean for a dump trailer.
Along with D-ring installations, the trailers also have a three-way gating system and ramp slides.
All such mechanical features bring the most accurate to the dump trailers while ensuring that the users don't have a terrible relocating and driving experience.
First off, Load Trail trailers come in a massive range of seventeen colors, so rest assured, you're not stuck with one cookie-cutter shade of trailer.
However, what attracts users most are the other additional wide range of mix and match options that Load Trail dumps offer. Some of these extensive ranges include 12-V in-line chargers, spare wheel and tire mounts, wireless remote, solid metal extensions, rear supports, mud flaps, 3′-4′ D-rings, and solar panel charging systems.
Furthermore, there are multiple coupler options such as 3′ adjustable pintle rings, 4-hole adjustable pintle rings, 2-5/16′ adjustable couplers, and 4-hole adjustable couplers. Along with the such extension, the axle range is unmissable, too, as Load Trail offers 7000-lb and 5200-lb Dexter 1 Elec/Spring and Dexter 1 Hyd Drum/Spring.
Lastly, the ramp and gate mount options are pretty impressive, too, with their 48′, 36′, and 24′ tall dump side mounting options. Here is a little demo for you!
What Could've Been Better With Load Trail Dump Trailers?
It's a no-brainer that Load Trail dump trailers are unbeatable. However, just like any other product, it has a few setbacks. And it's time to see what they are for better assessment.
Dump trailers, in general, can get quite overloaded over time. Ultimately, the dump trailer gets slower and slower when this overload builds bit by bit. Thus, referring to instruction guides and manuals is better before pushing your dump trailer over the edge.
The Load Trail dump trailers have built-in chargers that need to be plugged in and remain closer to them. Thus, if you park the trailer somewhere far, you must get back before the batteries run out.
It's also an issue for users who don't use the trailers for extended periods.
However, the good news is that the solar panel charging option can rectify that without worry. So, even if you fall back, there are possibilities of emergency charging.
Frequently Asked Questions (FAQ)
Is Load Trail a good trailer?
Load Trail trailers are simply the best options in the market. Their customer services are seamless and unparalleled, with warranties and roadside assistance executions.
Are Load Max and Load Trail the same?
The company produces trailers of two kinds; Load Max and Load Trail. However, to simplify their brand promotion and recognition, the company brought them both under the same name of Load Trail. Max is only used for premium offerings now.
Who owns Load Trail?
Load Trail is owned by Thiessen Corny, who started the company and its operations in 1996.
Are Load Trail trailers powder coated?
All manufactured Load Trails have a Sherwin-Williams powdura powder coating that comes in seventeen shades.
Final Words
So, here are the detailed reviews on the Load Trail dump trailer that everyone's been looking for. We hope you can finally tell the difference between Load Trails and other contenders in the market.
Ultimately, it all boils down to your needs, requirements, and budget.
Once that's sorted, and you splurge after matching the dump trailer's features to your absolute personal must-haves, nothing can go wrong! So, what are you waiting for? Go ahead and splurge confidently!