If you use a washing machine or dryer, you are well acquainted with the amount of wastewater that is excreted once you are done washing.
In order to clean or get rid of wastage, there are plenty of external filter systems that remove the lint and microplastics from washing machine discharge.
But with so many products in the market, which should you get?
Don't worry, here in Lint LUV-r vs Filtrol 160 we will be talking about two such filter systems. So, without any more delay, let us begin.
A Quick Comparison Chart
Before we dive deeper into the comparison between Lint LUV-r and Filtrol 160, let us have a quick glance at this comparison table below. This chart is also effective if you just need a quick overview of the differences between the two products.
| | | |
| --- | --- | --- |
| Criterion | Lint LUV-R | Filtrol 160 |
| Cleaning | Once in three weeks | Once in two weeks |
| Mounting | 16 to 18 inches | Eight Inches |
| Length | 12.75 inch | 15-inch |
| Width | 3.25 | 9 |
| Self-Installation | Present | Absent |
| Overflow Handling | No | Yes |
| Filter | Stainless Steel | Reusable bag |
The In-Depth Differences Between Lint LUV-r and Filtrol 160
We have seen the differences in short, but now it is time for us to go into it in detail. We will be comparing the two products based on various aspects.
It is time to clean the filter bowl once you will see that it is visually obstructed by Lint.
For the Lint LUV-r filter, you will have to clean it once in three weeks.
This timeline is generally applicable for households with four members.
The Filtrol 160 will have to be cleaned once every ten to fifteen days.
If you do not clean the filter, a lot of debris will get clogged, and the wastewater will not be filtered.
This is the activity of placing an object on a supportive foundation so that it is able to best serve its purpose. Both these devices have different mounting specs.
Usually, the Lint LUV-r is mounted sixteen to eighteen inches above the washing machine. The shelf is usually under a table or a shelf. In the Lint LUV-r, an optional mounting bracket is present on a wall.
This is mostly useful if a shelf or a table is not available near the washing machine. 
For the Filtrol 160, it extends about eight inches from the wall when mounted.
The overall length of the Lint LUV-R is 12.75 inches. The overall width, with the fittings, is 10 inches.  The diameter of the filter bowl is 3.25 inches. 
On the other hand, the Filtrol 160 is 15 inches tall, and it is 9 inches wide.
In terms of length, the Filtrol 160 is taller by a good 2.25 inches, but it is a little less wide than the Lint LUV-R.
The importance of these dimensions is reliant on the environment you are using them in. In certain places, for example, a taller filtration system might be more adaptable, whereas in other areas it might not be conducive to the environment.
So, you need to be aware about your surroundings beforehand when making a decision.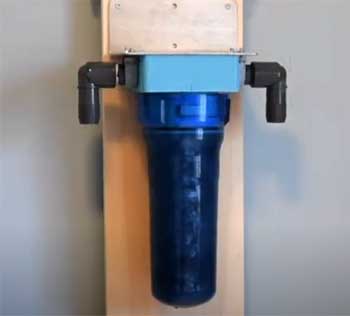 While both the filter systems generally have the same purpose, their filters operate in different ways.
The Lint LUV-R has a stainless-steel filter attached to the system, and it catches microfibers up to 1500.
On the contrary, the Filtrol 160 has a reusable bag filter attached to the system. This catches microfibers at 160.
As you can see, the filter of the Filtrol 160 was designed to catch more microfibers and offers higher efficiency than the Lint LUV-R.
This is particularly because the system is not reusable and is made up of stainless steel. Thus, in other words, we can say that the Filtrol 160 has greater efficiency than the Lint LUV-R.
When it comes to handling the overflow of microfibers/lint, the Filtrol 160 is better equipped to deal with it. The Filtrol 160 is better equipped to deal with pressure than the Lint LUV-R 160.
The bag type capture system of the 160 makes it more efficient in this regard.
The Lint LUV-R has self-installation features that are absent in the Filtrol 160. So that means you can install it at your own convenience, and at your own pace.
As the Filtrol 160 does not have the same feature, it means that you will have to hire a professional to complete the installation.
This will cost you more money, but it is also recommended to do so in case you do not have prior experience in this regard.
Which System Is Right For You?
As you can see, both Lint LUV-R and Filtrol 160 have their set of differences. So, which one you will buy will come down to your set of preferences.
They cost relatively the same, so the decision will primarily come down to their features.
For example: if you prefer your device to have self-installation, it is better to get the LUV-R. Based on the differences we have mentioned in this article, you can evaluate what you prefer, and what you don't.
Frequently Asked Questions (FAQs)
What Happens If I Don't Clean the Filter?
If you don't clean the filter, you will likely experience the following: newer machines will likely stop with flow faults or errors or you will need to run another spin cycle because your washing machine will not have enough time to pump out all of the water during the regular cycle.
A true sign is that your clothes will be excessively wet after the wash cycle and they will take much longer to dry
How Do I Know That the Filter Needs To Be Cleaned?
If you do not do your laundry for a few days, the water that is present in the filter will become stagnant, and it will also produce an unpleasant odor if you remove the filter bowl. 
If you do notice that the filter needs to be cleaned, wait until you have finished doing the first load of laundry before you open the filter bowl.
What Happens if You Do Not Clean the Filter?
If you do not clean the filter, the new machines will most likely stop with flow faults, and you might need to run another spin cycle. This is because the washing machine won't have the time to pump out the water during the regular cycle.
Does the filter have a bypass?
No, the filter does not have a bypass. Having a bypass would defeat the purpose of having a filter. It was designed to handle the increasing pressure, and it won't let lint get into your septic system. Lint won't get in even if you forget to clean the filter.
Final Words
At the end of the day what product you will buy is entirely on you. It depends a lot on you, and your surrounding environment. We recommend doing adequate market research before making your purchase decision.
Both these products are very apt external filtration systems. Even though they are both very capable, it does not mean both will have utility for you.
These are very expensive devices so make a purchase that you do not regret later. We hope this article on Lint LUV-r vs. Filtrol160 will be able to help you to come to a decision.