What are your thoughts on soil optimizers? 
I mean, they can be great options for a healthier lawn. A good quality soil optimizer can help your yard's soil and plants liven up. Going through the Lesco carbon pro-G reviews will give you a clear idea of what you can get from a soil optimizer.
You can go through the review to check out all the features it offers and the drawbacks you may face. So, if you are planning to use soil optimizers for your lawn, this is a great place to start your journey.
Features of The Lesco CarbonPro-G Reviews 
Going through the features of this product will give you a clear idea of how good this works for your lawn. In addition, the features tell you the benefits that you can get from the Lesco CarbonPro-G over other options out there.
Increases The Nutrient Properties Of The Soil 
The soil optimizer, first of all, comes with carbon power. With the carbon element present in the product, you can expect significant interactions with the plant-microbe. 
Also, it helps in processing the soil organically, which maximizes the health and nutrition of the plant.
If I compare it with other nutrient products like humic acid, you get 50 times more effective in this one.
So when you use this optimizer on your lawn soil, you can ensure better nutrient capabilities and production. Undoubtedly, a good alternative to HumiChar.
An increased level of nutrition is always something you would love to have on your lawn, right?
Retains Water For Better Lawn Health 
One of the key reasons for using a soil optimizer is the water retention capability. This means whenever you water the lawn, you can make sure it retains the water for a long time. 
What does it do? Well, it keeps the lawn plants moisturized for a more extended period.
This way, you can ensure better health for your lawn without putting too much effort. It's a great way to minimize water use on your lawn as well. 
So, altogether it works out perfectly if you want to find the easiest way for your lawn maintenance.
The inclusion of biochar also adds to the health value of this product. As they learn more about organic elements, you can rely on the products on your lawn.
Optimizes Different Components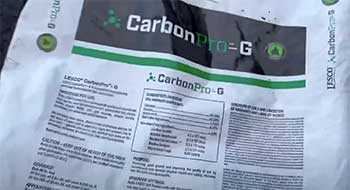 Various components of soil take part in the growth of plants.
Usually, you wouldn't think of optimizing these components, as they aren't widespread to consider. 
However, they have a lot of impact on keeping your lawn healthier because they provide an additional boost to the nutrients in the soil.
Optimizing things like the soil's pH level, the salinity of the ground, and CEC can yield excellent results for you. In addition, they help boost the growth capabilities of the soil of your lawn. 
While you can get the growth from other products, the Lesco CarbonPro-G makes the whole thing even quicker.
Does your lawn turf look done and dusted after going through rough conditions? 
If that's the case, then I recommend using this soil optimizer. It will turn your lawn healthier with turf recovery components used in the product.
And it's not just the turn condition. You will also notice the turf is getting greener. Who doesn't want to make their lawn look greener every day? 
Several ingredients used in this product lead to turning your lawn healthier and greener. So, it not only looks good, it feels good as well.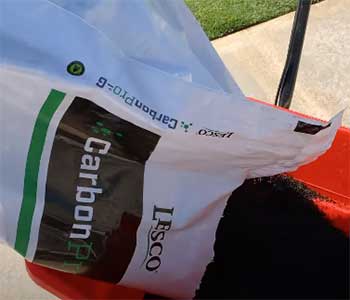 Now, coming to the availability of this thing, all I can say is that you won't have anything to worry about at all.
Whether you are an online shopper or an offline one, you can get the soil optimizer almost everywhere.
First of all, you can easily find these on Amazon. So, there is your one-time solution for getting these products to your doorstep. 
However, if you want to check them out in person, you can probably visit any local fertilizer store and find them there without too much trouble.
Lesco CarbonPro-G is a pretty popular choice for lawn soil optimizers. However, you won't have to look too hard to get your hands on these.
Well, these are the benefits that you get from the soil optimizer. However, it's not just about knowing the benefits when you plan to buy something. 
Especially when you are thinking of using the product on your lawn, you will surely need to know if there are any drawbacks or not. So, let's take a look at that very quickly.
What Could Have Been Better On Lesco Carbonpro-G Soil Optimizer? 
Right off the bat, I have to say. These aren't necessarily disadvantages or drawbacks. They are more like possible improvements for the product. Here are some things that could have been better with this one:
It Doesn't Spread That Well In Some Cases 
One major complaint many people have with this is that it doesn't spread very well. The optimizer tends to get stuck in the middle of the spreading. 
However, it's not something that everyone faces. The product just requires a specific set of spreaders and settings.
Not The Best Option For Every Scenario 
You may find this non-effective or not that effective in some soil types. Nevertheless, this is an excellent choice if you need OM and soil amendment for your lawn. 
But if you take it for a significant color pop in sandy soil, this is genuinely not the option.
I don't think these are deal-breaking issues unless you are genuinely looking for some specific benefits. For example, if you are worried about the health of your lawn and looking for proper maintenance, then this is still worth a try.
Watch this video to understand this product better.
Conclusion
Wrapping up this Lesco CarbonPro-G review, I can say it's a fantastic product you can try out for your lawn maintenance. It comes at an affordable price tag compared to the competition to get a lot of value out of it. 
As for the effectiveness, the results are satisfying for the most part. Altogether, you won't regret trying this one out for your lawn at least once.