Taking care of your lawn isn't as easy as one would think. One of the critical things to choose is lawn fungicide spray vs. granular.
The main difference between the two options is the effectiveness. The spray fungicide starts working on the lawn right away, whereas the granular one is all about a slow process.
Aside from that factor, there are some more differences that you will get to notice between the two choices. To learn about them, you must dig very deep into their comparison. That's what I am bringing you here today.
So, stick till the end to clear out all the confusions you may have about the two fungicide choices.
A Quick Comparison Table
| | | |
| --- | --- | --- |
| Specifications | Lawn Fungicide Granular | Lawn Fungicide Spray |
| Feeding results | Slow process | Immediate |
| Application | Two or three times a year | Need multiple application |
| Safety of use | Very safe to use | Can cause burns on foliage |
| Pricing | Affordable | High price |
Key Differences Between Lawn Fungicide Granular And Spray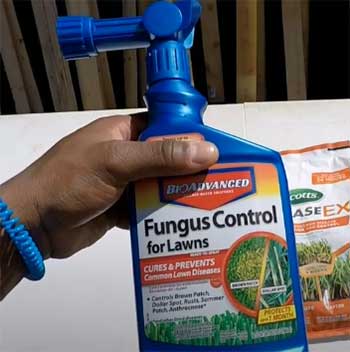 One of the primary differences you see between the granular and spray fungicide for your lawn is their feeding results.
Do you want to see quick results of fungicide on your lawn?
Then, go with the spray fungicides without giving it any second thought. The spray works directly onto the property and gives it nutrients much more effectively.
Also, you can apply the fungicides with spray much faster than granular.
Granular fungicide will take time to give you the same results and effect as the spray method. So, when you use a granular fungicide, you will have to be more patient to get the results.
It's not the best choice if you live in an area with heavy rain. Because by the time you reach excellent results, heavy rain may wash away the granular from your lawn.  
Considering the feeding results, I would always pick the spray method over granular fungicide.
How many times do you have to use the fungicide? A general question to ask yourself when dealing with a lawn fungicide. Depending on the method, the application also varies.
If you are going with spray fungicide, you must apply the solution several times. Because the results are quick, the effectiveness doesn't last long. As a result, you have to use the spray multiple times.
On the other hand, you don't have to use granular that often to get the results. Using the two or three times is more than enough for any lawn.
So, in terms of application, I would say granular is a better pick because you don't need to use them as much as a spray for your lawn. But if you don't mind using the spray multiple times, it is still a thing to try.
Let's face it; no one wants to damage their lawn or cause concern for the safety of their lawn. Before choosing your fungicide option, you will always need to think about whether it's safe to use on your lawn or not.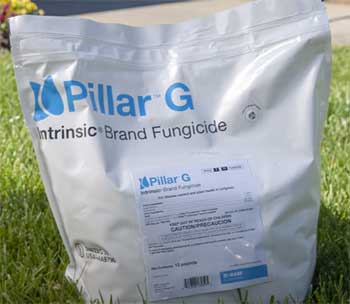 Right off the bat, I can say granular fungicide is the safest option you can take for your lawn care.
It doesn't have any toxic impact on the foliage of your lawn.
Especially if you are following the proper directions from the manufacturers, you shouldn't have any trouble with it at all.
However, you are at many risks regarding the fungicide spray. If you fail to apply the spray fungicide properly, you will end up with burnt foliage on your lawn. So, it's not the safest option for your property.
If you don't want to risk, go with the granular without second thoughts. They are the safest option for you.
Well, the cost of the solution is also a consideration for many people. It always comes down to whether you are okay spending a lot of money on lawn care or prefer saving up some bucks.
Between the two options, granular is a much more affordable and cost-effective way of lawn care. First of all, they don't cost too much initially. But more importantly, you won't have to use the product frequently, so you can save up on them.
In comparison, the spray fungicide is much more expensive. And it becomes costlier when you consider that you will use the solution more frequently.
Which One Is A Better Option For You?
The most challenging part is that you can't find a clear winner between these two choices. It will always boil down to the factor of what you want out of the solution.
If you want quick results, ease of application, and consistent results, go with the spray fungicide. But pick granular fungicide if you want to save money and the hassle of frequent application.
Frequently Asked Question (FAQ)
Is liquid or granular fungicide better?
Usually, liquid fungicides are much better than granular ones because they are much more effective. Your results are quicker, and your lawn responds better to liquid fungicides.
Can I apply too much fungicide to my lawn?
Yes, you can apply too much fungicide to your lawn. That's why always follow manufacturer instructions.
What is the best treatment for lawn fungus?
The best treatment for your lawn fungus is a liquid fungicide that you can apply using the spray.
When should you spray fungicide on the lawn?
The best time to spray fungicide on your lawn is when you start seeing those brown patches.
Conclusion
In summary, lawn fungicide spray vs. granular is a thing that you have to debate a lot to get the perfect option for you. Typically, it's always better to go with spray as the option.
They are more effective, and you get results faster. It's also the best solution if your lawn is already going through fungus problems. But if you have time and want to save money on lawn care, go with granular. So, it's up to your preference.