Harvesting a number of crops by retaining the perfect productivity doesn't come without an excellent concave installed in a giant famous harvesting machine. That's what you must keep in mind when looking for durable, all-crop, and better-quality concaves in the market.
So, if you are still looking, you might want to know about the Kondex Concaves because they are quite popular and highly used among various farmers.
Their durability and productivity are out of the question because a Concave like KX7 can be used for all types of crops. It works efficiently and doesn't affect the quality of those smaller grains.
However, is there anything you still need to know about the Kondex Concaves? No problem, as we are discussing these concaves in depth in this article. Keep reading.
Extraordinary Features of Kondex Concaves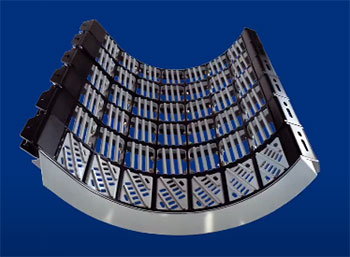 On Kondex Website, you can find two options for these Concaves.
They provide you with the KX7 and Revolution Concaves.
In this article, we'll discuss the KX7 more deeply, but our overall discussion will be general about the features of these concaves.
The KX7 is all purposed harvesting concave whereas the revolution concaves are made for cutting single crops.
Still, the brand provides the following excellent features with its concave options.
Combination With Various Brand Harvesting Machines
One of the best things I like about Kondex Concaves is their compatibility and installation with the number of makes and models.
These concaves can be easily combined with Case IH, Jhon Dheere, Challenger, Massy Ferguson, and Gleaner.
However, people recommend it more for use with the Jhon Dheere combines, and these concaves work just fine for harvesting any crop out there.
Number of Crops Cutting Options With KX7 Concave
Since the revolutionary concaves from Kondex are made for single-crop cutting needs, KX7 is something more.
It's a concave that provides a facility for cutting a variety of crops and providing better grain quality as well as productivity.
The KX7 concave is better for Wheat, Barley, Canola, Lupins, and Oats crop-cutting application.
It is constructed in a way that it can easily handle those smaller grains obtained from these crops especially.
You hardly find Concaves giving you more crop-cutting options in a single unit. That's what Kondex is best at.
The MaxThresh™ and MaxRound™ options are Just Amazing
With these Concaves, you will find more reliable and faster working options. With these, the concaves not only deliver a better thresh but also increase the airflow disruption. It helps in maximizing the capacity of grain.
Besides, you get improved combined productivity and grain-on-grain threshing, which is impossible with any other concave brand or option.
Enjoy the faster and more immediate threshing with your KX7 concave and finish the harvesting and threshing jobs in the minimum time possible.
Lower Power and Fuel Consumption
The improved design and construction of these concaves from Kondex are made in a way that consumes less fuel.
These concaves are also money saviors by using less fuel to cut more crops and thresh more grain.
You won't find any breaks during the work because nothing can stick or be problematic in those perfect-sized grain sections with these concaves.
Improved Cleaning with Zero Plugging
Another great feature you can find with these Kondex Concaves is the improved cleaning they provide while threshing grains.
You won't find crop waste inside the grains because those will be cleaner and threshed perfectly.
In addition, these concaves experience less plugging while working, even if there are highly moisturized conditions.
That's not common with many concaves because they get stuck while they are working under high humidity.
With a KX7 or other Concave from Kondex, you will find significantly improved grain quality no matter what you harvest from the enlisted crops.
Easier and Quicker Installation
Kondex concaves require no effort regarding installation or replacement and work longer.
That's because you pay a huge price for a Concave like KX7 and expect a hassle-free installation. No worries, because you will eventually get it with the Kondex Concaves.
Here is a customer review for you!
Is There Anything that Needed To Be Improved With Kondex Concaves?
Despite knowing the blazing features of these Kondex Concaves, many farmers think that there are things that Kondex needs to focus on while making these products.
Let's take a quick review of those missing that needs improvements.
One of the most prominent problems farmers face while buying these Concaves is their pricing and costs.
A concave like KX7 is highly expensive because it can cost you more than $7000.
That's huge money you pay for a concave like this to enjoy more and better features for various threshing crops.
Still, the company needs to cut down the prices so that even a normal farmer might benefit from the Kondex Concaves. Despite KX7, those Revolutionary ones are also expensive and need a focus.
Not Figuring Out The Right Compatibility
You can find too many options for these Concaves. Sometimes, this availability ends up mixing up the combinations with the KX7 concave.
Consequently, many farmers end up causing severe damage to the crops just because their combination was not right.
However, to deal with this situation, farmers needed to consult the dealers before buying any concave from the brand.
They have pretty good information regarding exact fitting and installation for a specific make and model. So, be sure you buy the right concave for threshing a specific crop.
KX7 concave will serve you better in all conditions. But Kondex has other concaves for single-crop threshing desires.
Last Words
After knowing all about Kondex Concave, we have concluded that if the price can be adjusted, you are just one step away from the most famous and high-quality concaves. Bring your Jhon Dheere harvesting machine and easily combine the Kondex Concaves.
A Concave like KX7 is ready to cut various crops by showing less plugging, better productivity, and profound satisfaction over maximum profit.
After reading this article, I hope you are good to go with your decision. You are always welcome to share your experience with the Kondex Concave.