Ceiling stains have to be treated differently. That's why people use primers like Kilz Upshot and Zinsser Covers Up on them. Both primers are pretty similar but some factors make them different. Base, sheen, tint, and coverage are some of the major differences between them.
Ceilings need different treatments based on the stains and that's where stain-covering primers come in. But should you pick the Kilz primer or the Zinsser one for your ceiling stains? Here's a comparison to help you decide.
A Quick Summary of Comparison
| | | |
| --- | --- | --- |
| Feature | Kilz Upshot | Zinsser Covers Up |
| Base | Oil-based | Acrylic-based |
| Sheen | Shiny | Flat |
| Tint | Yellowish | White |
| Coverage | Thinner, 14-19 sq. ft | Thicker, 16 sq. ft |
Done with the gist? Here's a detailed comparison, let's dig in.
Key Differences Between Kilz Upshot And Zinsser Covers Up
You can already guess how similar both products are. Both are spray cans, have a good reputation, and bring their own attributes to the table.
Differentiating between them is a little hard but not impossible. And that's what this comparison will do.
The major differences between Kilz and Zinsser primers are the base, sheen, tint, and coverage. Let's see how these factors make the primers different.
First things first when you're choosing a stain-covering primer, you have to know what base material it has.
You'll need to use different base primers for different kinds of stains. That's why having a clear idea about primer base is important.
Kilz Upshot is an oil-based primer. That means this is better for water-based stains.
Brown discoloring and pale walls are some common water stains people get on their ceilings.
Zinsser Covers Up is an acrylic-based stain-covering primer.
This makes it suitable for covering both water and oil-based stains. But that's in the paper though, most real-life users recommend using this for water-based stains.
Sheen is a tricky thing to handle when it comes to primers. Since it works as a base for paints, it is better to pick the one that matches your paint sheen.
Kilz upshot is a high-sheen, flashy primer. It is better to pair up with high gloss paints. If you're using it for a repaint or just stain coverage, you should know that the primer will peek through if you pair it with flat paints.
If you leave the primer as is, the primed area will be shinier (and a different color) than the rest of your ceiling. But the good thing is, the shine usually tones down a lot when the primer is dry.
Zinsser is more versatile in this department. It is a flat primer which means you won't have to deal with flashiness. You can pair it with any finish of paint which is a plus.
And if you leave it without painting over it, Zinsser will match better with the rest of your ceiling (but won't be identical).
The most common problem with stain-covering primers is that they usually don't match the paint.
This is a problem because a lot of people prefer to leave it without covering it with paint.
Kilz Upshot is harder to work with because of its odd tint, and Zinsser Covers Up is the opposite.
Kilz Upshot primer dries to a yellowish-white color. It should give your ceiling an aged look, but unfortunately, it isn't gray enough for that.
The primer just hangs there standing out from the rest of the ceiling because of this odd and borderline unblendable yellow-white tint.
Zinsser Covers Up does much better with the tint. The primers dry to a "whiter" white which is pretty universal. It easily blends with most white ceiling paints.
And if it doesn't match completely (which is more common), it stands out less from the rest of the ceiling color.
Coverage is another important factor for stain-covering primers. Most of the time people redo their whole ceilings when they cover up stains in one place. This is because the stain-covered area looks less aged than the rest of the ceiling.
This is why experts recommend doing the whole ceiling so everything looks even and uniform. And when you're covering that much area, you need primers that cover well and save some money too.
Kilz Upshot has a pretty big coverage area. It covers around 14-19 sq. ft depending on how thick your layers are. But this usually gets nullified because of its thinness.
You can cover more area, but you'll have to apply multiple coats there because the primer is pretty thin.
Zinsser Covers Up is the opposite. It is slightly thicker and covers around 16 sq. ft depending on layer thickness. But ultimately this is more efficient because you'll have to apply fewer layers to cover everything.
Which One Should You Choose?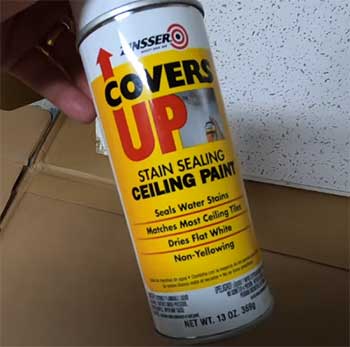 Now that is a hard question to answer.
What stain-covering primer you choose will depend on what kind of stains you have.
But both primers here have a similar base so you'll have to consider other factors before you pick one.
If you want something more affordable and are okay with the primer not matching the paint, Kilz Upshot is a good choice.
You might have to apply multiple coats but the price will nullify that cost.
If you're okay with a little splurging and want something with a universal tint, then Zinsser Covers Up is the best option. You'll need fewer layers, which goes with most paints and peeks through less.
Overall, Zinsser is the better choice here. But if you want something thinner and more affordable, feel free to go for the Kilz Upshot.
Frequently Asked Questions (FAQs)
What is Kilz Upshot used for?
Kilz Upshot is used to cover up any water-based stains. It is also very effective for ink, pencil, and grease marks.
Do you need to paint over Kilz Upshot?
Yes, it is better to paint over Kilz Upshot. But you can also leave it without painting.
Can you use Zinsser on ceilings?
Yes, you can Zinsser on ceilings. This is actually one of the most common uses of Zinsser.
How do you remove Kilz from a ceiling?
You can either scrape it off with a putty knife or you can use chemical paint remover to clean it up.
Final Verdict
Kilz Upshot and Zinsser covers up is a pretty lengthy debate. But in the end, the choice will come down to what stain you want to cover and your personal preferences.
Make sure to consult with an expert before you pick one and you'll be fine.