While cooking, if you see the kitchen knives are not sharpened enough, it's already a no-no situation, right? That's why having a sharpener is a must. The flexibility and comforts you can enjoy if you have a sharpener for tools are unimaginable.
That's why two of the best market sharpeners are Ken Onion and Mk2, which are debatable. Ken Onion has a variety of sharpening angles than Mk2.
Whereas Ken onion has a blade grinding attachment, Mk2 doesn't. There are many other features too. Have a look at them-
A Brief Comparison Table
| | | |
| --- | --- | --- |
| Specifications | Ken Onion Sharpener | Mk2 Sharpener |
| Variety Of Sharpening Angles | Larger | Smaller |
| Belt | Norax belts | Abrasive belts |
| Blade Grinding Attachment | Available | Unavailable |
| Price | Expensive | Affordable |
Key Differences Between Ken Onion And Mk2 Sharpeners
Variety of Sharpening Angles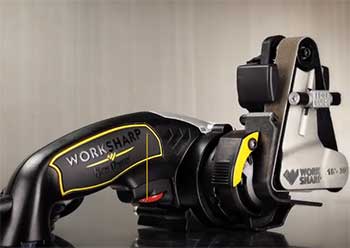 You should aim for an angle when sharpening your kitchen knives that offer a razor-sharp, effortless cutting edge and a sturdy angle that won't degrade after each usage.
So what is the ideal angle?
The best outcomes while making food come from sharpening your blades at a 15 to 20-degree angle recommended by professionals.
A 20-degree angle would be considered on the low end of optimum for pocket or outdoor knives. Sharpness and durability can be traded off well with these angles. We have a wide variety of sharpeners that can be angled this way.
It is probably better to sharpen a knife to a 20-degree angle if you intend to use it for more intricate cutting or chopping. It may be preferable to point a small or medium-sized knife at 15 degrees to benefit from its increased sharpness if you just use it for minor tasks like paring, peeling, or light slicing.
So outdoor or indoor, having a wider variety of sharpening angles will keep you covered in every way. That is why it's recommended by the Ken Onion (KO), which allows anywhere between 15° and 30°.
On another aspect, MK2 allows for 20° and 25°, so it is not ideal for sharpening your medium-sized knife for minor tasks. Otherwise, the 20-degree angle present is adequate to give you sufficient backup.
In contrast to MK.2, which uses the same belts as the MK.1, which are abrasive belts. Ken Onion also uses Norax belts. The Norax belts are more durable.
Additionally, the Ken Onion offers a broader selection of belts so you can move through the sharpening process more precisely.
NORaX blade polishing on a coated backing, polishing belts function like a grinding wheel. A new layer of sharp abrasive is exposed to the work surface as the belt wears, causing the light abrasive particles to be pushed out of the belt.
Longer belt life, incredible cut speeds, and uniform surface quality are produced by continuously replacing dulled abrasive particles. Use caution when grinding/shaping blade steels not to overheat the blade.
Whereas, Abrasive belts are used in the Work Sharp Knife and Tool Sharpener Mk. 2 to sharpen the blades. The belts are 1/2″ wide and 12″ long. The set includes two P80 grit, one P220 grit, and two 6000 grit belts.
Blade Grinding Attachment
Knife shaping, sharpening, and honing chores are the intended uses of the Blade Grinding Attachment. The Work Sharp Blade Grinding Attachment is made of engineered polymers and cast metal parts that are made to withstand the rigors of demanding shaping and sharpening activities.
The Blade Grinding attachment expands the KO available guided angles to 10-35 for even more edge options. That's why it has such wide varieties of an angel, and Mk2 lacks behind it.
The Work Sharp Blade Grinding Attachment is a high-quality, precise machine that knife enthusiasts may use to shape, sharpen, and hone their blades without paying for expensive full-scale blade maker equipment. Its design is comparable to that of the systems used by professional blade makers.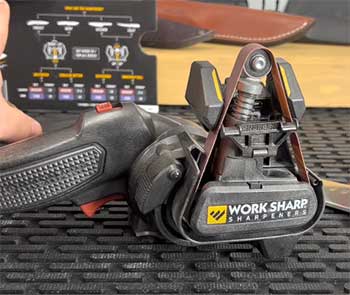 Having a sharpener available at home solves the issues of the hassle of going to a professional every time for sharpening.
That's why we have discussed two of the brands, which are comprised of features that are lucrative enough.
But features can be demanding in terms of pricing.
It's pretty obvious, right?
That's where the renowned brand Ken Onion has beat MK2 as it's more expensive than Mk2. As it has comparatively more features incorporated than Mk2
Well, that doesn't deduct the value of Mk2. As it has different features which are handy in budget. If you want an affordable one, then Mk2 is a great option too to rely upon. It entirely depends on your budget.
Grab accordingly to your preferred features and budget.
Frequently Asked Questions (FAQ)
Is the Ken Onion Work Sharp worth it?
Ken Onion's sharp work is very versatile and ultimately proved to be very much so to its customers. You can adjust the angle of the sharpening edge on the fly, which is one of its lucrative features.
Which Work sharp Sharpener is best?
Ken Onion Elite sharpening system work sharpener is the best compared to the MK2 due to its added feature and capability of being more effective.
What's the best knife sharpener?
There are many work sharpeners available in the market, referred to as the best such as Ken Onion, Chef's Choice Trizor XV, Work Sharp Culinary E2, Idahone Fine Ceramic Sharpening Rod, etc.
Is the Work Sharp worth it?
Work Sharp is undoubtedly worth it as you get a great knife sharpener at an excellent price. This is a helpful tool that ought to operate on a wide range of blades for those who want to maintain their knives.
Conclusion
That's an end for us. Thank you for bearing with us so far. We understand having a knife sharpener will solve half of your problems.
That's why we have tried to create a few differences between the two debatable products available in the market.
I hope the chart that has been created helps you enough just by looking at them. For added questions, we have answered a few FAQs to help you solve your queries.