Between Benchmade 940 and ZT 0450, one is made for function while the other impresses with compactness and style. With seemingly unending options in the carry knives department, a model needs to have certain attributes to capture the crowd's attention.
The two knives in the discussion today have their own perks and cons.
Today, we will assess their designs, actions, and materials to decide which is better for your needs.
A Quick Comparison Table
| | | |
| --- | --- | --- |
| Specifications | Benchmade 940 | ZT 0450 |
| Importance | Generic yet satisfactory performance | All-round performance and good construction |
| Fit and Finish | Good | Good |
| Lockup and Deployment | AXIS lock | Titanium frame lock |
| Style | Minimalistic, function-forward | A sleek, tactical look |
| Ease of carrying | Mini deep carry clip | Standard carry clip |
| Blade and Steel | S30V | CPM-S35VN |
| Materials | Polymer handle | Carbon fiber, titanium Handle |
Key Differences Between Benchmade 940 And ZT 0450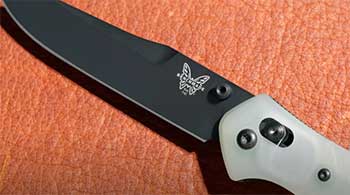 When discussing a knife's importance, we generally mean the influence of the knife in the knife industry.
Alternatively, it might be a collector's desire to collect that knife.
Very few knives offer the perfect balance between high-end and affordable, and ZT 0450 is one of them.
This knife is a great beginner "high-end" budget knife for someone new to the world of knives. Knives that offer ball bearings, titanium, carbon fiber as well as a premium steel blade normally cost about $300.
However, this goes for $100 less and performs significantly better than its pricier counterparts. 
If you have outgrown your budget knife, rest assured, the ZT 0450 will not bore you out.
On the other hand, the Benchmade 940 is a refined, moderate-sized EDC folder hidden in a petite package. That being said, we cannot claim that the Benchmade brings something revolutionary to the table.
We, however, cannot deny the impact of this knife on the community. The Benchmade 940 has made its presence known to the industry ever since it was released.
On Internet communities and forums, the 940 has made a name for being the "Easiest to Suggest" piece for newbie knife lovers.
Need something lightweight, easy to carry, and with a decent warranty? The Benchmade 940 has you covered.
The feel and look of the ZT 0450 are simply incredible. Zero Tolerance precision mills the carbon fiber scale to get the tightest tolerances near the pivot and body screws.
Moreover, this knife comes with KVT ball bearings, a black titanium frame, and anodized barrel spacers.
In simpler words, we love the quality of the ZT 0450.
And despite everything going around about the Benchmade 940, we found the level of finish and consistency of the blade extremely high standard. Centering is impeccable and grinds are even. Part fitment is remarkable. 
Considering Benchmark's warranty, this knife offers amazing value for money.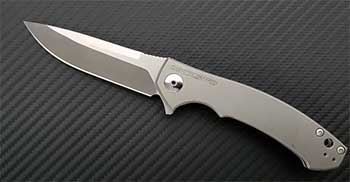 We have no complaints about the 0450's lockup. The titanium frame lock construction is consistent and durable.
Furthermore, the ZT 0450 also comes with a changeable lock bar insert to decrease wear and tear on the lock bar.
Without sounding too dramatic, the lockup here is rock solid.
Speed is key but you must also ensure that the knife does not lock up. One cycle of deploying and closing each second can easily be done with the Benchmade 940. That sort of performance is only comparable to a Spyderco or Compression Lock.
Many people are super conscious about the way their knife looks. While the Zero Tolerance 0450 is by no means an ugly knife, we find that there are more attractive options than this in the market.
It has that sleek, cool look that many crave but in reality, that does not complement a whole lot of fits.
Its tactical appearance fits a certain type of look. If you are carrying it while wearing a shirt and tie, you may feel it draws too much attention.
In contrast, the minimalistic, function-forward design of the Benchmade 940 rarely disappoints. The 3.24" drop point blade aligns perfectly with the handle's dimensions for a near 1:1 blade: handle ratio.
ZT 0450 was made to fit inside a pocket. Its slim profile reinforces this statement. The way the blade and handle are made to reduce the amount of space it consumes inside your pocket so that the knife sits snugly on the pocket's side. 
One issue that we would like to mention is the standard carry pocket clip. It keeps the knife sticking out of your pocket. This is where a deep carry clip works the best. 
Weighing only 1.95 oz., the Benchmade knife will make no noise in your pocket. It fits nicely into athletic shorts, jeans, and more.
Blade steels are always a hot topic in the knife community. Statements have to be made carefully because there are way too many intricacies to the topic. Even so, let's get into it.
We were pleasantly surprised by the performance of the ZT 0450's CPM-S35VN blade steel. Although not the simplest to touch up, it will surely hold up an edge longer than regular blade steels.
We think this blade steel is a good choice for EDC knives in general thanks to how low maintenance they are. The blade's overall shape is great.
Its plain edge, drop-point design makes basic cutting jobs easy. ZT 0450 is more than enough for an everyday carry knife.
On the Benchmade 940, we enjoy the drop point blade entirely from its functionality to aesthetics. A utilitarian knife through and through, the 940 is ready for action anywhere, any time of the day. 
ZT 0450 is constructed of all the right things. The stunning weave on the carbon fiber handle scale looks and feels incredible in your hand. Plus, the blacked-out titanium frame adds a certain sophistication that you don't get with many knives.
We already mentioned how good the CPM-S35VN blade steel is but there is more to the ZT 0450. You would find it difficult to find another knife with such specifications under $200.
The Benchmade 940 packs a punch for its small price. S30V blade steel, polymer handle scales, and lightweight body – there isn't much to dislike about the 940. It's genuinely greater than the accumulation of its parts.
Which Blade Is Better For You?
This is where we have to consider a number of aspects. For instance, someone who wants a knife more for its aesthetic than its functionality would enjoy the Benchmade 940 more.
However, if cutting and functions are considered, the ZT 0450 is unbeatable.
The ZT 0450 is also bulkier than its competition and tends to stick out of your pocket. You will not experience that with the Benchmade 940. Watch this video to understand why.
Collectors buy these knives based on their need for them; some care more about their looks than their cutting prowess.
All in all, we think the answer depends on what you exactly expect of your new knife.
Frequently Asked Question (FAQs)
How old is the Benchmade 940?
Benchmade 940 has been in production for almost 15 years.
Is the Benchmade 940 a medium-sized knife?
Yes, it is a medium-sized knife despite its slim shape.
What is the Benchmade 940 made of?
S30V premium stainless steel.
What is a 940 knife?
The 940 is an everyday carry knife featuring great ergonomics, a slim design, and a lightweight build.
Conclusion
To sum up Benchmade 940 vs. ZT 0450, these knives are at the top of their game and have a good reputation in the market. You should not regret any of their purchases. Consider your budget before making the call.