When looking to purchase a sofa, there are several brands in the market. Joybird and Burrow are two popular furniture brands specializing in providing high-quality sofas for modern homes.
But the components, design, comfort, durability, performance, and expense vary between them.
Both brands have their strengths and weaknesses, making it essential to consider your needs and preferences before making a decision. So, keep reading this comparison article to know which one is better for you.
A Quick Comparison Table
| | | |
| --- | --- | --- |
| Specifications | Joybird Sofa | Burrow Sofa |
| Material | High-end | Average |
| Design | Elegant and innovative | Classic |
| Comfort | Good | Better |
| Durability | 6 to 15 years | Five years |
| Performance | Excellent | Decent |
| Expense | Expensive | Accessible |
Key Differences Between Joybird And Burrow Sofas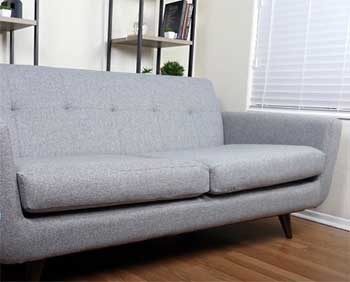 Furniture made with high-end material provides superb finishes and durability in the roughest conditions.
Both brands offer good quality materials.
But Joybird is ahead of Burrow in terms of using high-quality fabrics and natural woods.
The sofas of Joybird are crafted with durable and recycled fibers to resist regular stains from pets and kids.
Moreover, they are effortless to clean.
On the other hand, Burrow sofas are made of olefin fibers and maple and oak wood. Though these are good quality elements, Joybird's choice of material is more quality full and eco-conscious.
So, looking for a high-end material-made sofa? Joybird is a better choice.
Regarding style and design, Joybird offers a wide range of options to match different tastes and preferences. From classic to modern designs, Joybird has a sofa for every style.
They offer custom options for those who want to create a truly unique piece of furniture. Their sofas are made with high-end materials, including premium upholstery and hardwoods, to add a touch of elegance to any room.
On the other side, Burrow has a more minimalist, industrial look with a focus on ease of assembly. They offer a variety of neutral colors, making it easy to match with any decor.
While Joybird's sofas have a more luxurious look, Burrow's focus on functionality and simplicity makes it a great pick for those who want a functional and stylish sofa.
Both Joybird and Burrow place a strong emphasis on comfort. Joybird uses quality materials such as memory foam and down feathers to create a comfortable seating experience.
Their sofas are designed to provide maximum comfort and support. So it becomes a great choice for those who like to lounge and relax.
Burrow's sofas are also designed with comfort in mind. They feature plush cushions and a supportive frame that can help reduce pressure points and provide a comfortable seating experience.
The brand strongly emphasizes ergonomics, ensuring that its sofas are both comfortable and healthy for the body. So, from an overall point of view, Burrow sofas are comfier than Joybird sofas.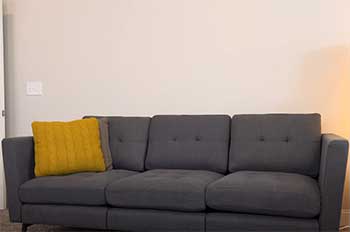 In terms of durability, Joybird and Burrow both offer high-quality products.
Joybird uses premium materials and rigorous testing to ensure that their sofas can withstand everyday wear and tear.
They are built to last at least six to fifteen years to give customers peace of mind.
It is a great investment for those who are unwilling to invest in sofas more often.
Burrow also places a strong emphasis on durability, using materials such as solid wood frames and reinforced joints to create sofas that can withstand heavy use. But, according to consumers, they are less sustainable than the Joybird Sofas.
Performance depends on various factors like the use of material, comfort, sustainability, timeless design, etc. Performance-wise, Joybird holds a better position compared to Burrow.
Moreover, it has better customer satisfaction ratings. With uncompromised material choice, design, and durability, Joybird provides a long-lasting furniture experience.
Conversely, Burrow sofas are more focused on easy assembly and comfort. But, if you compare multiple features, these sofas are decent performers. So, for more long-lasting and better performance, check out the Joybird sofa.
Joybird sofas tend to be more expensive than Burrow due to their focus on custom options and high-end materials. However, the quality and durability of Joybird's products make them a worthwhile investment for customers looking for a long-lasting sofa.
Check out Joybird's official website to have an exact idea about the cost.
Besides, Burrow's sofas are more affordable, making them an excellent choice for customers searching for a comfortable, decent, durable sofa without breaking the bank.
The brand's direct-to-consumer approach cuts out the middleman. It allows them to offer high-quality sofas at an affordable price.
Which Sofa Brand Will Suit You The Most?
At the end of the comparison, I must say the brand choice depends on what you are willing to achieve.
Joybird sofas are much more sustainable, eco-conscious, and overall better performers. The surety of high-quality elements and timelessly elegant design will help you achieve a fantastic outlook in your living room.
Nevertheless, if you want a budget-friendly, more comfortable couch or sofa, Burrow will gratify you in every aspect.
Frequently Asked Questions (FAQ)
Does Joybird have good sofas?
Joybird has been producing excellent quality sofas for an extended period. With high-end materials, modern design, and great endurance, they are one of the best sofa manufacturers in the market.
What is the best quality sofa brand?
Allform sofas are known as the best aggregate sofa brand in the market. In addition, this brand offers luscious sofas at a reasonable price with a guarantee of high-quality materials.
Is the Nomad burrow couch comfortable?
The Nomad burrow couch is a well-padded and comfortable sofa. The use of fluffy cushions makes it very soft and inviting. But, at first sit, you might feel slightly consolidated compared to the sofa standard.
How comfortable are Joybird sleeper sofas?
Joybird sleeper sofas are impressive in terms of comfort. Adding firm support, soft fiber, and foam creates a wonderful sleeping environment with no pain to your body.
Final Thoughts
In conclusion, the choice between Joybird and Burrow sofas ultimately comes down to personal preferences and requirements. Joybird offers a stylish sofa with custom options for consumers who want a unique piece of furniture.
Burrow's focus on comfort and affordability makes it an excellent pick for people with a tight budget. So, both brands have their own ups and downs.
Now, as you have a precise idea about Joybird and Burrow sofas, it's your time to shine. Till next time! Happy shopping.