Jet drum sanders are compact, lightweight, and designed for smaller woodworking workshops. They are effortless to carry and move around.
On the other hand, SuperMax drum sanders are heavy-duty, built for the toughest jobs, and can sand larger woods. But they are difficult to carry.
Drum sanders are now trending in the woodworking community. This machine gives a smooth finish and makes woods look more blended and attractive. But like every machine, you need to pick up the right one.
Here in this article, I will show you the differences between the two best drum sanders.
A Quick Comparison Table
| | | |
| --- | --- | --- |
| Specification | Jet Drum Sander | SuperMax Drum Sander |
| Product Type | Drum Sanders | Drum Sanders |
| Special Feature | Permanently Lubricated Ball Bearings | Intellisand Technology |
| Available Variants | 3 Available Variants | 3 Available Variants |
| Motor Type | TEFC induction | TEFC 1-3/4 |
| Performance | Inferior to SuperMax | Superior Sanding Strength |
| Weight | 256 lbs. | 286 lbs. |
| Warranty | 1-Year Limited Warranty | 2-Year Warranty |
| Price | $1,199.99 to $3,099.99 | $1,549 to $3,199 |
Key Differences Between Jet And SuperMax Drum Sander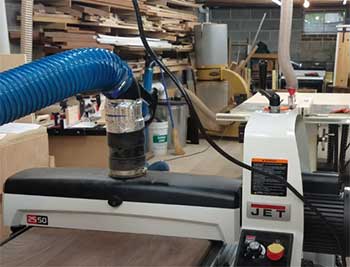 A drum sander is a tool with a cylindrical wheel and abrasive sandpaper mounted on the outer curved surface for sanding woods.
You can sand wood panels and take different grits with this machine.
Jet and SuperMax have drum sanders for woodworking projects.
Using them, you can provide a smooth finish to your wood panels.
Jet drum sanders come with self-cooling drums, and you can easily remove the drum. This drum has sealed and permanently lubricated ball bearings for a smoother and longer operation life.
Besides, you will get a dust hose hanger for easy use.
This machine has a precision-flattened reinforced steel conveyor bed to help glide the wood panels. The integrated on/off switch and speed control knob are conveniently located.
On the other hand, SuperMax drum sanders have Intellisand Technology that automatically adjusts the conveyer speed based on wood panel load. It also protects stocks from gouging, burning, and damage. They also have a self-cooling system.
Heavy-duty cast iron construction makes these drum sanders very rigid and reduces vibration during operation. You will get adjustable tension rollers to eliminate snipes.
Although Jet and SuperMax drum sanders have 3 variants, the variants are different from each other. Jet drum sanders are Benchtop Drum Sander, Drum Sander With Stands, and Drum Sander With Close Stand.
On the contrary, SuperMax drum sanders come as Regular Drum Sanders with Open Stand, Combination of Brush & Drum Sander, and Double Drum Sanders.
You will get similar drum motors from both manufacturers as they have a TEFC induction 1-3/4 motor with 1.3 kW horsepower. But Jet drum sanders have 1725 RMP motor speed, whereas SuperMax drum sanders have 1740 RPM motor speed.
However, Jet drum sanders come with a 25W totally enclosed DC motor. And SuperMax drum sanders have a direct drive DC conveyor motor with 43 lbs. torque.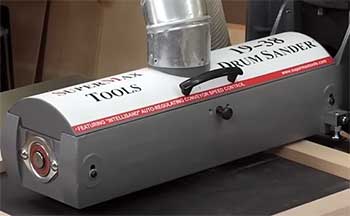 In terms of performance, SuperMax drum sanders are ahead of Jet drum sanders.
They come with simple alignment features and extra-wide conveyors for larger and broader stocks.
So, you will get better results from SuperMax.
Besides, SuperMax has more RPM than Jet. It means the former motor is more powerful than the latter. So, all in all, SuperMax drum sanders are more powerful and offer better performance.
We know from the table that Jet drum sanders are lighter than their counterpart. With 256 lbs., you can carry them more easily to different job sites.
In contrast, SuperMax drum sanders are a bit heavy, with 286 lbs. It's because these machines are made from cast iron and are bigger.
All Jet drum sanders come with 1-year limited warranty. It covers the entire machine and labor.
SuperMax drum sanders have 2 years warranty, covering the machine and labor. So, SuperMax apparently offers a better warranty than Jet.
You can see from the table that SuperMax drum sanders are more expensive than Jet drum sanders. And it should be because they have better build quality than Jet.
Besides, SuperMax drum sanders are larger than Jet, and they have better warranty coverage.
Which Drum Sander Will Be Best For You?
Being compact, Jet drum sanders are suitable for small wood workshops. So, if you have a small workshop or your projects do not require a large machine, you can choose Jet drum sanders.
But if you have a large workshop, you should go for SuperMax.
But my personal preference is SuperMax drum sanders. I wouldn't trade sturdy construction, superior performance, large size, and better warranty coverage for lightweight and easy-to-carry.
Frequently Asked Question (FAQ)
Where are SuperMax drum sanders made?
SuperMax makes large, heavy-duty drum sanders that can sand big woods at a time. It is an American-made machine. SuperMax has its manufacturing plant located in St. Paul, Minnesota. And all its tools are made there, including the drum sanders.
Does Jet own Performax?
Yes. Jet Tools bought the entire Performax from its founder Gary and Donna in the 1990s. It continued manufacturing sanders in Tennessee for the first few years. Then the parent company of Jet Tools, WMH Tool Group, decided to move the manufacturing to Taiwan. So, now the main owner of Performax is WMH Tool Group.
What is better a planer or a drum sander?
A drum sander is better for sanding woods. A planner is much quicker than a drum sander and can quickly remove stock. But a sander is the right tool for sanding, as it delivers a smoother finish to the wood.
Is it worth getting a drum sander?
If you are a woodworker or a homeowner doing woodwork for the home, you need to sand your wood to give it a better finish. In that case, a sander is the better choice for performance and reliability, and it's safer too.
Final Thoughts
Between Jet and SuperMax drum sander, you should pick up SuperMax without any second guessing if you do not have any space issues. SuperMax drum sanders are better than Jets in so many ways.
They are sturdier, will deliver better sanding performance, and you can take on more stocks at a time. So, it's totally worth spending extra money on SuperMax as it offers the best deal.