Hidden doors are becoming popular in newer households. There are two choices of secret doors that people are struggling to choose from these days. It's the InvisiDoor vs. Murphy door competition.
The main difference between the two doors is the collection and popularity. Murphy doors have a more significant collection and have more popularity than InvisiDoor.
You will also see some other features of the doors here and there. To better look into that, I have prepared this in-depth comparison article for you. So, stick with me till the end, and you will know which one is the better pick for you.
A Quick Comparison Table
| | | |
| --- | --- | --- |
| Specifications | Murphy Door | InvisiDoor |
| Collection | Plenty of choices | Very limited |
| Accessibility  | Straightforward | A bit complex |
| Quality | Excellent | Pretty good |
| Popularity | Great | Not that popular |
| Pricing | Reasonable | Affordable |
Key Differences Between InvisiDoor And Murphy Door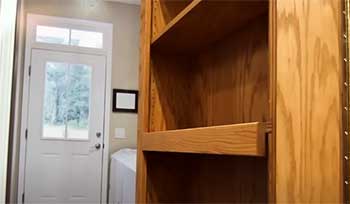 The first difference you will see between the two doors is in the available collection for both of them.
What does collection mean here?
Well, it's simple, the two brands provide different variety of collections.
And if you like choices then you will go with the brand with a more extraordinary collection.
Murphy door tends to come with a lot of choices for you. You get to see a wide range of products from Murphy doors.
With all these choices, you can surely end up with something unique for your home and may even find something specific you might have been looking for.
In comparison, I have to say InvisiDoor isn't the option when you think of various collections. They are pretty limited with the styles and designs they offer in the product line.
So, the Murphy door is the perfect option when you want to go out of the standard choices of hidden doors and get some unique style.
Accessibility is closely related to the availability factor of the doors. Where can you find them makes a big difference in choosing the hidden doors. There is a difference between the two choices regarding the accessibility factor.
Murphy doors are much more accessible because of their website. They are so easy to find. You can visit the website and check out their collection. Then make your purchase from there directly and get it delivered.
They also have the facility to get installation service. Other than that, you can also find them in local stores and online stores like Home Depot, Lowe's, and so forth.
As for the InvisiDoor, you can't find any official website for them. It makes it difficult for you to get an overall look at all the available products from the brand.
You can still find them on some popular online stores such as Home Depot, Lowe's, and other similar stores.
If I talk about ease of finding the products, Murphy door is the perfect pick for you. You can visit their website right from your home and find everything you need to know about the company.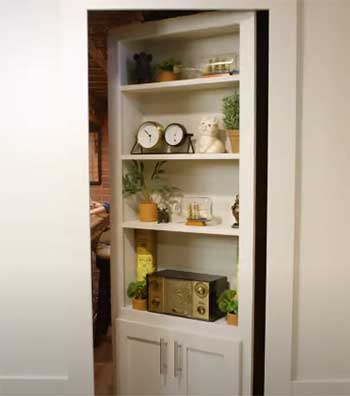 Even though there isn't too much difference between the two companies in terms of quality, it's still a thing you might check out because there is a slight difference that can make or break the deal for you at times.
Starting with Murphy doors' quality, I can only say that they are phenomenal.
They are probably one of the best-hidden doors you can find out there.
The sturdiness and the finishing on the door are just impressive all the way through.
Durability on the doors is also excellent. It's something you can rely on for a more extended period, for sure.
On the other hand, you have InivisiDoor which doesn't have the same kind of durability. The finish is a bit rougher compared to Murphy doors. Even though the difference is very slight, I have to say it can be worth noting.
I would say Murphy doors is the way to go for anyone who wants that little edge over the other choice. They are just a slightly better pick in comparison.
Do you care about popularity? If you do, there is a clear winner between the two choices I have here for you. You can easily decide on the choice without overthinking.
No matter how much you research, Murphy doors will always come out as the winner in terms of the popularity factor. Almost anyone will know right away about the Murphy doors whenever they start looking for hidden doors.
When you search for the best-hidden doors for your home, the Murphy door may sometimes come out right at the top.
In contrast to that, InvisiDoor falls way short in the game. First, you will have difficulty finding the products since they don't have a website. It makes it difficult for many people to know about them in the first place.
The popularity factor also carries the reliability of a product. So, based on that, you can say Murphy doors are also more reliable compared to InvisiDoor.
Pricing is where the InvisiDoor may shine a bit more than the Murphy doors. Before diving deep, I have to say the difference isn't that noticeable. Because it's pretty low, so you may well ignore it.
Still, if you want to save up any money you can, you should go with InvisiDoor. They are a little bit more affordable than the Murphy doors.
Which One Is The Better Pick For You?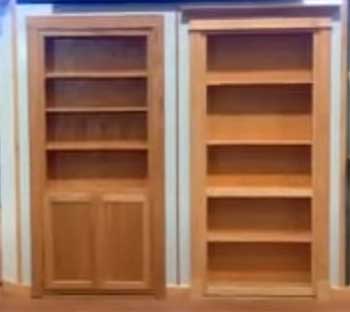 I don't want to go around circles.
Right off the bat, Murphy doors is an overall better pick than InvisiDoors, considering the quality, the popularity, the availability of collection, or the accessibility.
The only reason to pick InvisiDoor over Murphy door may be their little price gap.
You can save up on the money slightly if you go for InvisiDoor.
Frequently Asked Question (FAQ)
What is the purpose of a Murphy door?
The purpose of a Murphy door is to hide the actual doorway to a different room. It can also serve as a secondary storage space.
How much clearance does a Murphy door need?
Typically, if you have a 12″ door, you need a clearance of 5-1/2″.
How do you hide a door bookcase?
First, you have to remove the rear door. Then get a hidden door with a bookcase. Once you get that, you can install the door in place of the actual door. And that should hide the fact that there is another room with a bookcase door.
How do you install Murphy's hidden door?
You have to start with the door jamb first. Place it in the door opening where you want the door to be. Then, install the door jamb using a drill and place it properly. Once that's done, you can simply get the door and install it with the hinges. That's pretty much the basic process of installing the door.
How much does it cost to install a Murphy door?
Depending on your chosen model, the door can cost around $500 to $5000. But for the installation labor cost, you have to add approximately $400 to $600.
How deep can a Murphy door be?
There are different depths you can find for Murphy doors, but usually, they have 8-1/4″ deep in them.
Conclusion
To wrap up, choosing between InvisiDoor and Murphy's door doesn't involve too much confusion. Even though they might be pretty close in terms of quality, in most cases, Murphy door emerges as the winner.
Unless you plan to save up on money, Murphy door is the perfect option for you.