Modern technology has revolutionized different industries worldwide, and that revolution has come to the tiles industry.
These days homeowners are looking for more stylish and colorful tiles instead of the monotonous designs from the past. That's what brings us to the Inkjet printed porcelain tile review today.
Inkjet printed porcelain tiles are the perfect combination of the goodness of porcelain alongside the infinite designing possibilities of inkjet printing.
Below I have discussed the features of this particular type of tile to make it easier to understand the product.
Features Of Inkjet Printed Porcelain Tile

Inkjet printed porcelain tiles have some distinct features that separate them from the rest of the tiles in the market.
Below I have a detailed breakdown of those features. The discussion below should help you decide whether you should get these tiles or not.
Inkjet porcelain tiles are not the most expensive ones on the market, but they are not the cheapest either. So everyone expects a longer lifespan from their investment.
So let me assure you here as Inkjet printed porcelain tiles are one of the longest-lasting tiles out there. I have seen people concerned about the designs wearing off, but that's not the case.
The colored designs are applied before hating the tiles, sort of baking them into the tile.
If you have a previous idea about porcelain tiles, you should know just how durable they are. For the armatures here, porcelain tiles are made of dense natural clay with ground sand and feldspar.
These tiles are fired at a much higher temperature than regular ceramic tiles. This way, all the moisture from the materials gets removed. As a result, porcelain tiles are among the most durable tiles out there.
Inkjet printer porcelain tiles allow you to have all the colors you want on your tiles. Inkjet is a printing technology with different colored heads to paint a tile.
Before, there used to be around four heads with four colors, but since the development of Inkjet technology, you can easily have up to eight colors. This way, users now have access to a wider range of shades for their tiles.
Previously, Inkjet printer porcelain tiles were so expensive, and only a handful of people could afford them for regular household use. But as I mentioned earlier, there has been a drastic change in the pricing sing the Inkjet technology has developed, and more manufacturers have entered the scene.
Now, homeowners can easily afford the inexpensive Inkjet printed porcelain tile options at a lower price.
Faster Production With High Quality
Inkjet printed porcelain tiles have certain benefits for the manufacturers too. For example, the Inkjet technology has significantly reduced the production time of these colorful tiles without compromising the quality at all.
Inkjet tiles have decreased the time spent on preparing the paint,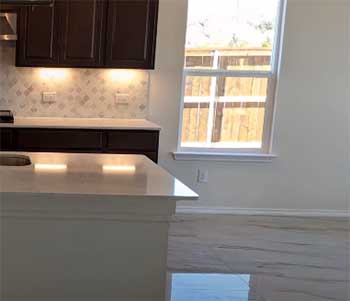 As you might have assumed, access to those varieties of color also means that you can easily get your preferred design on those tiles.
Moreover, Inkjet technology is quite precise, so you'll fall in love with the range of color and the details portrayed on your tiles.
These tiles already replicate the look of stone, and on top of that, you can put out any design on the tiles and showcase your style.
You can easily order your manufacturer to scan a particular image, and they should be able to replicate them on the porcelain tiles.
Another excellent quality of Inkjet printed porcelain tiles is that they have near-zero maintenance. These tiles don't require routine resealing.
As the Inkjet colors go all the way through the porcelain tiles, they don't come out or discolor easily, even without routine maintenance. You can pretty much clean the tiles with regular floor cleaning liquids available on the market.
 In short, these porcelain tiles are eon of the easiest maintenance flooring option available out there.
Available In Different Sizes And Texture
I have talked about the colors and designs before. But have I mentioned the unique texture you can get on these tiles?
With Inkjet technology's magic, you can now get your favorite design on smooth, rough, and any type of textured surface. As far as the size goes, there are no limitations there either.
Whether it's large format tiles for bigger projects or smaller ones for your kitchen or living room, Inkjet printer porcelain tiles are available in every size.
What Could Have Been Better With Inkjet Printed Porcelain Tile?
As you have seen above, there are so many things to compliment about Inkjet printer porcelain tiles. However, there are some minor drawbacks too that you should be aware of.
They should not be deal-breakers, but you should know about them before making any decision.
I have praised a lot about how durable and long-lasting Inkjet printed porcelain tiles are. But that same benefit can be a slight bummer when you cut these tiles.
The materials and manufacturing technique that makes porcelain tiles so strong also make them hard to cut through. Also, there is always a chance of ruining the design underneath if the cuts are improper.
Needs Professional Installation
One minor drawback of these Inkjet porcelain tiles is that they are complicated to install. Though most people get their tiles installed by professionals, you should keep this in mind.
In addition, because of the dense build, porcelain tiles are often tricky to install on the pavement. So, make sure you are getting the tiles installed with professionals with prior experience.
Final Thought
That's a wrap for today. I hope my Inkjet printed porcelain tile reviews helped you to get a better look at this marvelous invention of technology that Inkjet printer tiles are. With these tiles, homeowners won't be limited by the printing capability on their tiles.
Alongside the design aspect, there are other characteristics of regular porcelain that make inkjet porcelain tiles an easy recommendation.