It makes excellent sense when you have considered buying a lawn mower from either Hart or Ryobi brands because both are very famous in the United States.
However, Ryobi always strikes higher because they have more options for these machines, and Hart only comes with a few mowers.
But Ryobi could be a little costly and sometimes even out of budget. But Hart Lawn Mowers are economically perfect. Anyone can decide between these two brands since that person knows the fundamental differences between these mowers.
A Quick Comparison Table
| | | |
| --- | --- | --- |
| Credentials | Hart Lawn Mower | Ryobi Lawn Mower |
| Number Of options available | Up to 8 Lawn Mower options | Up to 20 options are available |
| Tools addition | Less | More |
| Power Details on both sides | 20V, 40V, Brushless   | 40V HP, 80V, 40V HP Whisper Series, ONE+ HP1, ONE+ HP Whisper Series. |
| Noise Leve | High | Low |
| Consumer Demand | Low | High |
| Economic Factor | Less Expensive | Little Expensive |
| Configuration | Push, Self-working, Riding | Walk Behind, Riding, Portable & Hand Held. |
| Warranty | 3 Years warranty on batteries, 5 years warranty on the machine and its parts | 3 Years warranty on batteries, 5 years warranty on the machine and its parts |
Key Differences Between The Hart And Ryobi Lawn Mowers
Number Of Options Available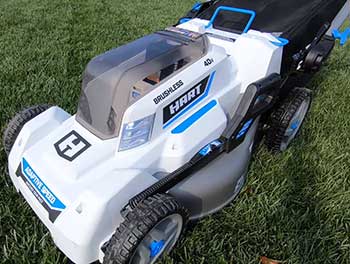 When a customer is presented with only a few options, he cannot decide better.
And that's why you must try to rely on a brand that provides you with multiple options.
It will depend on your budget, the features you are looking for, and the correct specifications you are asking for.
In that case, always refer yourself to the Ryobi Lawn Mowers because they have multiple machines to help you decide which best suits your needs.
You can easily select your desired or budgeted Mower from more than 20 options.
However, you may find a small number of mowers at Hart because they only offer you eight machines.
It makes a difference between the number of machines they have and the options available to you.
Ryobi is always one step ahead in offering you multiple tools that would give additional help in cutting the lawn or doing other chores.
They have a vast collection, and most people admire Ryobi for this.
On the other hand, there will be fewer options for these tools, such as sprayers, combo kits, plumbing tools, and others available at Hart.
It helps you decide which tool you can buy easily from which brand.
Power Details On Both Sides
Both brands have Lawn mowers with varying power options. When considering Hart, you will find mowers with 40V, 20V, and some brushless options.
It means you can only go for a giant model if your needs are more significant with this brand.
But that is certain when you buy from Ryobi, as they have Lawnmowers from 40V to 80V Hp.
It depends on your requirements, and you can always choose a high-power lawn mower from Ryobi.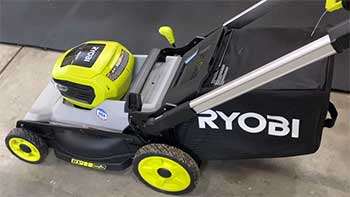 According to some customers, Hart Lawn Mowers make a lot of noise while working in your garden.
At the same time, Ryobi gives you multiple mowers in its whisper series that work quietly and without disturbing you.
Sometimes, having a self-operated mower will keep cutting that lawn from your garden even without your knowledge because it will be less on the noise level.
But I am afraid you won't get the same thing in Hart mowers.
People are more attracted to Ryobi Lawn Mowers than Hart. It is because of high-end durability, better customer support, giant models, and more features and tools. Compared to that, Hart may give you different details in this regard.
It is because Hart products are rated low, and they tend to focus less on the attention of most customers.
Ryobi Lawn mowers are more expensive than Hart mowers, and it's OK because of the added features, durability, and additional value they would provide you otherwise.
However, Hart might be economical if you don't have a Ryobi-level budget.
Both brands sell unique mowers with different ways of using them. Whether you go for Ryobi or Hart, you can have self-operated machines, riding or walking behind.
In that case, you can choose your favorite model depending on the ease and comfort you are looking for.
I'd have to say that there is not much difference between the warranty of these brands' lawnmowers.
You will find their batteries working for almost three years under a safe warranty. Moreover, the comprehensive warranty on a product is of 5 years.
Which Brand Is Better To Get Your Lawn Mower?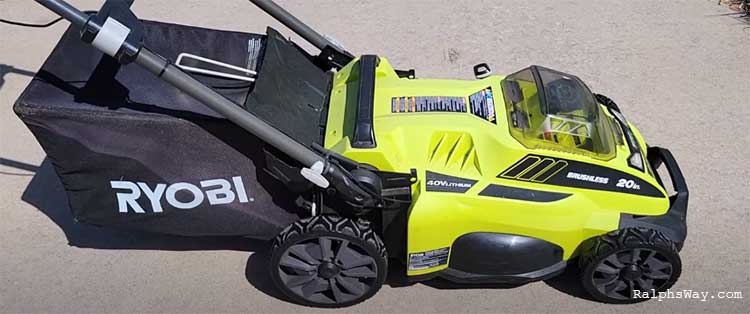 Using a Lawn Mower from Ryobi is far better than having it from Hart. There, you can find a mower with your desired power level.
Plus, they offer you a complete series of more features than you can have on your list.
So, be there to find your deal at Ryobi, and you'll never go disappointed. Yet, I am not saying hart is the wrong brand to consider for these tools. They are less expensive and meet a meager budget.
Frequently Asked Questions (FAQ)
Are Hart And Ryobi The Same?
No, both are different brands selling multiple home improvement tools and machines by meeting one's specific needs and requirements. However, they are made by the same company.
Who Makes Hart Lawn Mowers For Walmart?
TTI makes Hart Lawn mowers for Walmart, the same company that makes mowers for Ryobi and other brands.
Which Lawn Mower Brand Is Most Reliable?
For now, Honda is one of the most reliable brands in the market that makes some exceptional quality and highly feature mowers for all customers.
Does Ryobi Make A Good Mower?
Ryobi is a good brand with multiple positive reviews and hundreds of good experiences. You can always consider Ryobi based on its positive customer rating and the features it gives in these machines. But it might cost you more.
Wrapping Up
It totally depends on you as to which Mower you'd like to choose between Hart and Ryobi lawn mowers. However, my recommendations would still go for Ryobi even if the same company makes both brands' products.
But if you think you are short on budget and still want to cut that extra-grown lawn of your garden, you are most welcome. Hart will meet your specific desires in that regard!