When it comes to cooling and elevating your interior spaces, few home accessories make as big of an impact as a premium ceiling fan. Not only do they keep air circulating for comfort, but stylish ceiling fans can also make a serious decor statement.
Two of the leading high-end ceiling fan brands on the market are Haiku and Minka-Aire. But with their eye-catching designs and innovative features that come at luxury price points, how do you know which one is the better investment?
In this comprehensive guide, we'll compare the key differences between Haiku and Minka-Aire ceiling fans to help you determine which premium brand best fits your needs and budget.
We'll cover factors like design styles, features, technology, performance, noise levels, warranty, smart options, and more so you can weigh the pros and cons. Ready to feel a nice cooling breeze? Let's get started!
A Brief Comparison Table
| | | |
| --- | --- | --- |
| Aspects | Haiku | Minka-Aire |
| Design Styles | Contemporary, minimalist | Huge variety from classic to modern |
| Features | Smart controls, advanced airflow | DC motors, LED lights, wave control |
| Performance | Strong airflow efficiency | Optimal designs for air circulation |
| Noise Levels | Very quiet with SenseME optimization | Ultra-quiet DC motors across all models |
| Smart Options | App control, voice assistants, full home integration | Limited to a few smart models |
| Warranty | Lifetime motor, 2 years overall | 1 year motor and parts (can extend) |
| Costs | $299 – $1,249+ | $150 – $1,200+ (more budget-friendly options) |
Overview of Haiku and Minka-Aire
First, let's get familiar with each of these leading ceiling fan companies.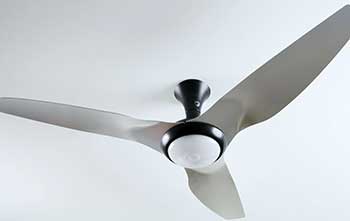 Haiku is manufactured by Big Ass Fans, a U.S.-based company known for their large diameter, industrial-sized fans.
Haiku is their line of residential ceiling fans that combines inspired contemporary designs and innovative technology for whole-home air circulation and comfort.
Minka-Aire is a family-owned U.S. company that has specialized in ceiling fan manufacturing for over 40 years.
They are known for their extensive catalog of elegantly crafted luxury ceiling fans designed to elevate any space.
Key Differences Between Haiku Fan And Minka-Aire Ceiling Fans
While both Haiku and Minka-Aire offer thoughtfully designed premium ceiling fans, there are some key differences when it comes to their styles, features, performance, and overall brands. Let's explore some of the major comparison points in more detail.
Styles and Designs
When investing in a high-end ceiling fan, you'll want one that makes a visual statement and fits your interior decor. Here's an overview of the aesthetics and design styles offered by Haiku and Minka-Aire:
Haiku fans come in a range of contemporary, minimalist looks with lots of models featuring sleek, monochromatic color palettes. Many have industrial touches like metal accents. Most Haiku models have a streamlined, modern vibe that complements contemporary decor.
Minka-Aire offers a much more extensive catalog spanning a wide spectrum of home design aesthetics. Choices range from classic polished wood blades to industrial metal to tropical rattan to ultra-sleek and modern. Minka-Aire has many one-of-a-kind statement pieces.
Winner: Minka-Aire offers vastly more variety in design styles to suit any home's look.
Features and Technology
Beyond aesthetics, premium ceiling fans boast special features and technological innovations that enhance comfort, airflow, convenience and more. Here's an overview of what each brand offers:
Haiku Home ceiling fans are kitted out with a range of proprietary air circulation technologies:
SenseME® technology that allows the fan to automatically adjust speed based on temperature and occupancy sensors.
Whoosh® air mode for an ultra-strong initial burst of cooling.
Home Intelligence integration to control fan via smartphone, Google Home, Amazon Alexa, etc.
Minka-Aire features: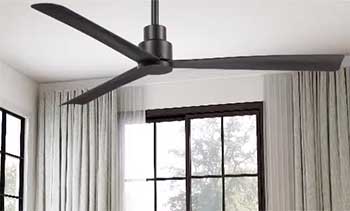 Wave Sense technology that mimics natural breezes with oscillating motors.
DC motor technology on all fans for ultra-quiet operation.
Smart fan control options on select models.
Unique touches like LED uplights and removable blades for easy cleaning.
Winner: Haiku edges out Minka-Aire when it comes to innovative smart features and air circulation technology.
Performance and Efficiency
A key criterion for premium ceiling fans is how well they actually cool you through airflow efficiency and power. Here is how Haiku and Minka-Aire stack up:
Haiku fans tout their patented airfoils and aerodynamic designs that maximize airflow efficiency. Their largest downrod-mounted fans move massive amounts of air and are Energy Star certified.
Minka-Aire uses precision-balanced motors and blades optimized for air movement. Fans are designed for optimal airflow from specific hanging heights and blade spans. DC motors boost efficiency.
Winner: With Smart Mode temperature optimization and industrial-inspired designs, Haiku fans excel at maximum airflow and energy efficiency.
Noise Levels
No one wants an obtrusive roar from overhead ceiling fan blades disrupting their environment. Here's how quiet operation compares:
Haiku fans use sound-dampening materials and aerodynamic blade designs to reduce noise. Models with SenseME technology automatically adjust rotation speeds to maintain near-silent operation.
Minka-Aire manufactures all their fans with virtually silent DC motors for ultra-quiet function. Rotors and hardware are specially engineered to prevent noise-causing vibrations.
Winner: Both brands prioritize quiet operation, but Minka-Aire's use of DC motors across all models gives them the edge.
Smart Options
Smart home integration is an essential feature for today's tech-savvy buyers. Here are the connected ceiling fan offerings from each brand:
Haiku fans work with the Haiku Home app for smartphone control, schedules, mode settings and integrations with smart assistants like Amazon Alexa or Google Home.
Minka-Aire has a handful of app-controlled smart models that work with Google Home, Amazon Alexa and Apple HomeKit. Most of their fans offer more limited remote controls.
Winner: Haiku offers robust smart functionality and integrations across its entire ceiling fan product line.
Warranties and Support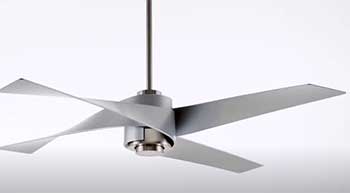 Investing in a premium ceiling fan means you want peace of mind from strong warranties and customer service. Here is the coverage offered:
Haiku warrants fan motors for life and other components for 2 years after purchase. The company has outstanding customer reviews for responsive support services.
Minka-Aire provides a 1-year warranty on motors and parts under normal home use. Extended plans are available. Support reviews are less stellar than Haiku's.
Winner: Haiku provides an industry-leading warranty and widely praised customer service experience.
Costs and Value
With enhanced designs, materials, tech features and airflow power, premium ceiling fans understandably come at higher price points. Here's how Haiku and Minka-Aire compare:
Haiku fans range from $299 for entry level models to $1,249+ for the largest sizes and Smart Series. Pricing is on par or pricier than comparable luxury brands.
Minka-Aire offers more affordable options starting at $150. Most designs are priced from $350 to $700+ with some ornate styles exceeding $1,200. Overall great value.
Winner: Minka-Aire wins for providing gorgeous, quality ceiling fans at more accessible price points than Haiku models.
FAQ About Haiku and Minka-Aire Fans
For more ceiling fan buying guidance, here are answers to some frequently asked questions about Haiku and Minka-Aire models.
Is Minka Aire a good fan brand?
Yes, Minka Aire is highly regarded as a top manufacturer of luxury ceiling fans. They offer gorgeous, quality craftsmanship across a huge array of on-trend designs at accessible price points compared to other premium brands. Minka Aire is a reputable company that has specialized in stylish ceiling fan creation for decades.
Which ceiling fan brand is best?
There is no definitive "best" ceiling fan brand overall. Haiku and Minka Aire are two of the leading high-end brands praised for performance, features and style. For everyday cooling power, Hunter and Casablanca are also excellent mid-range choices. The "best" depends on your budget, design tastes, and feature needs.
Why is Haiku fan so expensive?
Haiku ceiling fans range higher in price because they are manufactured by innovative tech company Big Ass Fans using premium materials and special patented designs focused on maximum airflow efficiency. Haiku fans also have integrated smart home technology for app- and voice-controlled functionality that adds cost. The price reflects their high-tech, high-power ceiling fans.
Are Minka Aire fans noisy?
No – Minka Aire ceiling fans are specially engineered for quiet, disruption-free operation. All their fans use noise-reducing DC motors instead of louder AC motors. They also balance blades and use components designed to prevent excess vibration and sound. This makes Minka Aire an excellent choice if you want a peaceful overhead fan.
Final Verdict
So when it comes to choosing between these two premium ceiling fan brands, which one reigns supreme?
Here are a few key considerations to help you decide which is better for your needs:
If you want max air power and smart integration, Haiku is the leader.
If you value ultra-quiet operation across all models, Minka-Aire excels.
For design variety from modern to classic, Minka-Aire offers endless options.
If your budget is more limited, Minka-Aire's lower price points make luxury fans accessible.
If you want innovative airflow tech and robust connected features, Haiku is unmatched.
For the best value without compromising style or function, Minka-Aire takes the win.
Both Haiku and Minka-Aire make incredible ceiling fans that will instantly elevate your home. Choosing between the two brands ultimately comes down to your priorities – whether that's leading tech, budget value, breadth of styles, quiet performance or smart integration.
Hopefully this detailed comparison has helped you determine which spectacular ceiling fan is right for your needs. Whichever you choose, you can be assured it will keep you comfortable and stylish for years to come.