If you're in the market for a new ceiling fan, you've probably come across the big names like Minka-Aire and Hunter. Both companies make high-quality ceiling fans that come in a variety of designs to fit any decor.
But which brand makes the better ceiling fan?
In this comprehensive guide, we'll compare Minka-Aire and Hunter ceiling fans to help you decide which is best for your needs. We'll look at factors like quality, noise levels, efficiency, smart features, warranties, and more.
A Brief Comparison Table
| | | |
| --- | --- | --- |
| Feature | Minka-Aire | Hunter |
| Quality | Very high-end, premium materials | Good quality with budget-friendly options |
| Noise Level | Extremely quiet operation | Generally quiet but some minor noise in budget models |
| Efficiency | Excellent airflow power | Good airflow, slightly less than Minka-Aire |
| Smart Controls | Models available with WiFi, app control, and voice assistants | Models available with WiFi, app control, and voice assistants |
| Warranty | Lifetime limited on motor, lifetime or 2 years on other parts | Lifetime limited on motor, 1 year on other parts |
| Price Range | $400 – $1000+ | Under $100 – $500 |
| Styles | Contemporary, modern, and trendy | Classic to contemporary, broad range |
Overview of Minka-Aire Ceiling Fans
Minka-Aire is a leading manufacturer of premium ceiling fans founded in 1969. Their fans are known for their innovative designs, quiet performance, durability, and energy efficiency.
Some key things to know about Minka-Aire: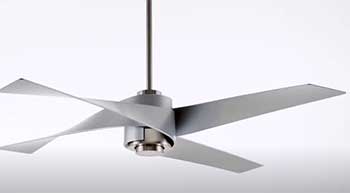 High-end designs – Minka-Aire focuses on stylish, contemporary fan designs using high-quality materials like genuine wood, glass, and metal. They offer a wide selection of blade shapes, sizes, and finishes.
Quiet motors – Their fans use reliable motors engineered for quiet operation. This makes them a great choice for bedrooms and other rooms where noise is a concern.
Smart controls – Many Minka-Aire models are compatible with smart home systems or remote controls for easy ceiling fan control.
Energy efficient – Most of their fans meet ENERGY STAR standards for energy efficiency and have DC motors that use less power.
Excellent warranties – Minka-Aire offers impressive lifetime limited warranties on motors and other components. This shows the durability of their products.
Overview of Hunter Ceiling Fans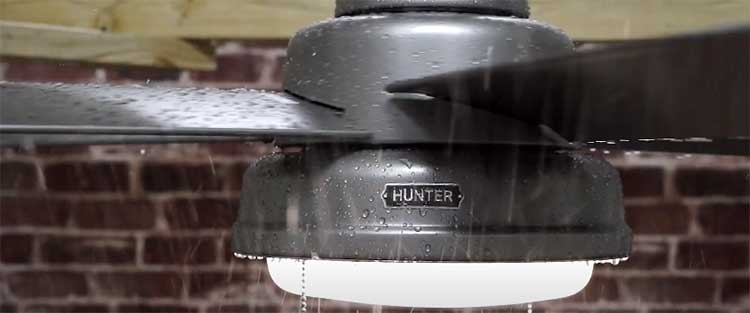 Hunter Fan Company has been manufacturing ceiling fans since 1886. They are known for making dependable, attractive, and affordable fans for residential and commercial use.
Key facts about Hunter ceiling fans:
Broad range of styles – Hunter has a huge selection of fan designs ranging from classic to modern. They offer a style for any decor.
Budget-friendly prices – Hunter fans start at lower price points than Minka-Aire, making them ideal for shoppers on a budget. However, they still make higher-end premium fans too.
WhisperWind motors – These ultra-quiet motors allow their fans to move air without excessive noise. Many models are ideal for bedrooms.
Smart home integration – Many Hunter fans work with smart home platforms like Alexa, Google Home, etc. for voice-activated control.
Energy efficient options – Hunter has ENERGY STAR-rated ceiling fans designed to cut energy costs and save electricity.
Good warranties – Warranties cover motors for lifetime in most models and other components for 1-2 years.
Now that we've covered the basics about each brand, let's compare them across some key factors ceiling fan shoppers care about.
Detailed Comparison of Minka-Aire And Hunter Fans
When it comes to quality and durability, both Minka-Aire and Hunter offer excellent products, but Minka-Aire is viewed as the more premium brand.
Minka-Aire uses high-end materials like solid wood, aircraft-grade metals, and handcrafted glass or shells in their fan designs. This gives their fans a very luxurious, polished look and feel. The materials are built to last for years of reliable use.
Hunter also constructs their fans from quality materials like ABS plastics, steel, aluminum, and wood composites. Their products are made to Hunter's rigorous quality standards and designed to provide years of operation. However, some budget Hunter models may not match the quality of premium Minka-Aire fans.
Overall, Minka-Aire offers exceptionally well-built ceiling fans while Hunter provides plenty of quality options at accessible price points. For shoppers wanting the absolute best in materials and craftsmanship, Minka-Aire is the winner for durability.
A quiet running ceiling fan is essential, especially in bedrooms. You don't want a loud, disruptive fan ruining your rest.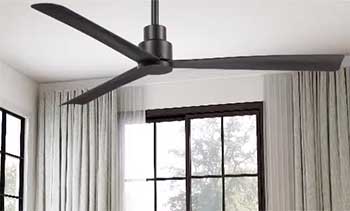 Both Minka-Aire and Hunter excel at making whisper-quiet ceiling fans, but Minka-Aire seems to have a slight edge.
Their DC brushless motors undergo extensive testing to ensure smooth, silent operation.
Hunter's WhisperWind motors are also impressively quiet for most home use.
Some user reviews mention slight ticking sounds in a few Hunter models, though not all have this issue. Minka-Aire buyers consistently comment on the peaceful, almost nonexistent noise from their ceiling fans.
If you want the absolute quietest running fan, Minka-Aire is the safer bet, though most Hunter fans will still please users with their low noise output.
No ceiling fan will do you much good if it doesn't move air well. So how do Minka-Aire and Hunter compare for airflow efficiency?
Again, both brands design their fans to circulate air effectively throughout a room. Minka-Aire's blade shapes and slopes are engineered for smooth airflow. Hunter optimizes blade pitch and uses PowerMax motors on some models to maximize air movement.
Efficiency also depends on the size of the fan and blades – larger fans move more air. Both brands offer a range of sizes to suit rooms big and small.
Overall Minka-Aire and Hunter are quite closely matched when it comes to airflow power and efficiency. Choosing the right size fan for your room is most important.
Many modern ceiling fans come with smart controls for integration with home automation systems and voice control assistants like Alexa or Google Home. What about Minka-Aire and Hunter?
While not all their fans include smart technology, both brands offer models compatible with popular smart home platforms.
For example, Minka-Aire has an Apple HomeKit line of fans with built-in WiFi for using Siri voice commands. Many other Minka-Aire fans work with control systems like SmartThings and Bond Home.
Hunter offers voice-controlled fans with Alexa, Google Assistant, and HomeKit compatibility. WiFi-enabled models can connect with the Hunter ceiling fan app.
So for smart ceiling fans, both Minka-Aire and Hunter give you excellent options. Having these smart controls makes it much easier to adjust fan speed, lighting, and operation modes.
The warranty coverage is arguably one of the most important considerations when buying a ceiling fan. You want reassurance that your purchase is backed for years to come.
Here Minka-Aire is the clear winner, which speaks to the quality of their products.
Minka-Aire offers an outstanding lifetime limited warranty on fan motors for the original owner. All of their other fan components are covered for the lifetime of the original owner or 2 years for subsequent owners.
Hunter provides a limited lifetime warranty on motors for the original purchaser. Other parts like blades, controls, etc are typically covered for 1 year after purchase.
The longer and more comprehensive coverage from Minka-Aire demonstrates their faith in the long-term performance of their fans.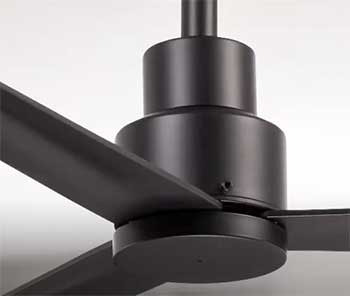 With ceiling fans, you also want something that fits the style of your home's decor.
Minka-Aire and Hunter both offer extensive design collections to match any home.
Minka-Aire leans toward more modern, contemporary styles with lavish details and premium finishes.
They use materials like wood veneers, metal overlays, fabric inserts, and handcrafted glass. If you like elegant, designer ceiling fans, you'll love Minka-Aire.
Hunter has an exceptionally diverse range of ceiling fan designs – from classic country to sleek modern. They offer finishes like antique pewters, fresh whites, natural woods, and dramatic blacks suitable for many decors. Hunter has stylish options for every taste and budget.
Ultimately both brands allow you to find a ceiling fan to align with your interior design scheme. It just comes down to your personal style preference.
Minka-Aire And Hunter Fans: Prices and Costs Comparison
There's no getting around the fact that Minka-Aire ceiling fans come at a higher price point than comparable Hunter models. You're paying for the quality materials, excellent craftsmanship, ultra-quiet motors, and outstanding warranties.
Minka-Aire fans can range from $400 on the low end to $1000+ for more intricate designer models. Their products are investment pieces built to last.
Hunter has very affordable options starting under $100. Even their premium fans with the latest features generally top out around $500. This makes them enticing for budget-conscious shoppers who still want style and quality.
Both brands also offer ceiling fan light kits and accessories like remotes and wall controls that add to the total cost. Overall though, Hunter provides greater affordability and flexibility for ceiling fan buyers.
FAQ About Minka-Aire and Hunter Ceiling Fans
Is Minka Aire a good brand?
Yes, Minka Aire is an exceptional brand known for high-end, luxury ceiling fans. Their products feature premium materials, whisper-quiet motors, unique designs, and outstanding quality backed by industry-leading warranties. Minka Aire is one of the top ceiling fan brands on the market.
Which ceiling fan is best in quality?
Some of the ceiling fan brands with the best quality and durability include Minka Aire, Hunter, Emerson, Casablanca, Monte Carlo, and Craftmade. When selecting a quality fan, look for sturdy materials, a powerful motor, well-designed blades, and a comprehensive warranty. Minka Aire is arguably the highest quality but also most expensive brand.
Which company ceiling fan is best?
There are a few reputable ceiling fan companies that stand out above the rest based on product quality, performance, styles, warranties, and customer satisfaction. The best ceiling fan companies include Minka Aire, Hunter, Casablanca, Monte Carlo, Emerson, Craftmade, Westinghouse, and Hampton Bay. Each brand has strengths depending on your needs and budget.
Are Hunter ceiling fans still good?
Yes, Hunter still makes excellent ceiling fans that are good quality, durable, energy efficient, quiet, and cost effective. They offer a huge range of ceiling fan styles and features. While not quite as premium as brands like Minka Aire, Hunter ceiling fans remain very popular and provide great performance for most households.
Final Thoughts
Minka-Aire versus Hunter ceiling fans – which is the winner? Well, there's no definitive "better" brand between these two ceiling fan heavyweights. The right choice depends on your needs:
If luxury and highest quality are your priorities, then Minka-Aire is likely the way to go. Their fans deliver unmatched quality with whisper-quiet operation, powerful airflow, and modern aesthetics using first-rate materials.
Minka-Aire's outstanding warranties provide true peace of mind.
Hunter ceiling fans are ideal if you want excellent performance, reliability, and features at more budget-friendly price points. Hunter still utilizes quality construction and components.
Just don't expect all their fans to match Minka-Aire's elite quality standards. But you'll have lots of attractive, reasonably-priced choices.
Either of these reputable brands are great options that will keep you cool for years to come. Weigh your needs, aesthetics, and budget to decide if Minka-Aire or Hunter ceiling fans are the best fit for your home.