Desk accessories like desk mats, stands, keyboard trays, and desk shelves increase user productivity. Moreover, some accessories prevent stains, scratches, and other damage to your desktop or laptop.
There are lots of brands to offer excellent quality desk mats, stands, and other stuff. Oakywood and Grovemade are two of them. But both brands differ in types of products, materials, design, customization, warranty, and price.
Keep skimming this article till the end to learn more about these differences. So, without further ado, let's get started.
A Quick Comparison Table
| | | |
| --- | --- | --- |
| Specifications | Grovemade | Oakwood |
| Types of product | Desk shelf, Docks, Stands (phone, laptop, headphones), Desk mats, Trays (desk, keyboard), Dock, Keyboard wrist rest, Mouse pad, Coasters , Planter | Standing desk, Classic desk, Desk shelf, stands (monitor, laptop, headphones, smartphones, apple watch), Desk mats, Mouse pad, Dock, Sleeve, MagSafe iPhone wall mount, Trays (catchall, sticky notes), Charging pad, Underdesk organizer |
| Materials | Wood (walnut, maple plywood), Aluminum, Leather, Premium German wool felt, Cork, Stainless steel, Natural linoleum | Wood (oak, walnut), Cork, Wool felt, Steel (stainless steel, powder-coated carbon steel) |
| Design and finish | Elegant | Decent |
| Customization | Not available | Available |
| Warranty | Six months | One year |
| Price | Higher | Lower |
Key Differences Between Grovemade And Oakwood Desk Accessories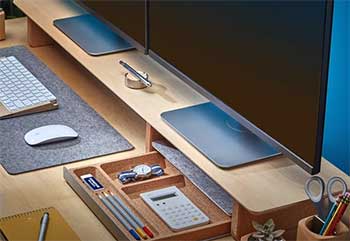 Both Grovemade and Oakywood have a vast product lineup.
Looking at the number and variations, Oakywood offers more desk accessories than Grovemade.
But both of the brands have something unique or additional products to offer.
For example, Grovemade's leather and wood keyboard wrist rest help elevate your wrist and provides a very comfortable position and cushioning while you type. Only Grovemade is offering this unique product.
On the other hand, Oakywood brings more goods to the table. Products like charging pads, under-desk organizers, MagSafe iPhone wall-mounted sleeves, and apple watch stands are the extra addition to the lineup.
Moreover, you have the option to choose your desirable desk from Oakywood. So, considering the more product variations, Oakywood is a better choice for picky customers.
High-end materials are the key to durable and good-quality products. Grovemade uses high-quality materials to give you a sustainable product. The brand offers vegetable tanning leather for its mouse pads and desk pads.
Vegetable tanning is perfect for preserving natural beauty and leather imperfections. In addition, the use of aluminum and stainless steel for their desk self provides light but is strongly built.
Premium German wool felt adds more texture and a fantastic look to the accessories.
On the other side, Oakywood uses decent quality materials to manufacture its products. The desk stand, desk shelf, and desk legs are made of power-coated carbonated steel. It provides more durability to the desk, stand and shelf.
So, if you are looking for better quality materials, buy Grovewood accessories.
Customization is a significant feature to have. Thus, you have the opportunity to match your desk setup according to your office design. Oakywood offers you a customization option with their desk and desk shelf. Also, most products from Oakywood are versatile and offer multi-use options.
Besides, Grovemade doesn't come with a customization option. You can only change the color of your desirable products.
Who doesn't want to have an amazing outlook for their working desk setup?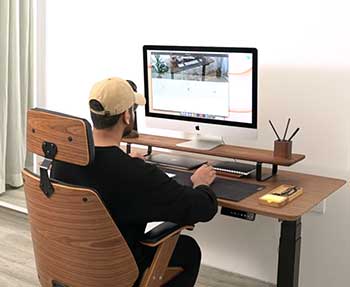 Grovemade comes with innovative and elegant design and style.
With an exquisite finish, it gives an aesthetic look to your desk setup.
Especially their leather-built desk pads and mouse pads give you a vintage and premium -look while maintaining quality.
In addition, Grovemade's matte desk pad is made of natural linoleum.
This blend of natural materials grants you a durable and premium finish. Also, their trays, coasters, planter, and headphone stand has an artistic design to offer.
Conversely, Oakywood offers you a minimalistic and modern design and outlook. People who don't like complex design finishes can always go for Oakywood. But if you are willing to buy more premium and aesthetic design desk stuff, Grovemade will offer you the most.
Having a better warranty policy is always a good thing. Oakywood offers one-year warranty coverage for defects and malfunction of their product. It ensures durability and high quality. So you can be tension free for an extended period.
Conversely, Grovemade grants only six months of warranty coverage from the day it ship. The company will fix any defects in materials and workmanship for six months.
Grovemade products are more expensive than Oakywood ones. For example, the desk shelf price of Oakywood is between 180 dollars to 200 dollars, depending on different websites.
But the price tag on the Grovemade desk shelf is higher than 250 dollars in most cases. It makes sense because Grovemade offers better quality materials. Hence the price is higher.
Which Desk Brand Is A Better Pick For You?
In the end, if you crave better design and style, high-quality materials, better sustainability, and an eye-catching outlook for your desk setup, go for Grovemade desk accessories.
But if your priority is money, more variations of products, better warranty coverage, and customization, Oakywood will gratify you the most.
Frequently Asked Questions (FAQ)
Are Grovemade desk mats worth it?
Grovemade desk mats are well known for their quality and materials. Also, their desk mats have a great customer satisfaction rating. So, investing in it is worth every penny of yours.
Where can I buy Grovemade in Australia?
Grovemade doesn't have any retail or reseller shops. You can only buy their products online on their website www.grovemade.com.
How big a desk mat should I get?
The ideal size of a desk mat is considered 24 by 38 inches. You can set a lot of items within this size. Also, you will have extra remaining Space for further stuff.
What makes a good desk mat?
Synthetic materials make a good affordable desk mat. But if you are looking for a premium, aesthetic design, smooth, water-resistant desk mat, the Satechi Eco-Leather Desk mat is a great choice.
Conclusion
That's a wrap for today. Hopefully, my article has determined the distinctions between Grovemade and Oakywood desk accessories.
Both brands grant a lot of unique and high-quality products with their pros and cons. But it's your time to shine and make a decision. With a bit of searching, you will find the right brand that will meet your requirements in agreement with your home office design.
So, best of luck with your shopping.