A desk shelf can be the solution for you if you are having trouble keeping your workstation organized.
A desk shelf system makes your workspace more purposeful and clear. It gives you overall clutter control and a space for everything you need for work.
The demand for an ordered workstation has significantly increased as more people are adopting remote work. Desk shelves are also important for those who live in small homes or apartments where organizing is difficult.
In this article, you'll find a few desk shelf suggestions besides Gorvemade.
Grovemade Desk Shelf Substitutes For Your Workspace
Here is a list of those alternatives:
FENGE Monitor Stand With Drawer
Maydear Bamboo Monitor Stand
ClosetMaid Desk Shelf
Finercrafts Desk Shelf
Now let's dive into some of the amazing desk shelf options so that you can buy the best one for you:
FENGE Monitor Stand With Drawer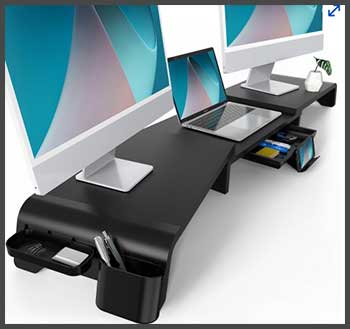 The desk shelf that should be on your choice list is Fenge Monitor Stand.
It has all the features that you might need to organize your workspace.
The side storage can be moved from one side to the other and removed with ease.
The right side has a phone holder, while the center has a pull-out drawer.
A cable manager is also provided with it.
The monitor stand's combined maximum load capacity is 55 pounds. You can open the support legs on both sides to form a full stand.
There are no harsh edges; instead, everything is rounder, more rigid, and scratch-resistant. The monitor stand's ergonomic design places your neck and eyes comfortably while working and reduces workplace stress.
It is made of strong plastic and MDF with wood veneer. The contemporary, minimalist design makes your workstation look lovely.
The product can be opened up and moved with ease because of the double-sided, curved recesses. The product is pre-installed, so you don't have to waste your time assembling it.
It will cost you around $59, which is pretty affordable compared to other options.
Maydear Bamboo Monitor Stand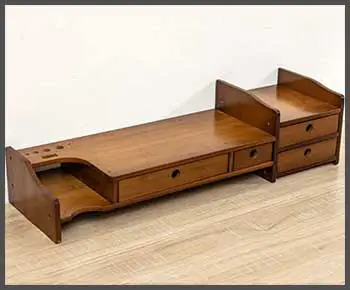 If you are not a fan of plastics and looking for something sustainable, this option is for you.
It is made of the robust bamboo fiber of the highest quality.
The top of this monitor riser doubles as a printer stand, monitor riser, and laptop stand; the rest is storage space, making it ideal for use as a desk organizer.
The monitor cable power cord simply flows through the back-threading hole design.
It contains a broad compartment for your daily requirements as well as three drawers. To free up more workspace, you can neatly tuck your keyboard and mouse underneath.
This monitor stand can raise your computer screen to your preferred viewing level, efficiently relieve eye, shoulder, and neck strain, and let you feel at ease while working.
You can easily and quickly install this stand riser according to the installation instructions and tutorial videos from youtube.
This product also got a lot of positive reviews online. Customers said that they were able to clean all the clutter off their desks, and it has made their work a lot easier. It also took them only 20 minutes to install.
The ClosetMaid desk shelf is the next item on the list. Its design is really simple and plain.
There are now three color options available – white, espresso, and dark cherry. The desk shelf is made of sturdy wood. It is 31″ wide, 11.6″ high, and 11.6″ deep.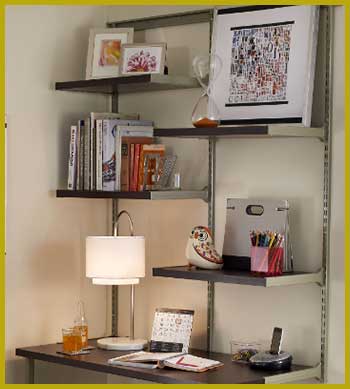 There are two major compartments that you can use.
Additionally, there is a lot of room downstairs for storage of your belongings.
It can be kept on your desk, atop a counter, next to your bed, or at the front door.
It can store and arrange all of your tools, utensils, periodicals, accessories, books, and other reading materials.
The desk shelf has a great ability to be stacked on top of one another.
The company ClosetMaid has a great reputation also. ClosetMaid developed the first vented wire shelf for home closets.
Since 1965, ClosetMaid has been working with its objective to assist people in better organizing their homes and quickly rose to the top of the global home storage and organization market.
Today, ClosetMaid offers much more than just wire shelving, offering items to suit every style, need, and price range, enabling individuals to reach the ideal level of organizing their stuff.
If the building material is your top priority, you should choose this desk shelf. It is built with natural maple and English walnut.
Its premium laminate protects the wood from any kind of scratch. For framing, they used SPCC steel which gives an improved surface finish and tight tolerance.
It is suitable for medium sizes (13-30″) monitors and can support up to 15kg keyboard.
The company is comparatively new yet gives the services possible.
They launched their company when the coronavirus pandemic started with the goal of producing such desk that is ergonomic and optimal for posture because more and more people were working from home back then.
They provide free return shipping if you decide you are not satisfied with your purchase within 30 days.
A similar alternative to the Grovemade Desk Shelf, have a place to keep your every accessory, whether at home or in the office.
Balolo provides an elegant, solid, and perfectly crafted Setup that can easily hold multiple monitors, your mobile phone, watch, keyboard, and more.
The elegant design looks aesthetic and automatically adds to your home furniture.
Besides, you will not let go of this masterpiece at a very reasonable price if you are not happy to buy the Grovemade Desk Shelf.
Visit the Oakywood Shop and reinvent your workspace with the perfect desk you need. At this place, one can find a great collection of heavy-duty Desks made with different wooden materials.
Here, one can find the most modern designs in these desks, providing peak functionality.
They make comfortable ergonomic, and budget-friendly so that everyone must meet their specific desires of getting what they really need.
Using some excellent cutting and crafting tools, Oakywood desks are made to keep or organize every accessory you have.
So, get yours today and turn your simple workspace into a lively one.
Another great option and a great alternative to Grovemade desk shelves, Ergonofis Desks are eco-friendly, durable, and made in Canada.
Here, one can purchase from a vast collection of crafted and handmade desks to style a workspace.
They also provide multiple accessories and work chairs for a complete set. To ensure you can get more on less budget, they offer combo packs for different items.
So, go to the website and explore the amazing offerings of this brand.
Aothia Large Dual Monitor Stand Riser
Built-in modern style, this Aothia Large dual Monitor stand riser provides the space, features, and design that best suit your workspace.
Where Grovemade is not your option for having a lifetime desk, this will perform accordingly.
Made with Composite wood, it is less pricy, and one can have enough compartments to save the number of accessories on it.
So, have the desk and bring devices together. No matter how large your collection is, they will fit under the Aothia desk.
Another superb alternative that can be used in place of the Grovemade Desk Shelf is this Raico Desk Shelf.
It has a space for keeping two monitors aligned and is made of solid wood with extended durability.
It can be mounted on your floor and provides an aesthetic look when placed in the free space.
So, turn your bedroom into a workspace with this floor-mounted desk from Raico and save the bucks you would otherwise have spent on a Grovemade Desk Shelf.
Is Grovemade Desk Shelf Worth It?
Grovemade is renowned for making eco-friendly desk accessories in the USA using high-quality materials. Materials and sourcing are highlighted the moment you remove the cardboard box.
The Desk Shelf is available in solid maple, walnut plywood, maple plywood, or brand-new matte black or white slabs. The package also includes a long metal shelf and three cork shelf legs.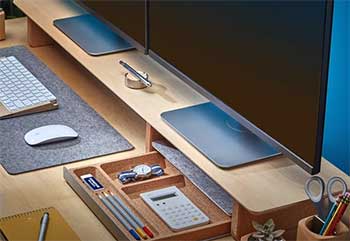 It would be simple to confuse the cork legs for something else based just on photographs.
Because of its wooden material, the Grovemade desk shelf is heavy.
Naturally, the cork legs are lightweight, but the walnut slab and the sturdy metal shelf add additional weight.
It might take you some time to put the shelves and the cork legs together.
Some customers complained that there were no assembly instructions in their boxes. So, be careful about this before buying a Grovemade desk shelf.
The Desk Shelf has an ideal height for standard workstations and displays at 4.5 inches from the main desk. But if you're searching for a lower stand, there are no custom options available at checkout or any options for flexibility.
The Grovemade desk shelf costs almost $380, which is much higher than the other options I mentioned earlier. If you love the elegant look of walnut, you can make a desk shelf with walnut pieces for 1/3rd of the price.
However, the finishes will not be the same as Grovemade, and the other features will also be missing.
So, Grovemade desk shelf is really worth it not? Well, if you want a classy desk shelf to bring a luxurious look to your workspace, Grovemade is definitely worth it.
But if you are concerned about your budget, you will find other great options in the market with a lower price than Grovemade.
Final Words
As the name implies, you can put a desk shelf on top of your desk as a tiny piece of outside furniture. The shelf allows you to store essential documents or other objects that you might not need immediately on your main desk.
But choosing the perfect desk shelf for your workspace is not an easy task. You have to keep a lot of things in your mind when shopping for a desk shelf.
I hope these alternatives to Grovemade desk shelves will make your task easy as you can get a full-fledged list of desk shelves that are the best in the market.