Trying to decide between GroundWork and Gorilla cart can be exhausting, considering they have so much in common. Lucky for you, I'm about to make that easier.
The main difference between the two is that GroundWork is made of poly, while Gorilla is made of steel.
Are you curious about other existing differences between these two? Well, stick with me till the end, and you'll find out!
A Brief Comparison Table
| | | |
| --- | --- | --- |
| Product Specification | GroundWork | Gorilla cart |
| Bed Material | Poly | Steel |
| Tire Diameter | 16 inch | 13 inch |
| Performance | Great | Excellent |
| Load Capacity | 1400 lb | 1200 lb |
| Durability | Lower | Higher |
| Price | Lower | Higher |
| Quality | Pretty good | Excellent |
Main Differences Between GroundWork And Gorilla Cart
The bed material is the most notable and significant difference between the two carts.
So, when picking one, you can base your choice on this factor.
A GroundWork cart is made of poly, which means it's more lightweight.
On the other hand, a Gorilla cart is made of steel, which means it's heavy-duty and more likely to last longer.
If you're looking for a more lightweight cart, a little less durable, you should probably go with GroundWork. But a Gorilla cart is the best option if you want one that can quickly and effectively handle a rugged yard.
The tire diameter is an equally important factor that you can consider when getting a cart. The GroundWork contains four 16-inch diameter tires that enable it to quickly push heavy material with less effort on rocks, stones, or rough surfaces.
With the Gorilla cart, the tire diameters are 13-inch each, which can also work well on uneven surfaces.
It all comes down to your personal needs. If the tire diameter is of great importance to you, go for the GroundWork cart without looking back.
Have you ever bought an item, only for it not to work as well as you thought it would? I can relate. It's utterly frustrating.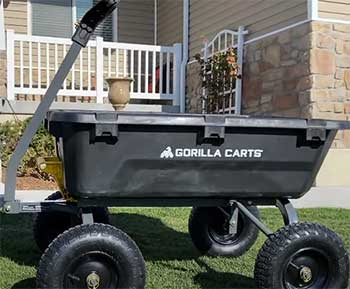 There is quite a difference in the performance of both these carts. The GroundWork has pretty good performance if you ask me.
Now, the question is, is it good enough?
With the Gorilla cart, you get excellent performance.
This cart can transport and dump bulky loads easily and within a short time.
Additionally, it has a perfectly-balanced dump bed point that enhances stability, making it easy to maneuver throughout your yard.
With that said, if performance is a significant concern and you want the absolute best out of your cart, Gorilla is what you need.
This factor may not be as impactful as the others, but still, something to put in mind. The GroundWork can carry up to 1400 lbs. With this cart, you might save a lot of time since it can carry a lot of materials all at once.
On the other hand, a Gorilla can carry a maximum weight load of 1200 lbs. So, it also has a reasonable capacity.
Depending on your workload, I would say GroundWork is more than enough if you need a larger capacity.
Who doesn't like a durable product that will help save some bucks? You ought to understand that Gorilla will always be a step ahead in terms of durability. And now, you're probably wondering why I've come to that conclusion.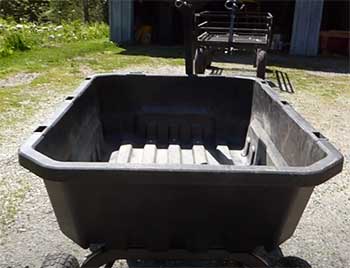 First and foremost, the four wheels are foam-filled to ensure that the cart can move smoothly through rocks without causing it any damage.
Also, it is resistant to rust and easy to clean, increasing its likelihood of lasting long.
Lastly, the frame is solid steel, making it sturdy enough to hold a heavy load.
If you're a sucker for durability, don't hesitate to get the Gorilla cart.
The Gorilla is high quality and durable cart. But is it worth it or not? Gorilla is more expensive than the GroundWork cart because of the stunning features that come with it.
Although it's not a big difference, it's still something you can contemplate. Be that as it may, if you are perhaps under some budget, I would say GroundWork is the perfect option.
Quality is a critical difference between these two carts. One has higher, and the other one has lower. With Gorilla, you can be guaranteed exceptional quality.
The cart has a steel frame that can easily withstand hefty loads or extra pressure. More importantly, Gorilla's brilliant design makes it easy to empty the soil. You only have to tilt the cart, and that's it.
Even better, the cart contains a quick and quality dumping component that makes it easy to unload.
Quality being considered, the Gorilla is the winning cart.
Which Cart Is Better For You?
So, which cart should you choose?
Let's make this easy by summing up this write-up into one piece. We can solve this dilemma by considering the cost factor and individual needs.
If you're under budget, you might want to opt for GroundWork. Moreover, it will still work best if you want a larger cart with wider tires.
Aside from that, I highly recommend Gorilla cart for longevity, exclusive quality, and excellent performance.
Frequently Asked Questions (FAQ)
What is the best garden cart?
The best cart that you can use in your garden is Gorilla. It is durable, high quality, and highly convenient.
Is a Gorilla cart better than a wheelbarrow?
Yes, definitely! A gorilla cart gets work done efficiently and within a shorter time than a wheelbarrow.
Can you use Gorilla carts on the beach?
Gorilla is a heavy-duty cart with a large capacity that you can also use at the beach.
Where is the Gorilla cart made?
Gorilla cart is manufactured in Minnesota.
Wrapping Up
To conclude the GroundWork and Gorilla cart comparison, I can say, with no second thoughts, that Gorilla is the perfect pick in terms of quality, durability, and performance.
Nonetheless, if your budget is tight, GroundWork will work better for you.
Having to decide between two very similar products can be very overwhelming. I've been there. But now that we've explored the differences between the two carts, I'm hoping that making a choice will be much simpler.