Dump trailers are highly reliable and flexible for safely loading and unloading loose items. Its lower load height and center of gravity ensure minimal accidents. They are reasonably cost-effective too. But so many brands are there.
How do you choose a decent one?
I have used several models of dump trailers from Griffin. They are well built and come with a sophisticated design to smooth the loading and unloading tasks. If you think of unbiased Griffin Dump Trailer Reviews, read until I finish the article.
Features of Griffin Dump Trailers
Griffin Dump Trailers has many advanced features that set it apart from its competitors. Here are the most important features of this type of trailer.
The main body and wheels of GriffinDump Trailers have powder coating. Sunlight and other environmental factors will not affect the paint over time.
Plus, this durable finish will provide increased protection for metal below the paint.
Outdoor air and moisture will cause minimal damage to the paint. Powder coating requires minimal maintenance. But, make sure to occasionally get off the dirt and dust from the metal surface.
The wheels of the dump trailers have a silver powder coating. This makes mud and dirt less noticeable. But the manufacturer uses a black powder coating for the rest of the body.
You can also get them in Red, Blue, Green, Yellow, and Orange colors.
Griffin Dump Trailers come with dual hydraulic rams that allow you to raise the vehicle's front end from both sides. It gives you the maneuverability to control the movement when pressurized fluid goes backward and forward.
Besides, dual hydraulic rams are more energy efficient than single hydraulic rams. Hence, it will consume less energy while working efficiently. They are not prone easily being damaged from extreme working conditions.
Double hydraulic rams can apply pressure in both directions to achieve a higher force level. This gives you more control over the system.
Raising or lowering the position of the dump trailer will be more easygoing than a single hydraulic ram.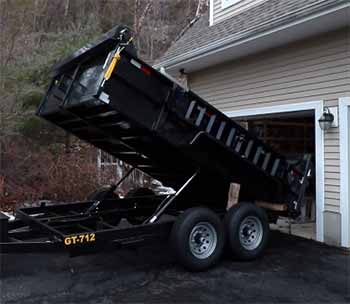 Griffin Dump Trailers come with a barn door gate.
This dual-function rear gate is precisely designed to maximize the space of the cargo. It offers the largest possible opening.
You will face no difficulty opening and latching them.
Besides, this type of door does not require too much clearance.
Also, it gives you partial accessibility to the trailer if any emergency arises.
Flipping mud and dirt into the trailer from the ramps will be easygoing too. It also does not allow too much rain to enter.
Griffin Dump Trailers have HD loading rams that allow you smoothly load and unload items from the container. This inclined plane comes in handy to get heavy objects from the trailer to the ground or anywhere else.
The HD loading rams have excellent strength. Hence, extreme loads will not affect their durability. Plus, they have enhanced beam strength and low bottom rung for hassle-free loading without any difficulties.
Griffin Dump Trailers have five welded D-rings. This type of ring has increased strength to accommodate any heavy load. You can use this D-shaped hardware to tie-down ropes, straps, bungee cords, and many other things.
Most people use them as anchor points. Since this metal item has corrosion resistance properties, high chloride environments won't cause any problems to them. You can achieve fast and simple mounting with this D-shaped hardware.
High-Quality Gauge Walls And Floors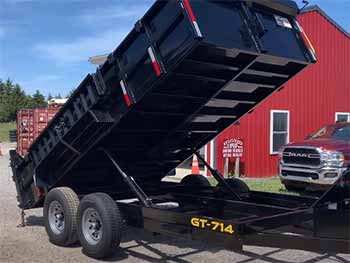 Griffin Dump Trailers are made from thicker aluminum or steel metal.
They have superior strength. Their rigid construction can hold items better.
Plus, their robust outer layer ensures minimal or no damage from extreme weather conditions.
Moreover, their walls and floors are not prone to any leakage over time.
Plus, the rear door and side walls have vertical ribs. This reduces the overall weight of the trailers.
As a result, it will put less pressure on the primary vehicle.
Dump trailers from the Griffin brand feature a ratcheting tarp system, which keeps items in a safe condition. Its enclosed structure prevents things from falling out.
Also, you will not see any damage to other things and no injury to people.
Moreover, ratchet tarp systems protect things from snow, rain, dirt, dust, and flying debris. This reduces maintenance costs such as clean-up, temporary power sources, and shelter.
The tarp system will offer increased stability to keep things in a protective environment.
Griffin Dump Trailers come with radial tires that can absorb bumps and shocks well. Plus, their flexible sidewall offer increased comfort and better traction.
Since they produce minimal vibration, they cause less damage and ground compaction.
This type of solid tire ensures impressive fuel efficiency due to its consistent energy transformation from the vehicle to the ground. It will produce minimal heat even if you drive the car at high speed.
You will not see any drop in their performance.
Driving the vehicle with high loads will not affect the construction of the trailer because of its reliable structure. Hence, you will not have to replace the tires since they have a long-lasting lifespan regularly. This will reduce your replacement costs.
Deep Cycle Marine Battery
Griffin Dump Trailers come with a deep-cycle marine battery. It has a rigid construction and heavier plates.
In addition, this battery can withstand a certain level of vibration and pounding. The manufacturer designed them precisely to regularly deeply charge.
Most of its capacity is used to charge the battery fully, unlike traditional-based batteries. Also, you can charge them quickly because of their reduced internal resistance properties. They are less likely to lose energy fast.
Since they offer a consistent level of power, items like lights, brake lights, electric wheel brakes, and dash accessories will get continuous power as long as the battery has enough charge.
What Could've Been Better With Griffin Dump Trailers?
Though Griffin dump trailers have many incredible features, some negative aspects are still available to them.
Only One Type Dump Trailer
Dump trailers are available in various types, such as side dump trailers, bottom dump trailers, end dump trailers, etc. Unfortunately, Griffin manufactures only a standard type of dump trailer. Though you can use them for various purposes, they will not be as beneficial as a specific one.
 Griffin dump trailers don't come with any spare tire mount. As a result, you will have to either use the cargo space to store a spare tire or store no tire at all. This may land you into serious trouble if you regularly drive the trailers on off-roads for hours.
Frequently Asked Questions (FAQs)
Are Griffin dump trailers good?
Griffin dump trailers have a decent construction, high-quality gauge walls & floors, dual hydraulic rams, and durable powder coating. They can handle heavy loads well.
Is buying a dump trailer a good investment?
A dumb trailer can be a good investment since you can use it for loading and unloading a wide range of materials. Plus, you don't have to spend considerable money to buy them.
How much does a good dump trailer cost?
Depending upon its construction and additional features, a good dump trailer will cost around $8,000 to $10,000.
What is the most popular size dump trailer?
14-ft.dump trailers are the most common and widely used size because of their impressive maneuverability and hauling a skid steer.
Final Thought
It is worth investing in a reliable dump trailer. You can add an excellent value for loading and unloading various types of materials. I have already mentioned many essential features of Griffin dump trailers.
Though some extra features could have been better, it is still a good choice. You can read other Griffin Dump Trailer Reviews if you are still confused about choosing it.