When choosing cellar doors, you want to consider security, safety, durability, weather resistance, and adherence to the building code. But, so many brands are there. How do you pick the right one?
Feeling confused?
Don't panic. We are here to help you.           
Gordon and Bilco are two popular brands for cellar doors. Their high-quality materials, frame air-tightness, practical dimension, and increased security make them a top choice. Let's dive into an in-depth discussion on them.
Quick Comparison Between The Two Doors
Wondering how Gordon is different from Bilco Cellar Doors? Here is their quick comparison table to get a brief idea.
| | | |
| --- | --- | --- |
| Specifications | Gordon Cellar Doors | Bilco Cellar Doors |
| Materials | Gauge Steel | Gauge Steel |
| Powder coat finish | No  powder coating option | White, sandstone, light grey, and brick |
| Functionality | A mechanical latch system | A piston system |
| Size compatibility | Ideal for any standard stock sizes or custom sizes | Comes in only standard sized |
| Weight | 150 lbs on average | 169 lbs on average |
| Building Code | Meets all typical building code requirements | Compliant with IRC building code |
| Warranty | Five years warranty | Five years warranty |
| Durability | Less durable | More durable |
| Cost | Lower | Higher |
Primary Differences Between Gordon And Bilco Cellar Doors
Apart from fundamental differences, it is vital to get a clear overview before choosing particular cellar doors.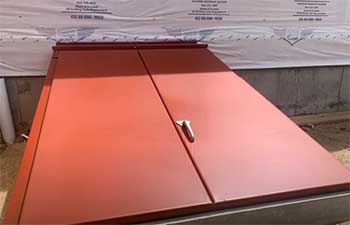 Both Gordon and Bilco cellar doors are made from Gauge Steel.
This type of steel can provide the maximum safe's security level. You can't cut them with regular tools.
Though they are not fire-retardant, they will still provide increased protection against fire.
Additionally, they are UL-listed because this heavy steel is difficult to pry open and tip over.
However, the thickness level is not the same for both brands. Usually, cellar doors from Bilco are thicker than Gordon.
Gordon and Bilco come with primed. You can also paint them. However, there is no powder coating option available for Gordon Cellar Doors. You can only apply the basic painting.
On the contrary, Bilco Cellar Doors are available in four Powder coat-to-finish options: white, sandstone, light grey, and brick. You can achieve a smooth coating and complex finish.
This special coating is capable of standing at high temperatures. They are highly scratch and mar resistant. But make sure to apply the paint correctly to avoid over-hardening.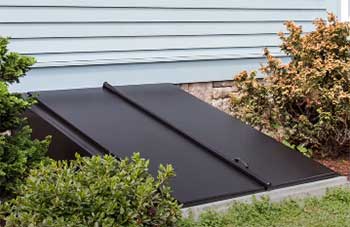 Gordon Cellar Doors have a mechanical latch system to join both door parts.
It features a mechanical lever made of high-quality materials, making them ideal for any environment. It also ensures no unwanted visibility and is being opened.
In contrast, Bilco Cellar Doors feature a piston system to smoothly open and close the door.
This type of door is perfect for harsh outdoor conditions. They are not prone to develop moisture from regular moisture.
Since Bilco Cellar Doors are made from thicker and sturdy Gauge Steel, they have more weight than Gordon Cellar Doors.
An average-sized cellar door from Bilco weighs around 169 lbs, whereas Gordon weighs 150 lbs.
Gordon Cellar Doors meet all typical building code requirements. Hence, you can install them for any residential house.
In contrast, Bilco Cellar Doors are Compliant with the IRC building code. Whether you are newly constructing a cellar door or remodeling it, Bilco is perfect for all residential projects.
Gordon and Bilco offer five years warranty for their cellar doors. If any part of the door doesn't function appropriately within five years, you will get a new replacement part without any cost.
However, you won't get the service if the component is damaged by negligence. Carefully taking care of the product is necessary to get the warranty service.
Compared to Gordon, Bilco manufactures more durable cellar doors. Their products are thicker than Gordon's. This makes the doors sturdier and less prone to be affected.
On top of that, they have a Powder coat finish to protect the surface from external adverse conditions. You will have to go for minimal maintenance for these doors. 
Due to the additional thickness of Bilco Cellar Doors, they are an expensive option than Gordon Cellar Doors.
Their protective coating and extreme durability increase the overall price. However, the price you pay for this entrance will be a long-term investment.
Which Brand Is A Better Choice For Your Home?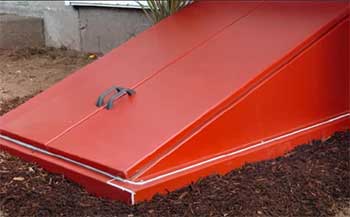 Both brands make decent quality products. Before choosing a particular brand, you want first to determine what you expect from that door.
If you want an affordable cellar door without compromising the quality significantly, Gordon is a good option.
Its relatively lightweight construction makes the installation process easier.
On the contrary, when you prefer more than average quality cellar doors and don't mind spending extra, Bilco is the best option. It comes with many unique features.
More importantly, its solid construction ensures consistent performance for a long time. Its beautiful coating will not fade away quickly too.   
Frequently Asked Questions (FAQs)
Are Bilco doors water-tight?
Yes, Bilco doors have a water-tight seal because the manufacturer uses a polyurethane caulk. This caulk has excellent adhesion power. It is resistant to chemicals, weather, tear, and abrasion.
How much does a Bilco basement door cost?
The average price of a Bilco basement door can be anywhere between $400 to $1,000.
Why do houses have Bilco doors?
Bilco doors are a popular choice in houses because of their energy efficiency. It can reduce the cooling and heat cost of the home significantly.
What is another name for cellar doors?
Cellar doors are also known as basement doors, underground room doors, or trap doors.
Final Thought
Which option have you decided to choose after reading the overview of Gordon Cellar Doors vs. Bilco? You can choose either option if you think it fulfills your household requirements.
Though Bilco is on the expensive side, it will add value to your home in the long run.
But if you are on a mid-range budget, Gordon is not a wrong choice at all. But make sure to take care of the door appropriately and install it professionally.
This will ensure consistency and long-lasting performance.