Gladiator and Kobalt are both considered high quality and value for money for your garage cabinet installation needs. But both have their own significant differences. People and many customers way more appreciate Gladiator.
However, you may not find such a huge popularity with the Kobalt garage cabinets. But both ensure higher quality material, excellent designs, and durability for longer usage.
So, let's dig into some important differences between these two and find what's worth looking at!
A Quick Comparison Table
| | | |
| --- | --- | --- |
| Specifications | Gladiator Garage Cabinets | Kobalt Garage Cabinets |
| Purpose | Providing Storage products inside your garage | Providing Storage products inside your garage |
| Product Variation | Various types of garage cabinets with unique colors and pre-assembled verification | Offering garage cabinets in free-standing units as well as in different form factors |
| Material Used | Using Stainless steel, Aluminum, and a variety of other materials | Using Stainless steel, Aluminum, and a variety of other materials |
| Brand Popularity | Higher | Medium |
| Installation | Pre-Assembled and Ready to assemble units available | Only pre-assembled units |
| Warranty On Products | 1-year limited-time warranty | 1-year limited-time warranty |
| Pricing | Expensive | Cheaper |
Key Differences Between Gladiator And Kobalt Garage Cabinets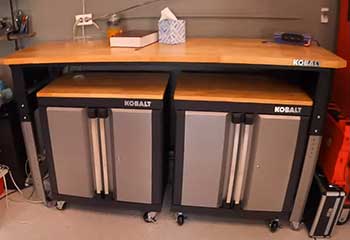 Comparing Gladiator with Kobal Garage Cabinets, both work with the same purpose: to provide excellent and space-saving storage options for your garage.
Gladiator has more rigid and durable garage cabinets than Kobalt does.
However, both can give you excellent value for the money you spend on buying any product from these brands.
On top of that, Gladiator has higher popularity than Kobalt because it's been in business for years.
You will not always buy a garage Cabinet covering more space and provides more storage. Sometimes, we also have to consider some smaller models that could easily fit inside our houses.
In that case, you can visit Gladiator to have multiple models of garage cabinets in their unique form factor and storage variation.
Plus, Kobalt also doesn't stay behind while providing you with these products.
Depending on your pocket, you can have free-standing units of different sizes, shapes, colors, and materials. And what you want to spend on a purchase like this.
Gladiator Garage Cabinets are made from pure stainless steel with higher gauge and more depth. In this case, they are stronger, standing for long periods and providing excellent storage places.
Besides, you can also go for Aluminum cabinets if you want to have them.
On the other hand, Kobalt has high-quality stainless steel garage cabinets. But they might not be as strong as Gladiator products are.
I've seen on many forums that people talk more about Gladiator than Kobalt. It means Gladiator cabinets are more famous than the second brand.
However, even if Kobalt is new in this business, they are being recognized, and many people are purchasing its products.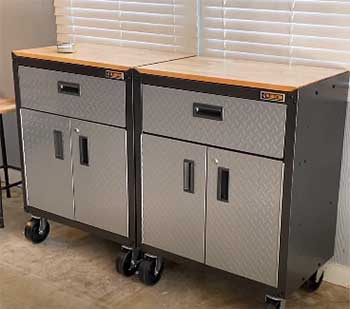 Visiting Gladiator will surprise you with multiple Garage Cabinets, some already available as assembled units.
And some can be assembled later on. It depends on you whether you go for a pre-assembled cabinet.
Or buy the one you can get made at your house later on.
On the other hand, Kobalt only has pre-assembled units. It means there will be no extra costs for installation.
Just have your cabinet and place it in your desired place in the garage.
Both brands offer one year of a limited lifetime warranty on their products. You can return any product during this period if purchased from either Kobalt or Gladiator.
When products of these brands are evaluated on the pricey side, Gladiator is a little expensive as its units may go from $100 to $700.
But Kobalt is less expensive, with up to $300 highest costing garage cabinets. So, you can consider your budget before visiting any of these.
Which Brand Of Garage Cabinets Is Better?
Comparing both, these brands don't have very significant differences, and anyone can make an easy selection.
However, if the price concerns, go for Kobalt for cheaper options. And if the price is not the problem, go for Gladiator to have heavy-duty and durable garage cabinets. The choice is yours.
Frequently Asked Questions (FAQ)
Where Are Gladiator Garage Cabinets Made?
Whirlpool makes these premium garage cabinets in the United States Of America.
What Gauge Are Gladiator Garage Cabinets?
Gladiator Garage Cabinets offer up to 24 Guage solid stainless steel built with an RTA(Ready to Assemble) facility.
How Deep Should Garage Cabinets Be?
These cabinets should be 16 to 24 inches deep.
What Is A Good Height For Garage Cabinets?
Ensure to mount your garage cabinets almost 96 inches above the ground surface. It is considered a good height for them to have added safety and longer durability.
Final Thoughts
The comparison between Gladiator and Kobalt garage cabinets is all worth it because both are acting as rivals. Gladiator is highly known for its durability, but Kobalt is known for its lower price.
So, no matter what you buy. Just ensure that you make a happy purchase, and your garage should get the cabinet it deserves. Thanks for reading. Have a nice day!