Those days are gone when people used to step out in the middle of the rain or scorching sun to open the garage door. Modern technologies have evolved into automatic garage door openers.
They are safe and have a user-friendly interface to open and close garage doors effortlessly. 
Genie and Chamberlain are the two famous brands for automatic garage door openers. They make top-quality products to ensure reliability, durability, and safety.
Here we go for an in-depth comparison session between the two garage door openers. Let's dive in!
Quick Comparison Between Genie And Chamberlain Garage Door Opener
Check out this comparison session to learn the fundamental differences between these two electric garage door openers.
| | | |
| --- | --- | --- |
| Specifications | Genie | Chamberlain |
| Wi-Fi compatibility | No Wi-Fi system | Built-in Wi-Fi |
| Safety & Security | T-Beam and An intellicode security system | myQ technology and safety sensors |
| Battery Backup | No battery included | Built-in battery |
| Installation system | Slightly tricky to install | Easier to install |
| Drive Type | Chain | Belt |
| Maximum door height | Up to 8 feet | Up to 10 feet |
| Durability | Decent durability | Highly durable |
| Price | Lower than Chamberlain | Higher than Genie |
Differences Between Genie And Chamberlain Garage Door Opener
Let's check out the primary factors of both automatic garage door openers to help you decide the best option as per your need.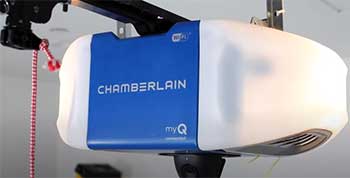 Chamberlain garage door openers come with a built-in Wi-Fi system.
Hence, you can control it if the device and your smartphone are connected to the same Wi-Fi network.
This gives you a convenient user experience. You don't need to use any app to control it.
In contrast, Genie doesn't come with any Built-in Wi-Fi system. However, you can control the automatic garage door Via Aladdin Connect smart control system.
Genie is equipped with a safe T-Beam security system, which automatically uses infrared beams to automatically open and close the garage door. It can detect any object across the beam and will reverse the movement to prevent injuries.
Also, the Genie door opener features an intellicode security system to stop unauthorized access. You will use a separate code for each garage door to ensure optimal safety.
On the other hand, Chamberlain comes with myQ technology to control and monitor your garage door from any place. They have safety sensors to prevent unwanted accidents.
Genie automatic garage door openers don't come with any battery. Hence, you can't operate them if there is any power cut in your location.
Contrastly, Chamberlain features an in-built battery backup that comes in handy if your area has regular electricity cut-down issues. But you need to buy them separately.
Chamberlain is simple to install. Almost all the parts of the units are preassembled. You just need flash to install it. No wired connection is required to set it up.
On the contrary, Genie is slightly tricky to install. But if you know the basics of the installation process and follow the installation guide properly with the proper techniques, it will be easygoing.
Genie automatic door openers come with a chain drive system capable of transferring a huge amount of torque with rapid speed. They have excellent timing movement to move on time.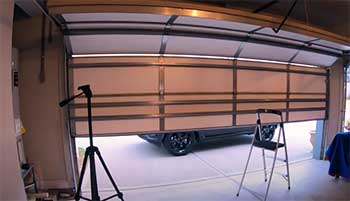 Additionally, a chain drive system has an increased speed ratio and velocity ratio.
Their high transmission efficiency ensures lower maintenance costs.
Chamberlain has a belt drive technology, ensuring effective and smooth power transmission. Since it has a built-in protection system, you don't need to worry about jams or overload.
Additionally, this unique belt technology can damp out vibration and noise significantly. It has the capability to control load fluctuations by absorbing the shock.
Genie can handle up to 8 feet in height. It is enough for any standard single-car garage door. You won't have to worry about parking your vehicle easily.
On the other hand, Chamberlain is capable of handling a maximum of 10 feet in height. This comes in handy for larger vehicles, which are taller than average ones.
Both brands offer durable garage door openers. But Chamberlain is more durable than Genie. Genie door openers can easily last 10 to 15 years if you lubricate their moving parts regularly and correctly balance the door.
In contrast, the average lifespan of a Chamberlain garage door opener is 15 to 20 years. The manufacturer uses the highest quality materials to ensure a longer lifespan.
However, your maintenance approach and using frequency will affect its durability gradually.
Some people don't even bother to close their garbage after taking their vehicles out.
But another thing can be helpful in this regard, such as setting a door-closing timer. By using this timer of 2 to 10 minutes, you can set it.
Hence, the garage door will close after completing that desired level of inactivity. Such a feature can be found in the Chamberlain garage door opener and closer.
But I am afraid you won't find such a thing with the Genie garage door opener. Because it doesn't offer a time-to-close feature to its consumers.
Both smart devices ensure a keyless entry to your garage where you have parked your car. You can take that car anywhere and leave the garage open.
It will either close automatically after a desired time limit. Or you can tell someone to do that job for you.
Some people find these devices too complicated to install when they bring them into the house.
With Chamberlain, we won't say that the installation is quite simple. Yet, there are many techniques you can learn about the installation of this system in the house.
Chamberlain provides you with techniques for installing their garage door opener through an installation guide, or you can hire someone for the job.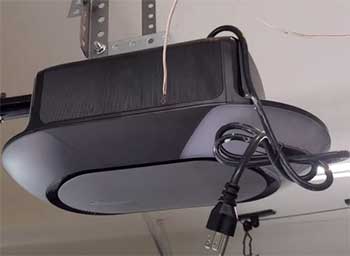 Many people interact with Chamberlain because of this device's aesthetic and unique design.
You will find Chamberlain larger and comparatively better build.
It stands for more years and provides excellent durability on the go.
Compared to that, the design with Genie is so simple, and it is not that liked by a great number of buyers.
Yet, it's a good device to consider at a lower price when you need an automatic garage door opener for your garage. It's time to make things automatic.
Another difference you can find between these two garage door openers is their portability. Chamberlain is a little heavy weight that comes with 35 pounds.
It means it's a heavy-duty device that contains more parts and specs. On the other hand, Genie is only 31 pounds and doesn't have such a great weight specification.
It is smart, lightweight, and can be held in one hand.
Compared to Genie, Chamberlain is a little pricey. After all, this electric garage door opener is made of premium-grade materials. They are powerful enough to handle the strongest and heaviest garage doors.
Apart from residential garages, you can use them for commercial and office garages. These garages have ample space with heavier doors.
The extreme load capacity of the Chamberlain door opener ensures more reliability.
Which Brand Offers The Best Garage Door Opener?
Both Genie and Chamberlain make dedicated quality garage door openers. They have many attractive features to stand out from the rest.
If you want to use a garage door opener for a compact garage in your house, Genie is a good option. It comes at an affordable price.
In contrast, Chamberlain is a better option than Genie in many aspects. It has a built-in Wi-Fi system and built-in battery and requires simple installation.
Plus, the garage door opener is ideal for more extensive and heavier garage doors. However, you have to spend more money as they are made from the highest quality materials.
Frequently Asked Questions (FAQs)
Is Genie made by Chamberlain?
Overhead Door Corporation makes all the garage door openers of Genie.
What is the most reliable type of garage door opener?
Chamberlain, Genie, LiftMaster, etc., are the most reliable brand for garage door openers.
Which is better, Genie or LiftMaster?
LiftMaster is better than Genie due to its many innovative features and better warranty periods.
Does Genie make good garage door openers?
Genie makes powerful, quiet, affordable garage door openers ideal for compact residential garages.
Final Thought
Choosing a suitable garage door opener is vital to ensure optimal functionality, dependability, and safety. But you must consider your garage size, using frequency, budget, and additional features you prefer.
In this comparison of Genie vs. Chamberlain garage door opener, we have discussed all the crucial aspects to help you decide the best option according to your need.
Make sure it fulfills your garage requirement regardless of the option you choose.