A good recliner chair can truly be a game changer. Any recliner chair owner can attest that it is one of the most important pieces of furniture in their home.
Good recliner chairs provide a place where you can unwind after a long day and allow your body to destress.
If you are looking for a good recliner chair, two of the best available are sold by Fjords and Ekornes.
The main difference between them is that Fjords is the actual company that directly sells their chairs while Ekornes is a parent company that sells chairs through their sub-brand Stressless.
A Quick Comparison Table
| | | |
| --- | --- | --- |
| Specification | Fjords Recliner Chairs | Ekornes Stressless Recliner Chairs |
| Number of Chairs Offered | Thirty-two different kinds of chairs are offered. | Thirty-five different kinds of chairs offered |
| Types of Leather Used | Three different types of leather used | Five different types of leather used |
| Advantages and Additional Features | Resting position, Active Release System™, Adjustable neck support, two sizes, different bases. | Power recliner, Plus™-system Recliner, power heating, and massage. |
| Recliner Chair Prices | From $899.00 up to $2,995.00 | From $1,795.00 up to $4,395.00 |
In-depth Differences Between Fjords And Ekornes Recliner Chairs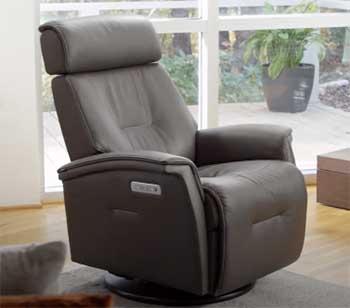 You can retreat to a good recliner chair after a long day at work or just relax during your leisure.
You can read a good book, watch TV, or even get some work done in a recliner chair.
If you do decide to invest in a recliner chair, it will undoubtedly become one of the most popular pieces of furniture in your house.
After going through the table, you should have a pretty good idea about all the different characteristics of the recliner chairs offered by both companies.
Now, let's go a bit more in-depth into the characteristics of the chairs and really break down and discuss each characteristic of Fjords chairs and Ekornes Stressless chairs separately.
Number of Recliner Chairs Offered
Njords offers thirty-two different recliner chairs of varying colors and materials. For the full list of available recliner chairs, check out their official webpage.
On the other hand, Ekornes's Stressless brand has on offer thirty-five different reclining chairs of different colors and materials. For the full list of available chairs, see their webpage.
So, as we can see, Ekornes has a slightly higher number of recliner chairs available for purchase.
Types of Leather Used for The Chairs
Below is a brief description of every kind of leather Fjords uses:
Astro Line Leather
This is their best and highest quality leather. The raw materials cost for this is significantly higher as it cannot be produced from any cowhide.
Astro Line leather is uncorrected, meaning the surface has not been sanded or smoothed out in any way to hide imperfections. This practice gives the leather a natural and improved look and feel.
Soft Line Leather
This is their mid-level leather. Like the Astro Line, Soft Line leather is also uncorrected. This gives it a natural variation in grain and an improved look and feel.
Unlike the Astro Line, which is not artificially altered in any way, Soft Line leather is mechanically stretched and flattened to give it a smoother appearance.
Nordic Line Leather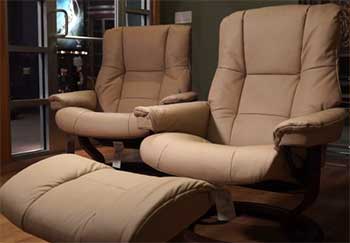 This is their entry-grade leather.
Unlike the other two, Nordic Line leather is fully corrected.
This means that the leather has been sanded and smoothed out to hide any imperfections or natural marks.
For the full list of leathers and colors available, go visit their site.
Now, let's move on to the types of leather Ekornes uses.
Cori
Cori is upholstery leather that has been corrected and pigment-improved. It has a substantial body and a distinct pebbled grain.
It has a protective layer of lacquer that makes it easier to clean.
Batick
Like Cori, Batick is also a corrected upholstery leather. Unlike Cori, Batick leather does not have a tip shine. However, it is resistant to fading.
Also, like Cori, Batick also has a protective layer of lacquer.
Paloma
Paloma is slightly corrected which makes it smooth. However, it is not as heavily corrected as the previous two.
Paloma has a thin coating of lacquer to give it minimal protection and simplify cleaning. However, its protection is not as heavy-duty as Cori and Batick.
Noblesse
The most expensive grade of leather that Stressless offers is Noblesse. It is a full-grain semi-aniline leather that is completely colored and has just a thin topcoat for protection.
As a result, the leather is able to maintain its organic softness and luster.
Pioneer
This is Ekornes's luxury leather. It is an aniline pull-up leather. The manufacturers use oils, waxes, and clear colors on the leather.
This offers rich, brilliant hues and a lovely gloss, enhancing the smooth touch and natural attractiveness.
For the full list of leathers and colors available, check out their site.
Let's look at some of the additional features of the chairs that make them stand out from each other.
Fjords Recliner Chairs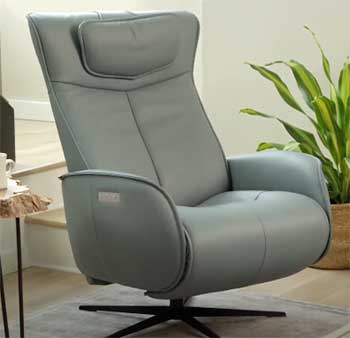 Fjord recliners have continuous reclining of the back allowing you to easily reach your individual resting position.
All their recliners also have the unique in-built mechanism, the Active Release System™.
This automatically provides you with the best neck and back support.
Some of their chairs also have adjustable neck support. This lets you adjust the neck support according to your current position in the chair.
Ekornes Stressless Recliner Chairs
Their Plus™-system provides optimal support and comfort to your head and lumbar area.
Their chairs have an automated adjustment system. By applying slight pressure under the armrest, the chair automatically adjusts both the footrest and back angle.
Some of their chairs also have built-in massage and heating functions.
Due to their high-quality and great additional features, both Fjords and Ekornes recliner chairs have hefty price tags.
Fjords recliner chairs can be sold for anywhere between $899.00 and $2,995.00. On the other hand, Ekornes chairs can go for between $1,795.00 and $4,395.00.
Which Chair Should You Choose?
We now come to the ultimate question. Which company's chair should you choose to buy?
The answer to that question depends entirely on you and your preferences. They're both luxury chair brands with very hefty price tags. So, you need to consider carefully whether you should buy one or not.
We advise that you read the info provided in this article as well as outside of it before making your final decision.
Frequently Asked Questions (FAQ)
Is Fjords the same as Stressless?
Fjords and Stressless are different luxury furniture brands.
Is Stressless better than fjord?
Stressless furniture is more expensive than Fjords on average.
Are Ekornes and Stressless the same?
Ekornes is the parent company and Stressless is their sub-brand that sells furniture.
Where are Fjords recliners manufactured?
Fjords recliners are manufactured in Norway.
Conclusion
To sum up this article on Fjords and Ekornes recliners, they are both luxury brands. Due to this, the products of both companies have very hefty price tags.
However, the price is largely justified because of the quality and features provided.
Hopefully, this article helped you make a decision on whether to invest in a recliner chair or not.