Figure 8 fasteners rotate as the wood moves, But Z clip fasteners cannot turn or move. At the same time, you will find figure 8 fasteners are less conspicuous than Z clips.
There are other differences between these two tabletop fasteners and you will know about them all from my comparison between the Figure 8 fasteners and Z clips.  This article will depict all the different features and benefits of these two popular tabletop fasteners.
So, let's get started with it.
A Quick Comparison Table
Here we'll see a quick comparison table between Figure 8 fasteners and Z clips tabletop fastener:
| | | |
| --- | --- | --- |
| Aspects | Figure 8 Fastener | Z Clips |
| Fastener Type | 8 Shaped Desktop Fastener | Z Shaped Fastener |
| Materials | Die Casting Steel | Extra Heavy-Duty Metal |
| Special Feature | Allow Seasonal Wood Movement | Stronger Fastening |
| Benefits | Offers Many Benefits | Offers Many Benefits |
| Usages | Smaller Tabletops | Any Tabletops |
| Size | ½-9/16 Inches Hole | 1.1" Long & 0.6" Wide |
In-Depth Comparisons Between Figure 8 fasteners And Z clips Tabletop Fastener
Now that you've gathered some basic ideas about these fasteners, we will go into more detail about these products. So, let's begin:
Figure 8 fastener is also known as desktop fasteners. It is used to attach an apron to your tabletop. It moves with wood and pivots slightly.
They work better work with smaller tables. You should not use them for tables that are wider than 18 inches.
On the contrary, Z clip fasteners are strong and are a good choice for all sizes of tables. One side of the screw is attached to the tabletop, and the other one remains freely in the cut slot into the apron.
But they do not allow a lot of wood movement. Also, the Z clip is not as attractive as the figure 8 fasteners.  
Both fasteners are made from high-quality and strong metals. Figure 8 fasteners are made of strong and superior die casting steel.
Besides, they have zinc coating for rusting and corrosion resistance. The back screws are made of Nickel and coated for longer-lasting.
Similarly, Z clips are extra heavy-duty metal and have a zinc coating. Their high-quality back screws are sturdy and will last longer while fasting firmly. But they do not come coated with anything.
Figure 8 fasteners are flat, shaped like eight, and made of high-quality materials. You can securely fasten your wooden tabletop and apron using this convenient fastener.
Being made of high-quality materials, they will last longer than other fasteners. Besides, they are straightforward to install, and because of their shape, they allow seasonal wood movement.
On the other hand, Z clip fasteners are stronger and high-quality materials. With easy installation, you can use z clips for multipurpose.
But it allows tiny seasonal wood movement. On top of that, you can use it on various table sizes.
You will get many benefits from both fasteners. You can use it for vertical and horizontal applications.
Interestingly, one washer can hold a horizontal piece while the other can hold a vertical piece simultaneously.
As both the fasteners and their back screws are coated with superior coatings, they will last long while doing their job.
In contrast, Z clips offer more robust fastening than figure 8 fasteners. They are durable, long-lasting, and sturdy. You can expect a bit of seasonal change due to season temperature and humidity.
Besides, these clips are very easy to install. These fasteners are well known for their sturdiness and value for money.
The primary purpose of both fasteners is the same. That is fastening a wooden tabletop with an apron. But you must know where they work better.
You can use figure 8 fasteners conveniently with any small table. The good thing about these fasteners is that they can screw horizontal and vertical pieces.
On the contrary, use Z clips for all types of tabletops. You can easily use it for desktops, end tables, shelves, and other wooden pieces.
You will find figure 8 fasteners in many sizes, but most carry the same size on both sides. The figure 8 fasteners are made to fit a ½ inch or 9/16 inches hole.
Conversely, Z clip fasteners are 1.1 inches long and 0.6 inches wide. Their back screws are 0.55 inches long.
Which Fastener Is Better For You?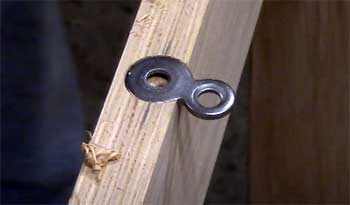 My above discussion shows that figure 8 fasteners are good-looking but offer a less strong bond between your tabletop and apron.
On the other hand, Z clips are not so g-looking, but they provide the strongest fastening.
Besides, you can use Z clip fasteners with all types and sizes of tabletops, whereas figure 8 fasteners are only suitable for small tables. But their screws are coated for durability, and they allow more seasonal movement than Z clips.
Considering all facts, I suggest you purchase Z clip fasteners for a stronger and more durable fastening with multipurpose usability.
Frequently Asked Question (FAQ)
What is a figure 8 fastener?
Figure 8 fastener is a fast and reliable way to fasten wooden tabletop and aprons. The unique thing about this fastener is that it allows seasonal wood movements.
What are Figure 8 fasteners used for?
Figure 8 fastener is used for screwing wooden tabletops and aprons. You can use it for fastening small tabletops.
How far apart should Z clips be?
Z clips are well-known for their strong fastening capability. 8 inches to 10 inches spacing between two clips is enough.
How do you attach a table top to base Z clips?
Attaching the Z clip on a tabletop to the base is comparatively easy. It will perfectly fit in a continuous groove inside your tabletop to the base with a pan head screw.
Conclusion
The right fastening tool will keep your tabletop and apron attached for longer. But if you fail to do it perfectly, you know loosening is only a matter of time. That's why it's essential to choose the right fastening screw.
With my Figure 8 fasteners vs. Z clipsreview, now you know which the best choice is. So, do not worry about any of it.