Unless you're okay with creaking floors, you already know how important proper flooring is. This is why a lot of people go with popular floorings like Evoke from Metropolitan.
But unfortunately, even they have their problems.
As amazing as the Evoke flooring is, they do have some issues. Plank shifting, cleaning stains, heat warping- these are the common problems Evoke flooring users face.
How bad can these problems get and is this flooring worth it? Here is a detailed breakdown that answers these questions.
Common Problems With Evoke Flooring
The first thing you need to keep in mind is that no flooring is perfect. Whatever brand you go with will have some minor drawbacks.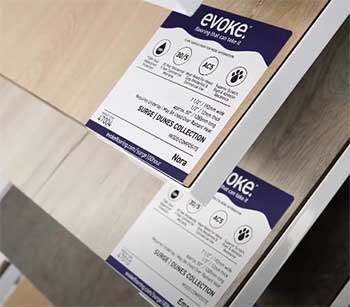 What matters is that they don't go overboard. This unfortunately isn't always the case with Evoke flooring though.
Most of the problems with Evoke floorings are manufacturing or material issues.
That's one thing; the other thing is their scale of them. Whether they will blow up in your face depends completely on your luck.
The most common issues Evoke flooring users note are the vinyl planks shifting, laminations having cleaning stains, and warping in sunlight.
Here's how intense these problems can get.
The Vinyl Planks Shift Very Easily
This is something that happens with a lot of flooring brands. But with Evoke flooring, the issue is a bit more severe. The vinyl planks don't take long to start shrinking and shrinking on a pretty big scale too. If you're unlucky, the planks might create gaps within the first year.
Shrinking and shifting is a pretty common issue for vinyl planks. Whether it's LVT or VCC, there's always this risk that the tiles will shrink (or bend) and create gaps.
With Evoke, this is much more common than with other brands. The vinyl tiles shrink a lot and leave gaps between the planks. And this isn't even the worse part.
The worse part is that you'll have to redo your entire room to fix the gap, no matter how small it is. So you'll have to move out and of course, break the bank.
There can be lots of reasons for shrinking. Usually, planks shift if there is moisture trapped between the floor layers.
Evoke LVP and VCC react more intensely to the moisture compared to other brands, that's why the shrinkage is much more prominent.
And to top it off, it all depends on your luck. If you're lucky, you probably won't have to deal with shifting.
But if you're one of the unlucky people, the shifting will start very soon and it can get pretty bad pretty fast.
The Lamination Holds Cleaning Stains
Of course, you'll have to clean your flooring, Evoke or not. The problem with cleaning Evoke flooring is that the laminates hold the water and cleaning product stains.
So you'll forever have to look at a murky floor no matter how hard you clean.
This is one of the stranger problems of Evoke flooring laminates. No one knows why this happens and it doesn't seem to happen with Evoke LVT and VCC planks.
The floor lamination stays clear as long as you don't clean them. Right after you do the first cleaning, the laminates lose their clean and glossy look.
The floor shows clear streaks of water and cleaning products and these stains only become more visible with time. No matter how much you clean and how rigorously you follow Evoke's tutorial, the stains just won't go away.
Unfortunately, this doesn't have a solution either. Once you see the mark, you'll have to either live with it or change your whole flooring.
Granted, this doesn't happen frequently but it still happens more than it should.
The Floor Laminates Can't Stan Sun
It is common for floor laminates to bend when you expose them to heat. But Evoke flooring is more on the delicate side. Not only it curls away from heat, but it also doesn't do well with sunlight.
So if you have glass windows or plan on installing them in place with direct sunlight, think again.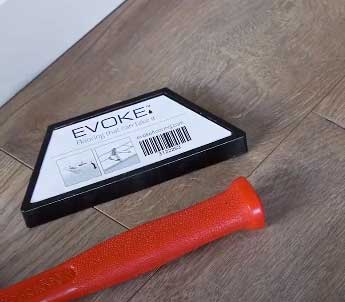 Most manufacturers instruct users to be cautious with heat when installing laminates.
Evoke is the same, except the heat resistance in their laminates is weaker.
The laminates start peeling off if they're exposed to sunlight in a normal corner.
And it doesn't even take long, sometimes the peeling starts within two months.
Since the heat damage can't really be classified as a manufacturing defect, most of the time the companies don't consider this for product warranty.
If your floors do start peeling because of this, you're unfortunately going to be on your own.
Is Evoke Flooring Worth It?
You know about the possible problems now, but what about the general performance? Is Evoke Flooring worth it?
Evoke flooring is one of the popular flooring options according to installers. The brand offers a pretty big range of product selection and the price is pretty reasonable too.
And if you're lucky, you won't have to worry about anything else after installing them.
But Evoke is also on the more unpredictable side. Their flooring options are amazing, but only if you're lucky. If you're unlucky, you'll be having flooring problems in no time.
Plus it is pretty hard to get your hands on their flooring since they don't have retail shops.
So, is Evoke flooring worth it? Depends on you. if you're okay with the risk, then it's a pretty good option. But if you want something more durable and steady, then Evoke flooring may not be for you.
Frequently Asked Questions (FAQ)
Here are a bunch of questions people usually ask about Evoke and other flooring brands in general.
What are the problems with vinyl plank flooring?
The common vinyl plank problems are edge crumpling, shifting, and abatement chemical issues.
What is the warranty on Evoke floors?
Evoke floorings come with a 25 years residential warranty and a 3 years warranty for commercial usage.
Who manufactures Evoke flooring?
Evoke floorings are manufactured by Metropolitan.
What is the problem with rigid core flooring?
Rigid core floorings can be harder to install and they also cost more compared to other floorings.
Final Verdict
When it comes to floorings, it is always better to know what you're walking into beforehand. So if you're looking for Evoke flooring problems, this is a good place to start.
If you're okay with depending on your luck for flooring material longevity, this is a good option. But if you want something more predictable, Evoke may not be the best option for you.