Many of you use EB Emulsa Bond bonding primer for chalky exterior surfaces. It's been around for a long time and is a great product. But how many of you thought about the alternatives this product has in the market?
It can be unavailable due to high demand, or you simply don't want to use a latex-based bonding primer. In both cases, it's high time you see some of the worthy alternatives you can use instead of Emulsa Bond. This whole article is about that.
So, let's dig in.
Alternatives To Emulsa Bond For Priming Chalky Surfaces
Here is a list of those substitutes:
Moorgard Acrylic Low Luster House Paints
KILZ Adhesion Primer
Extreme Bond Primer
INSL-X STIX
Peel Stop Clear Binding Primer
Let's talk about them in detail.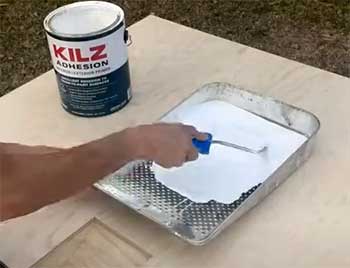 Another great alternative to Emulsa Bond is Kilz Adhesion Primer.
It's a water-based modified acrylic primer designed to bond to various chalky and tough-to-paint surfaces.
You can use this bonding primer on your house's interior and exterior surfaces.
Because of its superior chemistry, you will get an excellent topcoat without sanding.
This product is formulated for use on bricks, concrete, drywalls, glass, stucco, aluminum, fiberglass, plaster, PVC, and, most importantly, chalky surfaces. It will dry pretty fast, within an hour or so.
Kilz Adhesion Primer can cover up to 400 square feet of surface per gallon. The Styrenated-Acrylic Polymer resin will hide and protect your chalky surface for a long time.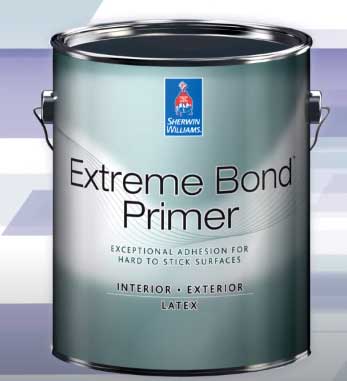 Extreme Bond Primer from Sherwin Williams can be a good option for your chalky surface.
Its urethane-modified acrylic formula will give exceptional adhesion to your hard-to-stick chalky surface.
Besides, you can use them on both interior and exterior surfaces.
A chalky surface requires excellent adhesion that a regular primer cannot deliver. You will need a powerful bond primer for that.
It is specially formulated for hard and glossy surfaces suffering from chalking. Glossy panels like glass panels, plastic piping, tiles, etc., will need this product.
After applying, you will get a uniform appearance from topcoats, requiring only one coat with this boning primer. Plus, it dries pretty fast. You won't need any sanding, either.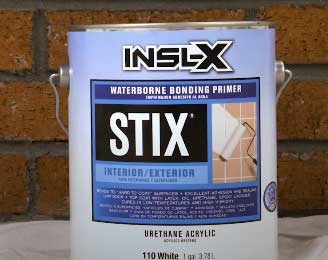 INSL-X Stix waterborne bonding primer is a premium quality acrylic urethane primer that delivers unparalleled adhesion to chalky surfaces.
After curing, you will get a solid film over your chalky surface. It also bonds strongly to any glossy surfaces.
Besides, you will get an excellent holdout of glossy and challenging surfaces, including plastic, PVC, glass, tiles, glossy paints, fiberglass, metals, and many more.
You can use it on the exterior and interior surfaces like wood trims, masonry walls, concrete, and masonry.
Stix takes about 3 to 4 days to become fully cured. You can apply it at low temperatures as well. It gives a flat shin on chalky surfaces, covering up to 300 to 400 square foot area per gallon.
Peel Stop Clear Binding Primer
Peel Stop from Zinsser is a clear and flexible binder primer. Apart from chalking, it also stops your surface from peeling and cracking.
It creates a breathable membrane over faulted surfaces to block chalky residues. You will get a chalk-free sound surface after applying it.
Peel Stop easily glues down the edges of old and chalky coatings. It binds chalky surfaces and protects your surface from cracking. This bonding primer takes only one hour to dry, and you can cover up to 7.4 to 9.8 square meter area per liter.
You can apply it to various interior and exterior surfaces, including concrete blocks, brick, vinyl, wooden doors, windows, ceilings, trims, etc., surfaces.
Moorgard Acrylic Low Luster House Paints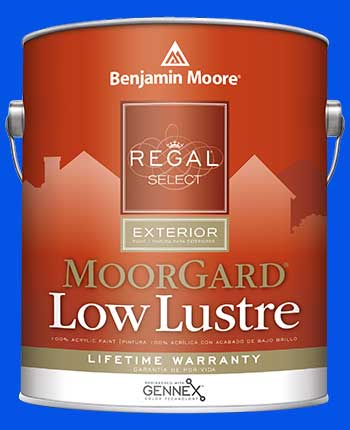 Moorgard acrylic low luster house paints from Benjamin Moore can be an excellent alternative if you can't find Emulsa Bond near you.
This premium bonding primer has 100% acrylic resin and proprietary alkyd technology to create a protective cover on your chalky surface for a long time.
It has outstanding hiding capability and takes only one coat to hide any chalking from your surface, keeping them in good condition for years to come.
Because of the ingredients, you will get superior adhesion and excellent resistance to chalking.
Besides, it dries quickly after application and can resist mildew, cracking, fading, peeling, or blistering. Moorgard delivers great touch-ups, giving your surface a uniform look.
You can use this product on many exterior surfaces, including wood sidings, doors, trims, aluminum, vinyl, concrete, masonry, etc.
Is Emulsa Bond Worth It?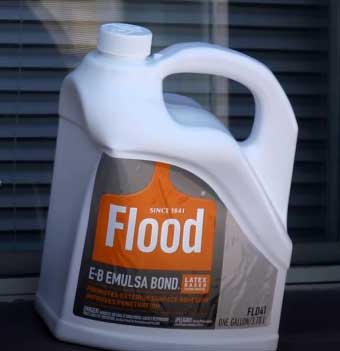 Emulsa Bond works as a bonding primer for chalky exterior surfaces.
It is quite a good product that can create excellent bonding after the first coat.
This bonding primer can increase adhesion between bonding and finish coats.
Besides, the latex-based primer can enhance the adhesion power of water-based exterior coatings to various chalky surfaces like wood, aluminum, masonry, etc.
As it delivers pretty good performance, you can say it's a worthy product.
Frequently Asked Question (FAQ)
What does Emulsa Bond do?
Emulsa Bond is a latex-based stir-in acrylic paint additive and bonding primer for exterior wood for various exterior surfaces. It protects your exterior surface from chalking and peeling over a faulty surface.
What is Emulsa?
EB Emulsa Bond is a bonding primer for chalky exterior surfaces. This stir-in bonding additive creates a tough bond over any faulty surface. Besides, you can use it on various exterior surfaces, and you won't need to further prime your surface as well.  
How much Emulsa Bond do I need?
The coverage of Emulsa Bond varies based on the texture and porosity of the surface. However, while mixing with paint, you will need 1 quart of Emulsa Bond to 1 gallon of latex paint.
What is EB paint?
EB stands for Emulsa Bond. EB paint is a high penetrating and stir-in paint for water-based masonry or interior paints. With EB additive, it protects your surface from chalking, peeling, cracking, and crumbling.
Final Thoughts
There are many high-quality Emulsa Bond alternatives available in the market. They can protect your interior and chalky exterior surfaces. Some of them even deliver superior results.
So, choosing between EB and its alternatives can be a little baffling. While you can choose any product that provides good deliveries, I suggest you consider your surface and decide on the product. Take professional help if you have to.