Metalworking And Woodworking are two very important aspects of many different industries and fields.
From large industries such as construction and mechanical to smaller fields such as DIY projects, metal, and woodworking are involved in some way or another.
In most cases, many steel constructions do not come out the right way. They require additional work done on them. This is where surface conditioning tools come in handy.
Probably the most well-known one is the Eastwood Contour SCT. Other than that, there are some alternatives as well. Let's check out all the alternatives one by one.
Eastwood Contour SCT Substitutes For Steel/Woodworking

Most people experienced in the field will attest that in many cases, wood and steel constructions come out imperfect. Some common imperfections include rust, rough edges, and uneven corners.
All these can be fixed with the use of a surface conditioning tool. Using one of these tools, you can easily correct the paint, remove any rust, or grind away on a rough or uneven area to smooth it out.
Besides grinding steel or wood, surface conditioning tools can also be used to polish stainless steel, wood, and other materials to give them a better overall look.
So now you know exactly what a surface conditioning tool is and what its functions are. They are an invaluable asset in many fields and industries that work with steel, wood, and other such materials.
As was mentioned before, the Eastwood Contour SCT is one of the most well-known surface conditioning tools out there. So, there is a chance you may have already heard of it.
However, there are many alternatives to the Eastwood Contour SCT out there that work just as well. So, if you are unwilling to buy the Eastwood Contour SCT, you can consider one of the substitutes instead.
Let's take a look at some of the possible alternatives to the Eastwood Contour SCT out there.
VEVOR Surface Conditioning Tool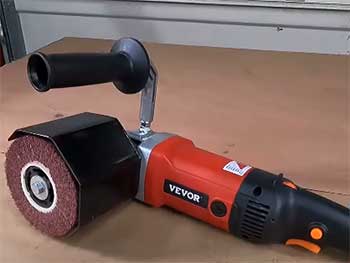 This handheld surface conditioning tool has an exuberant power output thanks to its 1,200 Watt motor.
This helps it to accomplish demanding jobs with ease.
This surface conditioning tool has six different speeds which can be changed at any time.
The speeds range from as low as 500 rpm to a maximum of 3,000 rpm.
This conditioning tool also has an in-built heat dissipation system that protects the motor and prolongs the tool's overall service life.
Thanks to its powerful and versatile speeds and the number of different wheels that can be attached to it, you can easily take care of all your polishing and grinding needs using the VEVOR surface conditioning tool.
All of these functions come at a relatively low price of just above $100 from Amazon.

It runs on a powerful 20 Volt battery. As a result of that, this grinder is overall much more powerful than the previous one.
The DEWALT die grinder has a maximum output of 25,000 rpm, which is more than eight times as powerful as the VEVOR surface conditioning tool.
Because of the far stronger output, the DEWALT die grinder can more easily accomplish heavy-duty grinding and polishing tasks.
All of this is reflected in the price tag of the tool. The DEWALT 20 Volt, Variable Speed Die Grinder is on the pricier side, with a price tag of $219.00 on Amazon.
MXBAOHENG Polishing Machine
By itself, the MXBAOHENG polishing machine is quite powerful. However, compared to the alternatives mentioned previously, it falls a little short.
This surface conditioning machine has a maximum power output of 2,800 Watts. So, this tool may not be as powerful as the previously mentioned alternatives, but it is nonetheless very durable and powerful enough to accomplish most tasks without any complications.
Along with the 2,800 Watt motor, the MXBAOHENG polishing machine also has six different speeds to choose from.
Another useful function that this machine has is its locking switch system. If you will be working on something for a long period, you can press the lock switch to release the variable speed switch whenever you want.
This will let the machine run normally and will reduce work intensity and alleviate finger fatigue.
You can get the MXBAOHENG polishing machine from Amazon for around $180.00.
Make Your Own Surface Conditioning Machine
A possible alternative to the Eastwood Contour SCT surface conditioning machine is to make one by yourself. Of course, to do this, you would need a significant amount of technical and mechanical know-how.
However, it is very much possible to build one using parts found in most hardware stores and following online tutorials and guides.
From a performance standpoint, a homemade machine will most likely not outperform a professionally made surface conditioning tool. However, you can save a significant amount of money by building one by yourself while still being able to accomplish most tasks with it.
Is The Eastwood Contour SCT Worth Buying?
The Eastwood Contour SCT surface conditioning tool is made of heavy-duty industrial materials with a powerful 9 amp motor and hardened spur metal gearbox.
It has a minimum power output of 1,000 rpm and a maximum output of 3,700 rpm. Between these, the machine has a six-speed position rotary knob as well as a powerful 9 Amp double insulated motor.
All these functions have raised the Eastwood Contour SCT to be one of the most well-known surface conditioning tools out there.
As to whether you should buy it or not, that is entirely up to you. There are plenty of alternatives that perform just as well if not better in some cases. So, it is totally up to you.
Frequently Asked Questions (FAQ)
Can you use a surface conditioning tool on wood?
Yes, you can use a surface conditioning tool on wood, metal, and many other materials.
How do you use contour SCT?
The Eastwood Contour SCT has a maximum power output of 3,700 rpm and 6 different speeds you can choose from to use.
What is a surface conditioning tool used for?
A surface conditioning tool is used to grind away imperfections, smooth out edges, and polish different surfaces.
Conclusion
While it is one of the most well-known tools in the field, there are plenty of Eastwood Contour SCT alternatives out there that perform just as well. You can't go wrong with any of them.
Hopefully, this article gave you all the information you were looking for.