DuraLife and Trex are both giants in the composite decking industry but their product collections and price points set them apart. Choosing the right composite decking for your home can be a challenge, especially if you have no prior knowledge about the market. 
Today, we will be discussing two such brands that go head-to-head in this sector to decide which is the superior choice.
A Quick Comparison Table
Want to quickly skim through the primary differences between the two without diving into the details? Check out this comparison table:
| | | |
| --- | --- | --- |
| Specifications | DuraLife | Trex |
| Construction | 80% to 90% of materials used are post-industrial and post-consumer | Constructed from reclaimed wood and plastic materials, tongue-and-groove planks, and solid planks |
| Product Collection | 2 | 3 |
| Installation | Easy to do; a pro can be hired for the job | Provides instructions online for DIY-ers; helps locate professionals nearby |
| Price | $18 to $35 per foot – labor and part | $15 to $35 per foot – labor and part |
| Warranty | 25-year fade and stain warranty | 25-year warranty and an additional 25-years residential fade warranty |
Key Differences Between Trex And DuraLife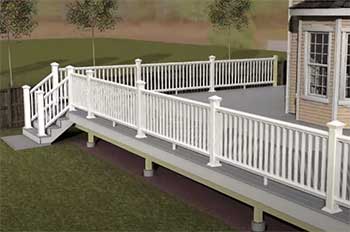 Virginia-based company Trex has been in the game since 1996. They sell a plethora of products in more than 40 countries.
Their composite decking is constructed from reclaimed wood and plastic materials, tongue-and-groove planks, and solid planks. 
About 95% of their raw materials are acquired from plastic bags, films, and waste wood fiber.
Allegedly, the company purchases around 300 million pounds of hardwood sawdust and used polyethylene each year.
While originally a compression-molded product, Trex decking does occasionally come with an extra extruded exterior shell. Trex decking has a longer life than regular wood.
Barrette Outdoor Living acquired DuraLife Composite Decking in 2018. Barrette used to only be a producer of aluminum, vinyl, and steel railing and fence; composite decking, and miscellaneous outdoor products.
Similar to Trex, DuraLife decking features an 80% to 90% usage of post-industrial and post-consumer raw material usage. The decking is made without toxic chemicals or preservatives, like formaldehyde.
All of DuraLife's railing and decking products are made in Maine, and as much as 100% of all the sourced raw material comes within a 500-mile radius of their factory to limit the shipping burden on the environment.
DuraLife decking is primarily offered in two different collections and both of them deal with colors only, not style. The first one is the Hardwoods collection, featuring four colors: Garapa, Brazilian Cherry, Golden Teak, and Walnut. 
Colors in this collection are formed through a random dispersal procedure. One of the biggest advantages of this process is how natural it makes the composite decking planks seem. 
On the other hand, we have the Landscape collection. It mainly offers earth-tone hues such as Slate, Mahogany, Coastal Gray, and Pebble. Solar Guard is a basic feature of these boards.
Trex has a huge selection of outdoor composite decking and the best part is that many of their products are super cheap.
Products include deck framing elements, surface decking, outdoor lighting, surface decking, pergolas, trim, fencing, drainage components, outdoor storage, accessory hardware, collections, and outdoor furniture. 
They have 3 composite decking collections you can choose from Trex Transcend, Enhance, and Select.
Out of these three, Trex Transcend is the best the brand has to offer. Available in Tropicals and Earth Tones, Trex Transcend appeals with a proprietary shell technology construction to resist mildew, mold, scratching, staining, and fading.
Trex Select is made using high-performance shell technology to create a strong, durable deck in 5 natural hues.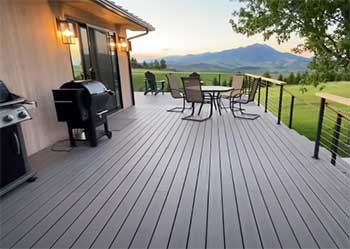 Trex decking offers information on their website for enthusiastic DIYers who want to install the deck by themselves.
Moreover, they offer assistance in finding a TrexPro, an installer or deck contractor near you who has been trained by the company to install the system.
DuraLife installation is fairly simple and easy. Purchase the railing, decking, and accessories together.
Finish the lighting, latticework, and screen panels. You can install the wooden planks afterward by yourself or get a pro to do it for you. 
The installation has no effect on the company's warranty.
Based on which thickness level you get, the average cost of Trex decking spans from $15 to $35 per foot – parts and labor.
In contrast, the range is $18 to $35 for DuraLife.
At DuraLife, you get a 25-years fade and stain warranty on every board. Not only are the products quite resistant to fading, scratching, damage, and denting, but the extra warranty provides an additional layer of protection. 
Thoroughly read the warranty guidance that the company provides.
25 years is actually the standard for the decking industry so Trex provides that. But they also provide an extra 25-year residential stain and fade warranty. In comparison, conventional wood decks normally last between 10 to 15 years.
Which One Will Be The Best Fit For Your Deck?
Trex is cheaper than DuraLife and has a wider selection palette. But many people might not like the color scheme that the company has to offer.
In that case, it's important to consider that the products are rather similar in construction. Consider the price and personal choice when making the call.
Frequently Asked Questions (FAQs)
What product is better than Trex decking?
While not objectively better, TimberTech has the best collection of realistic-looking boards.
Is DuraLife decking hot?
DuraLife decking comes with CoolTrac, a feature to keep the decking cool when you work under the summer sun.
What is a cheaper alternative to Trex?
Trex has the least expensive options in the market.
What decking is as good as Trex?
DuraLife is a worthy competitor to Trex.
Final Words
Between DuraLife vs. Trex, it is hard to choose a winner. Both these brands have merits and many of their products are top-of-the-line in their respective market.
At the end of the day, your personal aesthetic has a big role to play in deciding which would work best for you. Don't forget to consider the functional aspect too!