Whether you're a professional with a thriving business or a home DIYer, a solid table saw is a necessity for every woodworking shop.
They allow you to quickly and accurately separate and crosscut boards and sheets to your desired measurements since they are tremendously accurate.
There are so many tables saw brands available in the market, and people often get confused between Delta Unisaw and SawStop table saws because they both are very popular among professionals.
If you are also confused about what table saw to buy, this article is for you.
A Quick Comparison Table
| | | |
| --- | --- | --- |
| Specifications | Delta Unisaw | SawStop |
| Horsepower | 3-HP | 5-HP |
| BladeSpeed | 4,300 RPM | 4,000 RPM |
| Voltage | 230V | 230V |
| Fence System | Biesemeyer fence | T-Glide fence |
| Price | Expensive | Less expensive |
In-Depth Comparison Between Delta UniSaw And SawStop
Now let's talk about the major differentiations between these two table saws so that you can pick the perfect one for your work-
Company Origin and Reputation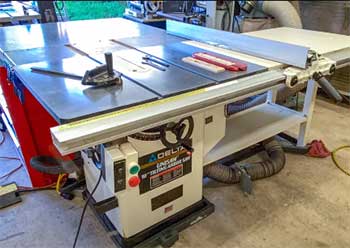 It's always better to have a little bit of idea about the company, where and how the product is made before buying.
Delta Unisaw is produced by Delta Machinery, founded in 1919, and now its headquarter is in South Carolina.
Delta Machinery has been carrying its legacy of quality products for a long time.
Professional woodworkers rely on the accuracy, precision, and dependability of Delta products.
On the other hand, SawStop is a comparatively new company. American table saw maker SawStop has its headquarters in Tualatin, Oregon.
The business was established in 2000 to market table saws with unique automated braking systems.
Customers can purchase SawStop saws through their dependable dealer network.
These dealers can be found in almost 650 locations in the United States, Mexico, Central/South America, Canada, Japan, China, South Korea, Taiwan (ROC), New Zealand, South Africa, and Kuwait.
Horsepower and voltage are the most important factors in electric table saws. Before buying a table saw, you should carefully look into these so that you do not regret it in the long run.
A variety of methods can be used to compute power. Some of the words you probably heard before are Watts, Volts, AMPS, and Horsepower. And even though they are all connected, each one has a completely different meaning.
For instance, horsepower describes the strength of a motor while it is operating at maximum speed. On the other hand, its electrical load capacity during a specific period of time is expressed in AMPS.
Finally, voltage, which is measured in Volts, represents the amount of pressure produced by a power source.
It is recommended to choose tools that are compatible with 120-V sockets as they are already used in the majority of North American households. If not, you'll have to completely rewire everything.
A table saw with a 2-HP engine is more than adequate for people who enjoy working on small DIY projects at home. But if you're planning to do tough tasks, a cabinet table saw with a motor of at least 5 HP would be advised.
It would be better to boost the pressure in your power source. By increasing it to 230-V, your table saw should operate more consistently without reducing its cutting power.
As Delta Unisaw and SawStop both have 230-V voltage, you should choose the horsepower according to your level of the task.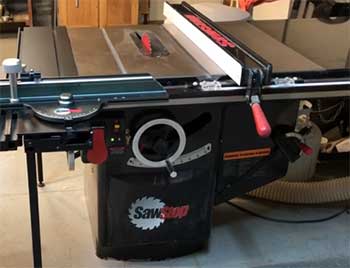 The speed of the blade which is expressed in feet per second determines how quickly the cutting teeth cut through the material (fps).
For basic woodcutting, a speed range between 130 and 170 feet per second is ideal.
With this range, you can cut stronger materials more slowly and softer materials faster.
That feet per second speed for a circular saw blade is achieved through a combination of blade diameter and blade revolutions per minute (rpm).
So, considering this specification, Delta Unisaw is better than SawStop as Unisaw's blade speed is 300 RPM higher than SawStop's.
The Table saws have fences as an integral element of their design. These are crucial for both safety and precision. Fences are often built of metal, wood, or plastic.
Delta Unisaw includes Biesemeyer fences, which are exceptionally robust, and accurate fence systems. It is incredibly stable, and it can be adjusted.
SawStop uses a T-Glide fence in their table saw. The T-Glide Fence System offers easy-to-use, accurate measurement, and reliable lockdown without deflection. It provides the performance you require while giving you the assurance of safety.
Frequently Asked Questions (FAQ)
Is the Delta Unisaw a good saw?
Yes, Delta Unisaw is a good saw. The Unisaw is a top-notch table saw designed with premium components and meticulous attention to detail. Delta Unisaw is extremely strong, precise, and made to endure a lifetime.
Are there any competitors to SawStop?
The Bosch REAXX table saw was the most popular Sawstop substitute. Similar to the Sawstop, this table saw was introduced in 2015 and has flesh-sensing capabilities. Another competitor of theirs is DeWalt. DeWalt combines portability and power in a tough, user-friendly compact, and its extensible fence can accommodate big boards and sheets.
Who makes Unisaw?
With the Unisaw brand, Delta Machinery produced the first, and only 10-inch industrial table saw in the industry in the 1930s. Now, the company has re-engineered and re-designed all of its best-selling table saws and made them better than before.
What brand of table saw is best?
DeWalt is the best table saw, considering all the factors. But if you focus on portability, the Worm Drive table saw is the best. Skil Jobsite table saw will be the best if you are looking for affordable options.
Final Words
Table saws are at the top of both professional and occasional woodworkers' wish lists. These strong saws can cut larger chunks of material, such as wood, plastic, and aluminum sheeting, better than any other saws.
However, these machines are very dangerous because of the exposed blade; therefore, when buying one, you should seek safety features also.
Finally, take some time to consider your projects and needs. You can go through this Delta Unisaw and SawStop comparative analysis again to choose the right one for your project.