A luxurious vinyl plank flooring is always an excellent choice for your home. But if it's Cyrus Akadia, you won't have to think twice. Maybe you're wondering why I'm saying this. Read my Cyrus Akadia flooring reviews to find out.
Here I will draw some pros and cons of this high-quality LVT. But, you do not have to believe my word; read this article, and you'll know I'm not exaggerating.
Features of Cyrus Akadia Flooring

You will find many unique features of Cyrus Akadia flooring. These features will allow you to distinguish this flooring plank from others, and you must know them to understand the product better.
Let's see some of the key features of Cyrus Akadia flooring:
Cyrus Akadia is a luxurious vinyl plank with Rigid Core and a neutral creamy beige tone. Besides, delicately developed brown grain represents its elegance.
MSI Everlife manufactures it. With all the latest technology and design, Akadia planks can be your go-to option for flooring.
In addition, these waterproof, stain, and dent-resistant flooring will provide you with many benefits. You will feel extreme comfort underfoot because of its innovative pre-attached feature.
Because of its easy installation locking system, any DIY enthusiast can easily install this floor at home.
Cyrus Akadia flooring is an excellent choice for people who love elegance with a great design and durability. A realistic wood-like look and embossing make Akadia incomparable to other floorings.
On top of that, trim pieces of the vinyl flooring coupled with end caps, stair noses, and T-molding will give your house a seamless look.
You can install this luxurious, low-maintenance floor indoors and in places where the temperature is controlled. It is suitable for your bathroom, kitchen, living areas, basement, etc.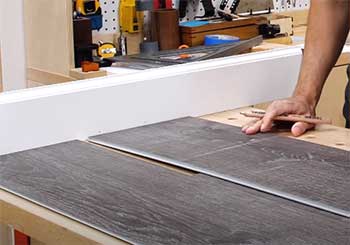 We know that Cyrus Akadia flooring has a solid core. It features an LVT-type rigid core.
With this superior flooring plank, you will get a matching color reducer, end caps, and molding.
This flooring plank is compatible with most existing surfaces, including wood, tile, concrete, and vinyl.
Besides, this waterproof flooring can tolerate moisture for a longer time. A superior dent and impact-resistant feature make Cyrus Akadia flooring an exceptional choice.
On top of that, its pre-attached IXPE underlayment allows you to walk comfortably on this floor.
MSI Everlife Cyrus Akadia is an easy-to-install flooring tile. No need for any professional hand to install it in your house.
Because of its innovative locking, any DIY enthusiast can work with it. Plus, you will get a tight lock between the plank and your floor.
You can install Cyrus Akadia flooring tiles above the grade, on the grade, and below the grade.
In addition, it can be installed on most interior and temperature-controlled surfaces, including hardwood, tiles, etc., as well as places like the basement, kitchen, bathroom, etc.
Low Maintenance & Protection
You will get excellent scratch protection from Akadia flooring planks. The stain and dent-resistant technology make it easier to clean the floor surface.
Besides, they are pretty simple to maintain.
You can simply mop, dust, or vacuum clean regularly. Cleaning with a damp mop once in a while is also helpful.
Besides, a floor cleaner will go a long way to clean your floor. A rug or doormat will prevent dust from entering your home.
Available Color & Texture
You will get only one available color for Cyrus Akadia flooring. It's a creamy neutral Beige color with delicately designed brown grain for creating a texture.
Besides, you will get a low gloss textured surface finish with this flooring plank.
A wood-like pattern makes it very attractive to look at. Plus, the pattern repeats 1 in 6 turns. It offers a moderate color variation. On top of that, this floor is radiant heat compatible.
Each case of Cyrus Akadia flooring tiles holds 10 pieces of planks. You will be able to cover up to 23.77 square feet of surface per case.
With an angle locking and pre-attached underlayment, you can easily install these planks without any glue and professional help.
The size of a Cyrus Akadia plank is 7 inches wide and 48 inches long. You will get a 5 mm thickness from it. Besides, its wear layer is 0.30 mm. You will also get a pad attached to it.
Warranty is an essential factor for any product. A better product means it will be covered with better warranty terms. MSI offers two types of warranty for Cyrus Akadia floors, residential and commercial.
You will get A Lifetime Residential Warranty when using this floor in your house. But, MSI offers a 6 years light commercial warranty when using this flooring plank for commercial buildings.
Since price is a crucial factor in a product selection, you should check Cyrus Akadia's price before you decide. You will make the right decision when you know the price of a product.
The price of this luxurious vinyl flooring plank varies from store to store. But you will get it at a price point somewhere between $2.77 and $3.47 per square foot.
While some people say, the price is justified given its design and quality. But some say the price is a bit higher.
What Could Have Been Better With Cyrus Akadia Flooring?
While having so many great features, Cyrus Akadia floorings have some drawbacks that should be addressed. These cons can be improved with proper steps. So, here are the cons:
As I already said, there is a mixed feeling among users about the price. But I think lowering the price won't hurt the manufacturer because many competitors offer the same quality products at a lower price.
So, MSI should focus on the price and reduce it as much as possible. Doing it will attract a lot of people.
You will get only one color option for Cyrus Akadia flooring. It's only available in neutral beige. But a lot of people won't like this color. They would like to have more color options to choose from.
So, MSI should introduce more colors and textures for this flooring. People will automatically be attracted to this brand.
Frequently Asked Question (FAQ)
Is everlife Cyrus Series Good flooring?
Everlife Cyrus is an excellent choice for luxury vinyl tiles. With innovative design and superior quality, it can be an excellent choice for you.
What is the top brand of vinyl flooring?
Many brands produce vinyl plank flooring. Proximity Mills, Shaw, Mohawk, Armstrong, Karndean, COREtec, etc., are the most popular and provide the best result.
What is the highest quality LVT?
LVT means luxury vinyl tiles. There are a lot of brands making and selling LVT. Among them, Shaw is considered to be the best.
What is the most durable waterproof plank flooring?
Among many other options, LifeProof is considered to be the best and most durable waterproof plank flooring.
Conclusion
Floors tolerate all the foot traffic and stresses. So, they have to be strong and durable. After reading my Cyrus Akadia flooring reviews, you'll agree that this is a pretty good choice for your flooring.
So, it's clear that Cyrus Akadia's vinyl flooring is worthy of your money with all the pros and cons. So, you can invest in it without second-guessing.