A construction job site is almost incomplete without an excavator. Whether you want to use it for digging or lifting purposes doesn't matter as long as it's capable.
While discussing some capable excavators, you face the debate of CAT 308 vs. Deere 85.
CAT, Caterpillar, and John Deere are the top brands for these machines. So, quality is something you get in them without even asking for it.
However, it makes choosing one of them much more complex, and that's when you need a detailed comparison. Let's get through the differences between the two choices to find your perfect option.
A Quick Comparison Table
| | | |
| --- | --- | --- |
| Specifications | CAT 308 | Deere 85 |
| Operating weight | 20007lbs | 19244lbs |
| Arm length | 7'9" | 6'11" |
| Engine make | Cat | Yanmar |
| Net HP | 70.3 | 56.9 |
| Maximum digging depth | 15'3" | 14'10" |
In-depth differences between CAT 308 And Deere 85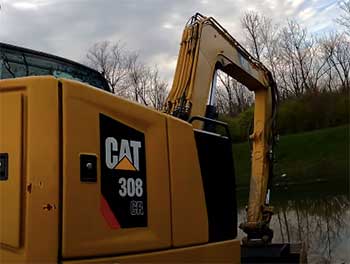 Starting with the comfort level for both excavators is a crucial factor that you have to consider.
There is a very slight difference that you may not even notice when you use the two excavators. Still, I am mentioning it so that you can decide properly.
First of all, the CAT 308 offers quite a lot of space for the operator to be in comfort. You get excellent ergonomic controls right from the get-go.
The best part of the CAT excavator is how much space it provides for your feet. Even the larger guys won't have any trouble with comfort while placing their feet on the CAT 308.
Coming to the Deere 85, it's not as spacious as CAT, but it's still not bad. You get the excellent placement of the joysticks, and there is enough room for you to get in and out without issues.
However, the foot spacing isn't as luxurious as the CAT. So, you may feel a bit cramped with your feet on this unit.
Deere 85 isn't uncomfortable in general, but if you compare it with the CAT 308, then the clear pick will be CAT308.
Hydraulics has a lot of impact on the effectiveness and performance of the excavator. The efficiency of your excavator depends a lot on the quality of the hydraulics. And there is a difference between the hydraulics for both the excavators I am discussing here.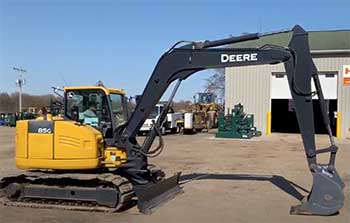 CAT 308 provides a total flow of 44gpm on the main pumps with its hydraulics setup.
Now, that's quite impressive for this excavator to perform at a higher level.
Along with that, the hydraulics type used in this excavator prevents it from wearing out too early. Y
ou can rely on hydraulics to last for quite a while without worrying too much.
Let's talk about John Deere now. First of all, it doesn't come with top-quality hydraulics like CAT. It has its shortcomings when you compare it with the CAT 308.
It's not a bad option in general at all. You get total flow from the main pumps with the value of 53gpm, which is a bit higher and not as efficient as CAT.
Overall, I would say CAT 308 has better hydraulics. Whether it's the quality of the hydraulics or the performance, you can rely on it any day without too many worries.
There is a thing about performance with these excavators. You can find a clear difference between the two excavators regarding performance.
So, you can easily choose between one of these choices, based on the performances they provide.
Right off the bat, CAT 308 comes with some fantastic and efficient performance from the excavator. The horsepower you get on this is 70.3, which is pretty awesome in the first place.
Also, the efficiency helps in getting excellent performance from the excavator.
On the other hand, the Deere 85 has decent performance, but it's not the best. It provides you with 56.9 horsepower, so you can see why CAT 308 will be a better pick in terms of performance.
And not only that, the efficiency of the hydraulics and all other parts is also something to commend. Watch a review of its proud owner.
Most people base their decision to buy a mini-excavator on how much it costs. You can easily choose one of these options because there is a clear difference between them regarding the price.
CAT 308 is much more expensive than John Deere 85. So, if you are thinking of saving up some money and you are on a tight budget, then I would say John Deere 35 is a better pick.
You can save quite a lot of money with this one over the CAT 308.
Frequently Asked Question (FAQ)
You might find answers to some of your common questions below, as I answer them here.
What is better, CAT or John Deere?
You can hardly decide on this factor if you don't dive deep. But in general, if you are considering comfort, performance, and effectiveness, CAT is a much better pick. On the other hand, John Deere helps you save up some money. So, John Deere is a better pick for those who are always looking to cut some costs.
How much can a John Deere 85G lift?
With the Arm digging force of 30.7 kN or 6902lb and a maximum reach of 6.92m, John Deere 85G lifts quite heavy loads without any trouble.
How much horsepower is the 308 CAT excavator?
You get to have 69.5 horsepower in CAT 308 excavator.
What does a John Deere 85 excavator weigh?
A John Deere 85 excavator can weigh 19244lbs or 8.73 metric tons.
Conclusion
To wrap up this discussion on CAT 308 vs. Deere 85, I can say that CAT 308 will typically be way ahead of the game. They are just better in terms of quality, performance, and efficiency.
You will find it more effective, and the comfortability factor is also there, with some ample space for your footing.
However, John Deere 85 isn't necessarily a bad pick either. On top of that, it's pretty much within budget and gives you the option to save up some money.
So, deciding on one option is very easy; you choose CAT 308 for better performance, and for saving money, you pick John Deere 85.