One of the most surprising factors in the construction industry is the need for a quality excavator. Komatsu PC75uu-2 is undoubtedly one of those excavators that provide satisfactory quality.
From the Komatsu PC27uu-2 reviews, you will get to know about the product in detail.
So, if you are already checking out a PC75uu-2 or are thinking of getting one, stick to this article until the end. Because then, you will surely know whether it's worthwhile for you or not.
Features of Komatsu PC75UU-2 Excavator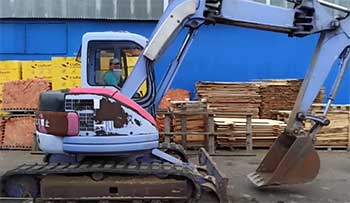 Let's start with the engine of the excavator. The Komatsu PC75uu-2 comes with a 4D95L engine.
It's a pretty decent engine, in my opinion.
I wouldn't say it's the most powerful engine out there, but the performance is clearly admirable.
You get good efficiency out of the engine to serve your purposes.
As long as the engine starts without needing help from some liquid fire, you won't have to struggle too much with it. So, working out the engine is also pretty easy for almost anyone.
It Comes With Presets For Ease Of Use
What I liked the most about the excavator was the fact that you can have presets on the potentiometers. You can set the depth and offset limits on the potentiometer and let it work its magic.
This system is pretty reliable, and you can quickly get your excavator to its maximum potential in no time. With the boom presets, you won't have to spend hours setting up the machine anymore.
Straightforward Gauge Consoles For Analytics
There are several gauge consoles you get to see on the Komatsu pc75uu-2. The consoles give you information on the hours, temperature level, fuel level, and other parameters.
The consoles are pretty straightforward, and you can easily understand the reading. This helps you in keeping track of the performance of your excavator.
Pretty Reasonable In Price
Now, let's come to something that plays a massive role in choosing this option over the other. This excavator has decent pricing, and it's pretty affordable if I had to compare it to other choices.
The pricing becomes even more attractive when you look at the features and quality you get. Considering that, it's a good value for money excavator to get for construction projects.
Replacement Parts Are Easy To Find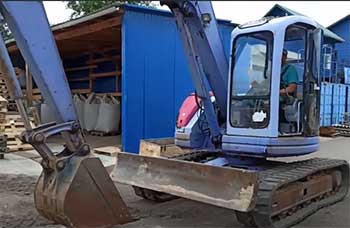 Something that thoroughly impressed me about this excavator is that you can easily get replacement parts.
All kinds of replacement parts are available even to this day.
However, you may have some trouble finding a replacement engine.  
Also, the replacement parts typically come at pretty affordable pricing.
So, if you are going through issues with the excavator, you can always opt for these replacement parts.
What Could Have Been Better With Komatsu PC75UU-2?
As I said earlier, it's a decent excavator, but not the best. Several things on this excavator could have been better, and you could easily go for this over other options. Let's get through those issues.
The Machine Tends To Wear Out
I have to admit the durability of this excavator isn't that impressive. If you use the excavator roughly every day, you will see it wears out pretty fast.
Various components in the machine, including the engine, wear out quickly. So, you have to be aware of that.
Don't expect too much speed in operation for this excavator. The machine runs relatively slowly. So, you have to spend a lot of time on your construction projects to get the desired results from this machine. Since it's not too powerful, you can't get through heavy-duty projects either.
Frequently Asked Question (FAQ)
Are Komatsu mini excavators any good?
Yes, Komatsu mini excavators are excellent in terms of quality and performance. They are pretty efficient, so you get good value out of them.
How much does a Komatsu pc75uu weigh?
The operational weight for Komatsu PC75uu is 7625kgs.
What is the smallest Komatsu excavator?
The smallest Komatsu excavator you can find out there is PC30MR-5. There is another option you can get, which is the PC35MR-5.
Conclusion
To summarize the Komatsu PC75UU-2 reviews, the machine is a decent choice. You can get this for your smaller or medium-level construction projects.
What makes this a worthy choice is the comparatively lower pricing. So, you can get this one for your projects if money concerns you.