Pavers work magic on gardens, patios, poolsides, and front yards by enhancing an aesthetically pleasing space. But is appearance all you should look for in a paver?
Definitely not! And with the dazzling array of options available, it can be challenging to pick the right one. Let's take a dive into the different features of top-tier pavers in the market.
Calstone is made of dense, quality concrete, whereas Belgard is made of natural travertine. Calstone uses Duraface technology that creates a color-blending process that maintains a natural look, while Belgard features Hydro-Flo technology that ensures 100% permeability.
Are we done already? No, that's just a pinch of salt. So, don't go anywhere!
A Brief Comparison Table
| | | |
| --- | --- | --- |
| Item Description | Calstone | Belgard |
| Type of Material Used | Dense high-performing concrete | Natural travertine stone |
| Technology Featured | Duraface | Hydro-Flo |
| Thickness | 80mm | 60mm |
| Categories | Quarry stone, Versailles, Classic Cobble, Belgian Stone, Mission, Pavilion, Turfstone | Porcelain, Concrete, Brick, Stone, Wall systems, Fireplace systems |
| Applications | Industrial sites, City streets, Public roads, Walkways, Patios | Driveways, Patios, Walkways, Outdoor recreational spaces, Parking lots, Retaining walls |
| Quality | Good | Excellent |
| Durability | Excellent | Good |
| Installation | Detailed | Simple |
| Cost | Around $3.85-$6.15 | Around $6-$15 |
Key Differences Between Calstone And Belgard Pavers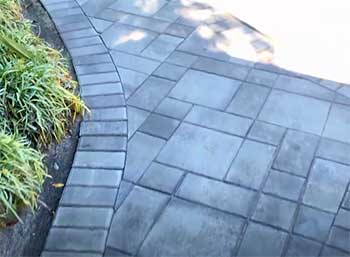 Calstone pavers are rugged, highly durable, color-saturated concrete that creates traditional, modern, smooth, textured, and modest looks.
Using a classic and natural landscape, Calstones use the most gorgeous-looking stones to create beauty like no other.
In contrast, Belgard pavers are made of natural travertine stones that have inherent strength and long lifespan and transform the environment into an unbeatable beauty of art.
They are frequently used in buildings and landscapes due to their sturdiness and appearance.
Calstone uses Duraface technology to blend up to six colors to give a more natural, beautiful look. The stones are perfect for people who want a feel of a surface that has aged but are still in excellent shape.
On the contrary, Belgard pavers use Hydro-Flo technology to ensure complete surface permeability and maintain longevity under commercial and private traffic.
Moreover, the technique provides environmental safety to residential homes and public spaces.
The thickness of a paver depends on the area of use. And since Calstones are mainly used in high-traffic areas and public roads, the thickness is 80mm.
This is the perfect range that can easily handle heavyweight due to car traffic and sustained foot traffic.
On the other hand, the usual thickness of Belgard pavers is 60mm since they are mainly used in residential areas and walkways because they are not exposed to a lot of weight.
Calstone pavers come in various styles, textures, shapes, sizes, and colors. Calstone has a broad of categories that you can choose from. They include Quarry stones, Versailles, Mission, Pavilion, Turfstone, Belgian Stone, and Classic Cobble.
Contrarily, Belgard integrates complementary styles, textures, and colors to deliver your desired design. Some classes under this paver brand are concrete, brick, porcelain, stone, wall, and fireplace.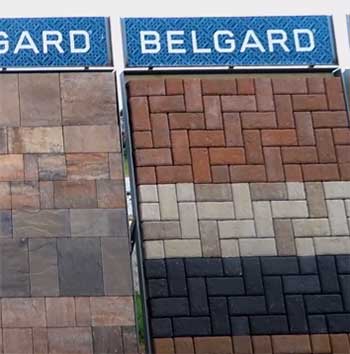 Calstone can be used in many places, including industrial sites, city streets, patios, walkways, and public roads.
This is because they are firm and highly resistant to chips and scratches.
Plus, they don't easily damage even after facing impact during installation.
On the flip side, Belgard pavers are applied in residential and commercial places.
For instance, driveways, patios, walkways, parking lots, retaining walls, and outdoor recreational areas.
Have you ever dreamt of creating the perfect exterior space using a top-tier quality paver?
It's not going to be just a dream for too long! Calstone pavers are made using the finest and most vital components while utilizing technologically innovated systems and processes that maintain a stunning look.
Now, the part you've been waiting for. Belgard pavers are built to provide consumers with excellent quality.
They are made of solid, porous, and durable natural stones with remarkable resistance to sunlight, traffic, and other causes of deterioration. And how did I forget the splendid beauty it creates? It's out of this world!
Calstone pavers offer the best lifespan. They are by far the longest-lasting pavers you can get. Made of a sturdy, rough texture, these indestructible pavers can last you more than a century while maintaining their charming look.
Are you looking for an excellently durable paver? Calstone is the prize.
Inversely, Belgard pavers give moderately good longevity. After three to five years, you must reseal the pavers to keep them looking beautiful.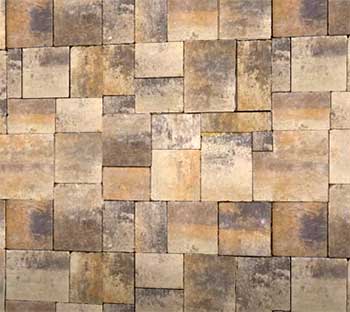 So, you just bought a new building and need a paver installed in the least amount of time?
I got something for you! Belgard pavers!
They are the simplest to install; therefore time used is less.
But remember that warranty is only applicable if they are correctly set up.
On the other hand, Calstone involves a lengthy and somewhat complex procedure to achieve the perfect look you're eyeing.
But with proper and skilled installation, the results are incredibly outstanding.
Calstone pavers cost between $3.85 and $6.15 per square foot. This is contrary to Belgard pavers, which are more expensive and are priced depending on the category.
Concrete costs from $6-$7 per square foot. Permeable pavers range between $7 and $10 per square foot, and porcelain pavers cost from $10 to $15 per square foot.
Which Paver Should You Pick?
We can agree on one thing; the pavers are magnificent! They are expertly equipped with the necessary features to give you stunning indoors and outdoors and excellent quality and durability.
Back to the big question; which one is better?
Calstone pavers offer the best longevity and cost slightly lower. Contradictorily, Belgard pavers have the best quality and are easier to install.
And the best part is that they offer a lifetime warranty for as long as you own your home or whichever space you have.
Frequently Asked Questions (FAQ)
Are Belgard pavers good quality?
Belgard pavers provide nothing but the best quality. They are perfectly designed to withstand extreme weather conditions and foot and vehicle traffic. Moreover, they offer a lifetime warranty; thus, you never have to worry about anything going wrong for the rest of your time with them.
How expensive are Belgard pavers?
Belgard pavers are grouped into three different categories, and the prices vary. The concrete category is the cheapest, costing $6-$7 per square foot. Permeable pavers range between $7 and $10 per square foot. And last but not least, porcelain pavers cost from $10 to $15 per square foot.
How thick are Calstone pavers?
The average thickness of Calstone pavers is 80mm, which is the most convenient for industrial areas and public roads as it creates an excellent interlock enabling them to handle heavy loads.
Which material are Belgard pavers?
Belgard pavers are made of natural travertine stone that enhances strength, prolongs the lifespan, and gives an unbeatable beauty.
Final Remarks
So, how did you like the comparison of  Calstone and Belgard?
Why?
You no longer have to look for other pavers as you have the absolute best in front of you. What about the aesthetics you'll achieve in your space? Let me not get started on that!
Calstone is the perfect pick if you want long-lasting pavers which are cost-friendly. However, you should pick Belgard if you want the best quality paver with a simple installation process.
Whichever paver you choose, it will give your home a stunning new dimension.