Fox Block is the first mover and leader in insulating concrete form construction, and BuildBlock comes much later. Again, Fox Block has block clips to lock every vertical joint together.
Besides, BuildBlock has a 90-degree and 45-degree angle block, but Fox Block has a 45-degree angle block.
People are moving from traditional wood to ICF blocks to make houses. It makes the whole house construction process very fast and convenient. Since it's a new technology, you might be concerned about which ICF to use.
We'll talk about that in this article.
A Quick Comparison Table
| | | |
| --- | --- | --- |
| Specifications | BuildBlock | Fox Block |
| Special Feature | No Foam Or Clips Between Courses | End-To-End Interlock For Strength |
| Available Blocks | 5 Different Block Forms | 11 Different Block Forms |
| Insulation | R-Value of R21 | R-Value of R22 |
| Warranty | 180 Days From Shipping | 365 Days Warranty |
| Costs | Costs Lower | Costs Higher |
Key Differences Between BuildBlock And Fox Block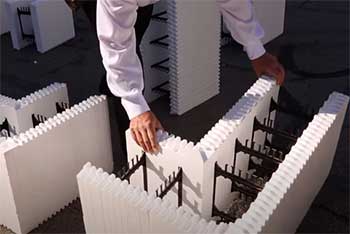 BuildBlocks do not require any on-site assembly and are always ready to stack.
All forms of these blocks are fully reversible.
They create tight interlocks by stacking and locking securely into places.
As a result, they are solid. You won't require any foam or clips between courses.
Besides, they come in industry-standard sizes.
On the other hand, Fox blocks are stacked with end-to-end interlock to provide superior structural integrity and strength. It uses horizontal reinforcing steel bars for interlocking when one layer of ICF is installed. It provides more strength and thermal resistance.
BuildBlock has 5 different forms of blocks. They are Straight Block Form, 90° Corner Block Form, 45° Corner Block Form, Brickledge Block Form, and Double Taper Top Form.
On the contrary, you will get 11 block forms from Fox Block. Straight Block, Corner Block, T Block, Transition Block, 45 Degree Angle Block, Radius Block, Taper Top Block, Curb Block, Brick-Ledge Block, Half Straight Block, and Half Corner Block.
Insulation is one of the reasons people are using ICF for building residential and commercial buildings. Because of their thermal insulation, you can save money on utility bills over the years.
Buildblock has an R-value of R21, and Fox block has an R-value of R22. The R-value is the thermal resistance which shows how efficiently an ICF can resist heat from entering or leaving. Here, Fox block ICF has better thermal resistance than BuildBlock.
Fox Block offers a better warranty for its ICF. You will get a full 1 Year Warranty from this manufacturer. Within 365 days, you must inform any cracks or damages within 30 days of discovering them.
In contrast, BuildBlock offers a 180 days warranty from the date of shipping on the invoice.
Being a fast mover and industry leader, Fox Block controls many things; price is just one of them. It costs higher than BuildBlock.
You will have to spend about $12 for 6-inch Buildblock. But you will have to spend about $15.25 for the same size block from Fox Block.
Which ICF Will Be Best For You?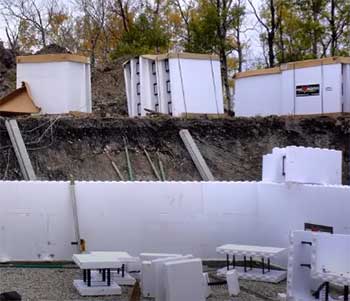 According to the above discussion, it's clear that Fox Block offers better ICF compared to BuildBlock.
The only place BuildBlock beats them is the price.
Then again, being the first in the market allows you to charge higher.
So, considering everything, I suggest you go with Fox Block.
They have lots of block forms, a higher R-value, a better warranty, and everything else to be the best.
Frequently Asked Questions (FAQ)
How much does Buildblock cost?
Building a house with BuildBlock might cost you more upfront than traditional wood houses. But over the years, you will save a lot of utility bills, which lowers your house's overall cost. BuildBlock can cost around $5 to $8 per square foot.
Which ICF is best?
After Fox Block started making insulated concrete form or ICF, many other companies started making this block. But Fox Block, the first mover, still is the leader in this industry. You will get superior manufacturing support, better energy efficiency, code compliance, and availability from Fox Block.
Are Fox blocks good?
Fox Blocks are an excellent substitute for wooden houses. This product can make your home more thermally protected and eventually reduce energy costs. Fox blocks are excellent in terms of quality. They are made by strictly following the codes and compliance. That's why you will get superior performance from them. 
What is the R-value of Fox blocks?
R-value is the insulation rating which is measured per inch of thickness. It shows how well insulation can keep heat from leaving or entering. The R-value of a Fox Block is R22, but after installation, a whole wall calculation can provide an R24 rating.
Final Thoughts
After going through the differences between BuildBlock and Fox Block, the reason why you should choose Fox Block is crystal clear. You will get everything from Fox Block that you could ask from an ICF manufacturer.
Most importantly, even though it has a higher upfront cost than BuildBlock, you can save more on utility bills and maintenance costs in the future.