Bubba and Rapala cordless fillet knives provide exclusive features to ease fish cutting. However, Bubba knives' four-blade and powerful battery service steal Rapala's limelight. 
You need the best fillet knife to piece down a fish. The sharpness of the blades, battery life, easy cleaning system, and stainless steel are some notable features of a perfect cordless fillet knife.
It's time to discuss some fundamental differences between Bubba and Rapala cordless fillet knives.
A Quick Comparison Table
| | | |
| --- | --- | --- |
| Specification | Bubba Fillet Knife | Rapala Fillet Knife |
| Blade Style | Four Blade Style | One Style Blade |
| Motors | Powerful and Brushless Motors | Powerful Torque Motor |
| Rechargeable Battery | Two Rechargeable Batteries | Single Rechargeable Battery |
| Special Feature | Removable Lining | Internal LED Lights |
| Price | $200-$300 | $150-$200 |
Key Differences Between Bubba And Rapala Cordless Fillet Knife
You have acquired a brief idea about some critical differences between Bubba and Rupala. Here is a list of features that draws the margin between Bubba and Rapala cordless fillet knives.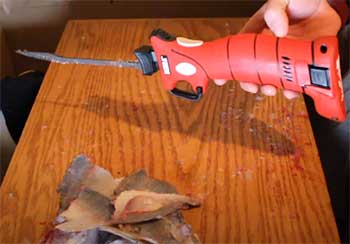 The blade style of a cordless fillet knife plays a crucial role in chopping down and processing a fish.
Fillet knives with more than one blade style take less time than other cordless or electric knives. 
Bubba cordless fillet knives stand out regarding the blade styles.
Among different models, the Bubba four-blade cordless fillet knives are popular among mass audiences. 
With the four-blade style, you can cut and process a wide range of fish. The knives are also thick and stiff. As a result, processing fish takes less time, and you can prepare various recipes with one cordless knife. 
However, Rapala cordless knives lack different styles of blades. All their models consist of one-blade style fillet knives. Therefore, the Rapala knives are only suitable for some kinds of fish. 
Bubba cordless knives are leading the race against Rapala regarding blade style. If you want to save enough time to cook delicious fish recipes, you should opt for Bubba fillet knives. 
You want to avoid recharging your fillet knives after using them for a few hours. Long-lasting battery life ensures you enjoy a smooth fish-cutting process and don't bother whether your machine will die soon or not. 
Bubba cordless fillet knives feature two rechargeable batteries that will serve you for six hours straight. You will also get a single spare battery with the product. 
Rapala cordless fillet knives contain one rechargeable battery. Therefore, the battery life of the Rapala knife cannot sustain more than three and a half hours. 
You should place your bets on Bubba cordless fillet knives for a fast charging experience and a better battery life. 
The torque motor guarantees the relentless working capacity of an electric fillet knife. Bubba and Rapala have potent motors that ensure the fast processing of fish. 
Rapala cordless knives have the best torque motors in the market that provide effective fish cutting and blade speed. The new edition of Rapala knives features engines with thick layers for protection. 
In the case of Bubba cordless fillet knives, the motors are powerful and brushless. The robust torque motors help the machine to run smoothly and ensure hassle-free fish cutting. 
Therefore, you can rely on both products regarding powerful and efficient motors.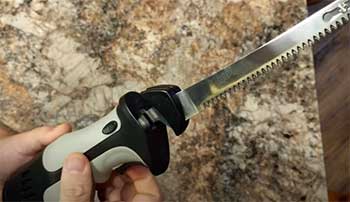 A knife's quality will only matter if the blade fits into your hand.
Hence, experts advise checking out the grip style of a fillet knife to avoid random accidents. 
The non-slip grip of Bubba cordless fillet knives helps you to hold the machine with ease.
Moreover, the solid rubberized handle will ensure the knife doesn't slip out of your hand while processing. 
You won't find the rubberized grip in Rapala cordless fillet knives. The absence of a firm grip has cost some negative impressions toward Rapala fillet knives. 
Pricing is the last thing you must consider before purchasing the best cordless fillet knife. The price range of Bubba and Rapala cordless knives varies based on their models. 
Bubba cordless knives cost around $200 to $250. The best-selling model of Bubba fillet knives is around $220. However, you might need to carry some extra expense of the delivery charge. 
The Lithium Electric Fillet knife is the best-selling product of Rapala that costs around $180. However, the average price of other models ranges from $150 to $200. 
If you can handle your budget then Bubba cordless knives are your perfect match for some extra benefits. 
Which Fillet Knife Is Better?
Bubba cordless fillet knives are the best in the business against Rapala. Each of Bubba's cordless fillet knife models features exceptional quality and provides fantastic benefits. 
The four-blade style model ensures fast fish cutting compared to Rapala cordless fillet knives. Besides, the stainless steel design and powerful motor torque add a new dimension to Bubba fillet knives. 
Moreover, Bubba's filet knives have rapid charging batteries and provide a spare battery for emergencies. Such quality service is one of the prime reasons behind Bubba's popularity and positive impression. 
Therefore, you can trust Bubba cordless fillet knives to fulfill your fish-cutting necessities. Even though the price of Bubba knives is relatively high, the product will be worth all your money. 
Frequently Asked Questions (FAQs)
What is the best cordless electric fillet knife?
The Serrated Electric Fillet Knife and Bubba Li-ion Cordless Knife are the best cordless electric knives in the market. 
Are Bubba knives worth it?
The four-blade mode, robust motors, removable lining, and extended battery life make Bubba knives worth all your money. 
What is the best fillet knife for the money?
The Zwilling Four Star Cordless Fillet knife is the best knife at an affordable price. 
Are Rapala knives made in China? 
Rapala Cordless Fillet Knives are manufactured in Finland and China.
Conclusion
Bubba fillet knives are the winner in this "Bubba and Rapala Cordless Fillet Knives comparison. 
Bubba cordless fillet knives offer a wide range of features and advantages. The four-blade mode, robust motors, removable lining, and extended battery life make Bubba knives stand out among others. 
Apart from their prices, Bubba knives will suffice your demand and serve as the best cordless fillet knives.