Are you just getting started on decorations to make your new home beautiful?
Furniture is the face of a house, thus it should be as cozy and inviting as possible. And with the inexhaustible brands we are trapped around, each claiming to be the best, how do you even begin to decide the ones that are worth it and those to pass?
Call it perfect timing!
Broyhill has a vintage style, while Ashley has a sleek, innovative design. Broyhill is only made in USA and China, whereas Ashley is manufactured in various countries.
Ready for more furniture details? Great! Stay tuned!
A Brief Comparison Table
| | | |
| --- | --- | --- |
| Item Specifications | Broyhill | Ashley |
| Design and Build | Vintage | Innovative and broad |
| Quality | Excellent | Moderate |
| Comfort | Good | Excellent |
| Manufacturing Points | North Carolina, China | Wisconsin, Florida, China, North Carolina, Pennsylvania, Vietnam, Mississippi |
| Furniture Collection | Living room, Bedroom, Dining, Patio | Living room, Dining, Bedroom, Kitchen, Entryways, Home office, Home theatre |
| Materials Used | Mahogany, Pecan, Fabric, Walnut | PVC, Aluminum, Engineered wood, Japanese lacquer |
| Cost | $595 to $5800 | $350 to $4500 |
| Warranty Coverage | Lifetime- frames and springs | 30-day money refund | One-year- cushion | Five years- frames and springs |
Key Differences Between Ashley And Broyhill Furniture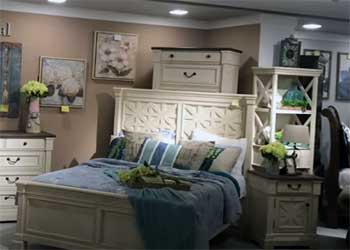 What design do you have in mind for your furniture?
Broyhill has a vintage build, which is highly durable and structured to love, with a simple, easy-going make capable of dealing with hard knocks.
The vintage gives this timeless appeal and unbeatable aesthetic that give your house warmth and beauty at the same time.
In contrast, Ashley has an innovative design, from traditional to modern. Whatever you want, you get! The styles offered are multiple, with vast customization options to create that design you've been yearning for.
Broyhill has been leading furniture brands for decades, especially regarding quality. Its furniture is made of solid wood, which is of exceptional quality and creates elegant products.
Better yet, Broyhill keeps up with new trends in the market and ensures they deliver a luxurious, refined look. That said, the brand always delivers if you want excellent quality.
On the other side, Ashley offers moderate quality for their collections. Although it doesn't use solid wood, its materials are usually eco-friendly, with high resistance to wear and tear.
Super tired from work and want to jump on your snuggling, soft, comfy couch after getting home?
With the two-chaise Ashley sofa, you no longer have to fight about who gets to keep their feet up. The cushions have high-resiliency foam and are made of linen-like fabric.
On top of that, the beds have stainless springs that will ensure you sleep like a baby. For anyone looking for a furniture brand that oozes utmost relaxation with a dose of glam, Ashley is the prize.
Contrarily, Broyhill has thick cushions with layers of premium foam that offer comfort beyond measure. You can sit down for hours! Nevertheless, the comfort you'll get from Ashley is incomparable.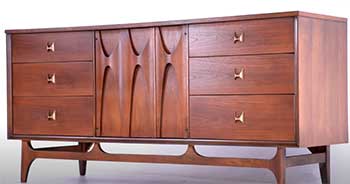 Broyhill offers customers a 30-day monetary refund; therefore, checking the product you purchased within that period is advisable.
If you are unhappy or dissatisfied, you can return the item with the receipt.
However, shipping costs are not part of the refund. Frames and springs of the furniture are covered by a lifetime warranty, which doesn't apply if you cause damage.
Inversely, Ashley provides one-year coverage on cushion fixings. On top of that, there's a five-year warranty for springs and frames. Now, be the judge. Which cover is more enticing?
How available is the brand?
That's a factor you ought to consider when deciding on the furniture. Because I can imagine the feeling of wanting something only to realize you can't get it as fast as you thought.
With Broyhill, the manufacturing points are North Carolina and China.
And it's different for Ashley. Can you imagine it has manufacturing and distribution facilities in seven different areas? The locations include China, North Carolina, Mississippi, Florida, Vietnam, Wisconsin, and Pennsylvania. It's essential that you know the areas of manufacturing while deciding on a furniture brand.
Exhilarating comfort shouldn't be only in the living room but in your backyard too. And Broyhill helps you find the perfect fit for your life with remarkable collections.
The brand delivers exclusively and efficiently for living rooms, bedrooms, dining, and patio furniture.
On the flip side, Ashley has products for living rooms, bedrooms, dining, kitchen, home office, home theatre, and entryways. For more options, this is the brand!
The material used will tell you what to expect from the product regarding longevity. Some have a higher resistance to scratches, dents, and dings, while others are prone to damaging components.
And with furniture, I can understand why you'd be keen on the lifespan. They're not the cheapest items, so you want more bang for your buck. Broyhill furniture is made of mahogany, pecan, fabric, or walnut.
Conversely, Ashley is made of more expendable materials such as PVC, aluminum, engineered wood, and Japanese lacquer. The wood in Ashley is 95% out of a tree, so it has a more natural yet bountiful beauty.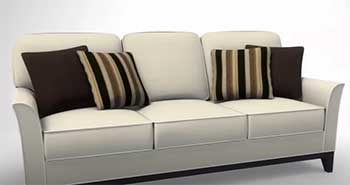 The prices vary depending on the type of furniture.
For instance, sofas are more costly than drawer dressers or nightstands.
Back to the brands, Broyhill is more expensive, ranging from $595 to $5800.
On the other hand, Ashley products are pocket-friendly, with costs ranging between $350 and $4500.
The ball is in your court! Based on their features, which brand is worth the money?
Which Furniture Brand Gets The Clap?
This is a question I get a lot, but my answer remains the same; it depends on the features you find more appealing or, if you like, eye-catching. There is the cost factor, quality, comfort, warranty, design, and available options.
Broyhill is a vintage, high-quality brand with a good warranty. However, the prices are higher. On the other hand, Ashley is more affordable, has a wide range of furniture, is exceptionally comfortable, and has more styles available.
Frequently Asked Questions (FAQ)
What furniture is comparable to Broyhill?
Big Lots is a furniture brand that manufactures wallet-friendly items, the same as Broyhill. The brand refreshes all kinds of homes, be they classic or contemporary.
Why is Ashley furniture popular?
Ashley furniture is popular and mainly known for its easy availability in many countries, its quality, and its stylish build.
When did Broyhill furniture go out of business?
Broyhill was made to sell Ethen Allen furniture in 1989. In 1991, the company was proven bankrupt and requested creditor protection.
Who makes Broyhill furniture?
Broyhill, which is a great part of Furniture Brands International, makes a vast range of average-priced furniture.
Closing Thoughts
With the Broyhill and Ashley comparison, creating that mind-blowing space for your house is more than possible. And with two top-tier pieces of furniture by your side, you have everything you need; all you have to do is choose the one that suits you more.
Broyhill has taken the market by storm due to its spectacular quality, magnificent vintage style, and great warranty. But with this brand, you have to be prepared to spend much more.
However, you should opt for Ashley if are dying for the immense comfort, flexibility of styles, affordability, wide array of collections, and easy accessibility. Such a worthy, attractive investment!
So, what are you waiting for?