A good router is a must-have tool for any woodworker. Whether creating joinery or carving out a design you prefer, a router can help you get that done by working alongside your drills and saws.
Now, if you are someone who is yet to get a router and is confused about whether you should purchase one, I would like to introduce you to the Bosch GOF 1300 ACE.
Below I have shared some notable features alongside my experience with the router to give you a better insight into this fantastic machine.
Features of Bosch GOF 1300 ACE
My experience with Bosch GOF 1300 ACE was great after using it for two years. As a DIYer, I found this machine capable of woodworking jobs. Here is a breakdown of some notable features I find handy.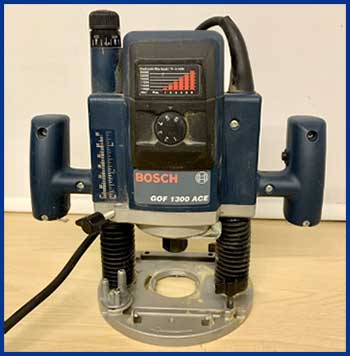 Consistent speed is one of the preconditions of having a perfect cut o design from a router.
Thanks to the powerful 1300-watt motor and electronic control, Bosch GOF 1300 ACE can provide a constant speed.
Also, many routers assure customers of continuous speed, but the speed fluctuates when it comes under load.
However, I have pretty satisfied with the constant speed, and the speed remained intact even after extensive use and heavy load.
For that same reason, you can have the maximum cutting depth the router offers.
Restart And Overload Protection
This particular feature might not seem very special, but I found it handy. As a DIYer, I rarely used Bosch GOF 1300 ACE long for the long term.
But when I do, the restart protection assures me that it won't abruptly start on its own after I leave the router after a power cut. So this tiny safety feature can be convenient for you if you often leave your electric tools unattended.
Also, another tiny safety I would like to mention here is overload protection. So, this feature monitors the current in the motor and breaks it whenever an electric overload or failure is detected.
This is a very efficient way of protecting the router's motor, therefore securing your investment.
Using a router to accomplish your design can take hours. By that time, holding the router by hand can be stressful. Bosch kept that fact in mind and made the router lightweight at 5.15 kg.
However, one aspect I would like to mention particularly is the comfortable grip.
This rubber grip makes handling the router super comfortable and effortless. You can keep working for hours without any discomfort or sweat.
Unlike most conventional grips, this Bosch GOF 1300 ACE grip is not susceptible to general wear and tear and goes strong after years of extensive use.
I would keep the Bosch GOF 1300 ACE at the top regarding versatility.
Whether it's compatibility with different woodworking projects, tasks, or surfaces, you can rely on the router with your eyes closed.
Usually, the toolbox of a woodworker quickly gets packed with different tools for different jobs.
But thanks to Bosch GOF 1300 ACE, you can do edge forming, template routing, slot cutting, rebating, groove cutting, and pretty much anything.
Regarding surface compatibility, you can use the router on plastic and light building material alongside wood.
Variable speed is another handy feature of Bosch GOF 1300 ACE that helped me in a different application. Before I describe, know that this router has an impressive speed of 11,000 to 28,000 RPM depending on load.
However, apart from the load, you can control this speed with a controller on the router.
A router can do many different tasks; naturally, not all of them need the full speed of the motor. In those scenarios, the variable speed control will help you a lot. Another benefit of this feature is less motor wear as it'll run at a lower speed.
Useful Accessories Included
As I have said earlier, Bosch GOF 1300 ACE is manufactured, keeping DIYers or beginner woodworkers in mind. If you fall into that category like me, you probably don't want to spend big bucks to buy the necessary accessories.
In that regard, Bosch came to the rescue with high-quality accessories needed to perform all the tasks with GOF 1300 ACE. For example, with the router, you will get a wrench, parallel guide, template guide, centering pin, dust adaptor, and two collets.
Here is a little demo of it for you.
What Could Have Been Better With Bosch GOF 1300 ACE?
Now that you know all about the benefits of the Bosch GOF 1300 ACE let's talk about some hiccups I think Bosch could work on to improve the product.
Initially, I loved that Bosch GOF 1300 ACE has a chip guard in place to prevent the wood debris and dust from spreading. However, the chip guard was made of flimsy plastic, which was not very reassuring.
Instead of the plastic guard, Bosch can provide a metal guard that most of the routers out there have to assure the customers' peace of mind.
I know many people reading here don't want this feature as routers are primarily used in broad daylight. However, if you think about it closely, you'll agree that working light on the side of the router can be a great help working in the dark and helping with accuracy.
This is a feature many high-end routers have, and Bosch can add this to make the router more user-friendly.
Final Words
That's a wrap for today. I hope my Bosch GOF 1300 ACE review will help you decide whether you should buy it. As you have seen, this router has many premium features that allow it to compete with the pricier options on the market.
Also, these functionalities are just the tip of the iceberg, and a router can become much more versatile for your woodworking project. So if you are a DIYer who is looking for a router at an affordable cost, Bosch GOF 1300 ACE might be the perfect investment for you.