Are you sick and tired of insects and termite infestation on your wooden structures?
Then, my friend, you are in the right place because my Bora-Care and Timbor comparison guide will show you the features and differences between the best two wood preservatives.
All those annoying sounds from wood-eating ants and insects are painful at night. They permanently harm your wood surfaces.
In this article, you'll learn about the best two wood preservatives. You can eventually choose the best one based on its features and performance.
A Quick Comparison Table
Here is a quick comparison table between Bora-Care and Timbor:
| | | |
| --- | --- | --- |
| Aspects | Bora-Care | Timbor |
| Type | Low Toxicity Wood Preservative | Water-Soluble Borate Powder |
| Material | DOT And Borate Mineral Salt | DOT, A Natural Borate Mineral Salt, And Micronutrient |
| Special Feature | Prevention And Remedial Control | Fast And Efficient Way To Cure |
| Benefits | Penetrates Wood And Stays There For The Life | Doesn't Corrode Screws, Nails, And Other Components |
| Usage | Outdoor and Indoor | Outdoor and Indoor |
| Performance | Superior to Timbor | Inferior to Bora-Care |
In-Depth Differences Between Bora-Care And Timbor
You have gathered some basic knowledge about these two wood preservatives from the above table. Now you need more information to make the right call.
Here are some key differences between Bora-Care and Timbor:
Bora-Care is a low-toxic wood preservative for mammals but works excellent for insects. You don't need to apply it to the soil; directly apply it to the structure.
With a uniquely patented glycol penetrant, you can kill and prevent termite, wood-bearing beetles, carpenter ants, and decay fungi using this termiticide, insecticide, and fungicide concentrate.
On the other hand, Timbor is professional insecticidal powder dust with a water-soluble borate powder solution.
This wood preservative also acts as fungicide and insecticide and control and prevent wood decay fungi, dry wood termites, and carpenter ants.
You'll get two active ingredients in Bora-Care. Apart from borate mineral salt, another active ingredient is Micronutrient Disodium Octaborate Tetrahydrate or DOT.
It has a unique patented blend combination of glycols and borate salt to give excellent performance.
You'll find Bora-Care wood preservative mixture even less toxic than sodium chloride or table salt. So, no chance it will damage the environment or animals.
On the contrary, the active ingredients of Timbor are Disodium Octaborate Tetrahydrate or DOT, a natural borate mineral salt, and a micronutrient. Because of environmentally friendly ingredients, this wood preservative is also half as toxic as table salt for humans and the environment.
Nowadays, Professional Pest Controllers and homeowners use Bora-Care as a pretreatment in new construction for termites and other wood-destroying insects.
Otherwise, this solution is used to destroy any existing infestation in your home.
Moreover, Bora-Care allows you to prevent and remedy wood decay, fungi, and algae infestation.
In contrast, Timbor is a fast and effective way to cure a structure for specific pests. Pest management professionals apply this water-soluble borate powder in dust, liquid, and foam form.
Besides, you will get an outstanding result if you use it to treat wood together with other termite treatments. Plus, because of its water-soluble formula, it will never discolor or stain your wood surfaces.
Both Bo-Care and Timbor offer many benefits apart from their primary objective. Let's find them.
Bora-Care allows you to provide residual protection to your wooden surfaces by penetrating them and staying with them for a lifetime. Besides, you don't need to pump gallons of pesticides into the ground around and under your home.
You can apply Bora-Care directly to any structure because you do not have to apply it to the ground.
On the contrary, you can use Timbor both indoors and outdoors. As a virtually odorless and non-toxic solution, the water-soluble wood preservative is entirely safe for animals and is environmentally friendly.
On top of all that, it won't corrode any screws, nails, and other materials used for construction purposes.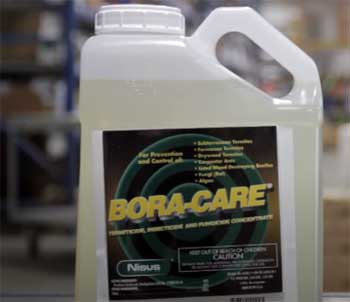 The manufacturer has designed Bora-Care as a replacement for soil treatment for new construction sites. In many places, people use it as a standard termite treatment solution.
This wood preservative works excellently to protect against dry wood termites, Formosan termites, Powderpost beetles, subterranean termites, Carpenter ants, and old house borers.
Plus, you can kill and prevent your wood structure from wood-decay fungi and algae.
On the other hand, Timor is engineered for use in the form of a water-soluble borate powder. But you can create a liquid form by foaming, spraying, and misting onto the wood.
With its active ingredients, Timbor protects your wood surfaces from the infestation of carpenter ants, drywood termites, wood decay fungi, and wood-boring beetles. Besides, you can also dust it into places like wall voids.
You will have to apply Bora-Care directly onto wood surfaces. When you do it, this wood preservative will completely penetrate wood surfaces and will remain there for ages while protecting from various insects. Probably it will outlive your wood structure.
On the contrary, upon applying to wood surfaces, the borate active ingredient of Timbor will create a protective envelope and stay there to offer years of protection.
Most importantly, you can prevent and control dry wood termites, wood decay fungi, carpenter ants, old house borers, and powderpost beetles.
Both products are safe to use over wooden surfaces for added protection and safety.
You won't find either of these hurting your hands or dangerous for any part of your body. Just apply them and see the satisfactory results.
Many customers who have purchased these liquids for their usage recommend both for killing different types of insects.
When it comes to Bora-Care, it is more effective to use on most active infections. But when it comes to Timbor, it is more effective on beetles and molds.
Timbor basically creates a protective layer over the wood that keeps it safe and secure from all sorts of infections, insects, and other harm.
Compared to that, the Bora-Care deeply penetrates the wood and acts as bait so that germs come, taste it, and get killed.
These reasonable differences between the two products help us choose the best one for protecting our wooden products.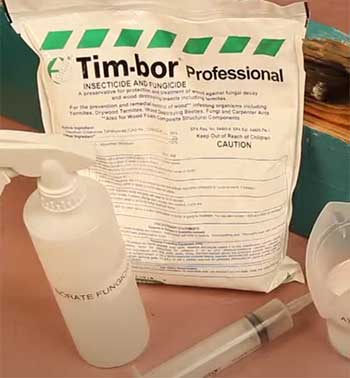 Timbor gives a coating to the surface while applying, and it only absorbs into the wooden surface in almost ¼ inches.
The liquid protects for roughly 1-2 years.
In that case, you must remember that you will need to apply it again after a few years.
On the other hand, Bora-Care is known for providing lasting protection, which comes with more durability and satisfaction.
It deeply penetrates the wood, and the boron sodium salt left behind is non-soluble, which means the liquid will remain there for a lifetime.
Comparing Bora Care and Timbor on your desired budget, the Bore Core wood protector is far more expensive than Timbor.
It means if you need to spend less and still want great protection for the wooden furniture of your house, you must rely on Timbor.
However, Bora Care lasts longer than Timbor, which states that even if you are paying a good price, you are still getting a quality product. That's the case, you save price, but you'd have to let go of the lasting durability.
Which Wood Preservative Is Best For You?
It's time to choose the best wood preservative. With my comprehensive discussion, I think it's already clear which product is the best option to protect wood surfaces. Let me tell you if you still can't figure it out.
If you look at Bora-Care effectiveness, you will find that Bora-Care is better than Timbor. This borate wood preservative can penetrate wood surfaces and remains there for a long time curing and protecting from infestations.
Bora-Care is the best solution for existing insects and other infestations on your wood surfaces. This liquid borate formula with glycol solution is non-toxic, odorless, and completely safe for humans, animals, and the environment.
Check out another comparison table between the two!
| | | |
| --- | --- | --- |
| Features | Bora-Care | Timbor |
| Pricing Comparison | Expensive | Far cheaper |
| Durability | It lasts for a lifetime | It lasts for one or two years |
| Safety Features | Safe To Use | Safe To Use |
| Suitability to use | For active infections or termites or ants | as a preventative measure for beetles and fungi/mold. |
| How does each work | It leaves mineral salt that acts as bait for the bugs to consume and kill | It creates a protective layer over the material it is applied |
Frequently Asked Questions (FAQ)
Which is better Bora-Care or Tim-bor?
Bora-Care is better than Timbor because it can penetrate wood surfaces and protect and cure them of insects and other infestations. Whereas, Timbor only remains on the outer layer.
Is Borax the same as Bora care?
Borax is an ingredient of Bora-Care. Boric acid and Borax form a union and create a substance called borate salt, and this borate salt is the active ingredient in Bora-Care. So, we can say, Bora-Care comes from Borax.
Can you make Bora care with Borax?
You need Borax to make Bora-Care. Borate salt is an active ingredient of Bora-Care, and the borate salt is made from Borax and boric acid. So, yes, you can make Bora-Care with Borax
How Do You Make Homemade Bora-Care?
You can make Bora-Care at home with a few easy steps using glycol, Borax, and boric acid. You will find them in stores. To make Bora-Care, you will have to mix 1 gallon of glycol, 3.72 pounds of Borax, and 2.48 pounds of boric acid.
Final Thoughts
Insects and termite infestations are typical on a wooden surface that requires immediate attention. It might cost your beautiful furniture or any wooden structure if you fail to protect it.
I'm glad that you found my Bora-Care vs. Timborreview. Now that you know the best wood preservative for your wooden structures, you can protect them from termites and insects.