Imagine trying to open a drawer and it getting stuck. That would suck, right?
This is why using good drawer runners is so important. Blum Movento and Tandem are two of the most popular choices for runners. They're similar but the load capacity, extension options, and opening options make them different.
Blum Movento and Tandem both are really good at doing their jobs. Your pick will come down to your use case. So here is a quick comparison to help you out.
A Quick Comparison Summary
Too busy to read the whole thing? We've got you covered. Here is a bite-size summary of the whole thing you can glance through.
| | | |
| --- | --- | --- |
| Features | Movento | Tandem |
| Load Capacity |  132lbs (60 kg) | 90lbs (41 kg) |
| Extension options | Full extension only | Partial and full extension |
| Opening options | Push-open supported | Push-open not supported |
| Adjustment bracket | Front and side-to-side | Front, occasional side-to-side |
Now for the less busy people, let's get to the details.
Key Differences Between Blum Movento And Tandem
It is an unwritten rule to check out all options before you take your pick. This goes for Movento and Tandem too. You should know what both of them have to offer and what you're getting into.
Here are some key differences between Movento and Tandem to make things easier for you.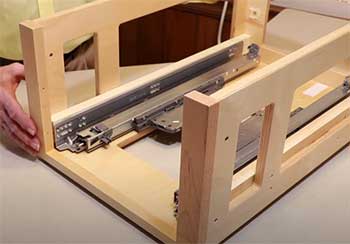 Load capacity practically decides how your drawer boxes are going to be.
If your drawer weighs more than the drawer runners can take, the whole structure will crumble.
Movento is more on the heavy-duty load capacity side and Tandem can take mid-level loads. So the crown goes to Movento here.
Movento is listed as a heavy-duty drawer slider. There's only one variant of this slider and it can support up to 132lbs (or 60 kg) with its structure.
Tandem on the other hand has two variants and they can support 30 kg and 40 kg respectively.
Extension is how much space you'll get after your drawer is set up. Movento has a full extension option only and Tandem has partial and full extension – both options.
The full extension means you can open the entire drawer and get access to the whole space. Movento only has this extension for drawers. Tandem on the other hand can give you access to the full space (full extension) or 3/4 of the space (partial extension).
So Tandem gets a versatility win here. And if you're specifically looking for a partial extension, then Tandem is your only option.
A lot of people prefer push-open drawers because they don't like the pulling hassle. Unfortunately Tandem doesn't have that option so Movento gets the point here.
Push-open drawers open when you touch them and close when you push them with more energy. This is pretty much the future of soft-close drawers. Movento already supports this kind of drawer setting but tandem doesn't. So tandem is a little on the back foot here.
This is probably where the confusion begins. Both sliders have front and side-to-side adjustments. But Movento has it in all models whereas Tandem only has it in specific ones.
Front and side-to-side adjustment brackets are the main reasons why Blum is so popular. Both Movento and Tandem sliders offer them, but there's a twist. Movento offers this in all models, all around the world.
Tandem only offers side-to-side adjustments in the 563/569 series which isn't available in Canada. This is why Movento takes the crown in this department.
Which One Should You Pick?

That of course will depend on your preference and how you want your drawers to be. If you want a push-open system for your drawers, you'll have to go with Movento. Tandem doesn't have the push-open option.
Another factor is the extension. If you want a partial extension on your drawers, Movento can't help you so tandem is the only choice.
Unless you specifically want a partial extension in your drawers, Movento is an overall good option.
Frequently Asked Questions (FAQs)
What is Blum movento?
Blum Movento is one of the best drawer runners out there. It has a soft close option and will give you a full extension. you can also integrate a push-open mechanism into it.
How do I choose a BLUM drawer slide?
That will depend on how you want your drawers to be. Consider what extension you want, whether you'd like a push-open system or a weight-supporting limit. Pick whatever ticks the most boxes on your requirements list.
Which is better Grass or Blum?
Both brands are excellent at making quality parts so it will come down to your personal preference. But Blum is a big name and there's a reason for that reputation. So Blum is a safer bet.
How do I install Blum Movento slides?
Measure your drawer space. Install suitable locking mechanisms and boreholes. Then insert your drawers and completely extend the runner.
Conclusion
And that's it for the Blum Movento and Tandem comparison. Both of them are excellent and will save you a lot of hassle.
Your pick should come down to your project objective. So make sure you get that straight and you'll be good.