Stoves from Blaze King have a 39,000 to 50,000 BTU rating, whereas LOPI's stoves have a 42,000 to 72,400 BTU rating. The burn time on the low of Blaze King is longer than LOPI. Plus, the first option has a better Efficiency rating than the other one.
Blaze King started their journey in 1953. Their stoves are well known for their solid construction and stylish design. Another competitive brand is LOPI, well-known for making reliable and heating-efficient stoves.
Keep scrolling to learn more about both brands.
A Quick Comparison Table
| | | |
| --- | --- | --- |
| Specifications | Blaze King | LOPI |
| Wood Stove Options | Six options | Five options |
| Gas Stove Options | Three options | Three options |
| Emissions Rate | 0.4 to 1.26 g/hr | 0.8 to 2.5 g/hr |
| Cord Wood BTU | 39,000 to 50,000 BTUs | 42,000 to 72,400 BTUs |
| Efficiency Rate | 76% to 81% | 70% to 77.1% |
| Burn Time on Low | 20 to 40 hours | 20 to 30 hours |
| Warranty | Up to ten years | Up to seven years |
| Price | Slightly expensive | A little affordable |
Key Differences BetweenBlaze King And LOPI Stove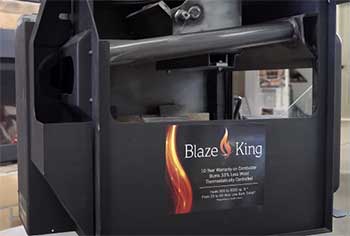 Wood stoves are an excellent choice for minimizing carbon emissions.
They can produce more incredible heat at minimal emissions.
Blaze King has different types of wood stoves, such as Ashford, Boxer, Chinook, King, Princess, Sirocco, etc.
These stoves vary in average heating time, firebox size, and flue size—for example, their Sirocco stoves have a classic black cast iron door and by-pass handle.
In contrast, LOPI is available in Answer NexGen-Fyre®, Evergreen NexGen-Fyre®, Endeavor NexGen-Fyre®, Liberty NexGen-Fyre®, etc.
For instance, if you have a vast home, Liberty NexGen-Fyre® Wood Stove is a perfect choice. It has a massive firebox and fire viewing area.
Gas heating options are well-known for rapidly controlling the temperature. They have outstanding heat transfer efficiency and ensure minimal fire hazards.
Blaze King comes with Clarity 26, Clarity 2714, and Clarity 4416.
Their Clarity 2714 has a modern design and medium heating capacity. The crescent-shaped burner looks appealing.
In opposition, LOPI has premium steel, premium cast iron, and radiant plus cast iron gas stoves.
Its premium cast iron has a timeless design that can handle 850 Sq. Ft to 2,000 Sq. Ft. based on the size.
When it comes to heating stoves, considering their emission rate is essential.
It results in different pollutants. The lower the rate, the better it is. The average emission rate for Blaze King ranges from 0.4 to 1.26 g/hr.
But, LOPI emits more due to its complicated combustion process. It can be anywhere from 0.8 to 2.5 g/hr. Hence, Blaze King appears more eco-friendly than LOPI.
The average Cord Wood BTU rating for Blaze King can range from 39,000 to 50,000 BTUs.
On the other hand, LOPI has a 42,000 to 72,400 BTU rating.
But their energy consumption will vary depending on dense hardwood, softwoods, and other factors.
Also, the surrounding environment will affect its performance.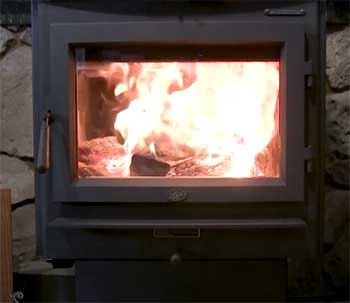 The more efficient a heating stove is, the less wood it will use to get the desired heat.
However, appliance operation, wood moisture, and installation approach will affect the stove's efficiency.
The efficiency rating of Blaze King can be anywhere from 76% to 81%.
It usually depends on the series you choose. Their King 40 can show up to 81% efficiency.
Contrarily, heating stoves from LOPI have an efficient rate from 70% to 77.1%.
Hence, their products will consume a little more wood to provide the same amount of heat.
Burn time means the specific amount of time a single load of wood will burn after firing it up.
Usually, they retain longer when you set the temperature at low.
Blaze King can last 20 to 40 hours, depending on the denseness of the wood and the heating intensity.
Oppositely, LOPI will last a maximum of 20 to 30 hours.
Blaze King retains better due to its higher efficiency rate.
The warranty period of Blaze King Stoves ranges from 1 to 10 years, based on the parts.
Their Exterior Steel Cabinets and glass have ten years warranty.
But the heat exchanger and firebox have five years warranty. Surface finishes have only a 1-year warranty.
On the flip side, LOPI offers seven years of warranty for all its products.
But there can't be any defect in the material and workmanship.
The average cost of a heating stove is $3000 to $3500. Blaze King is slightly pricier than LOPI.
But it is worth the money you spend as a long-term investment.
Which Heating Stove Brand Is A Better Choice?
Before choosing a particular heating stove, you must determine the features and benefits you expect from a specific option.
You want to consider several aspects, such as Heating efficiency, size & heat output, freestanding or insert, steel or cast iron body, certifications, and many other factors.
LOPI is an excellent option if you prefer an affordable heating stove with some basic features.
But Blaze King is a far better choice when you want better efficiency, a lower emission rate, and a longer burn time.
However, it is slightly more costly than LOPI. As a long-term investment, you will be a winner, though.
Frequently Asked Questions (FAQ)
How long does a Blaze King wood stove last?
The average lifespan of a Blaze King wood stove can be 10 to 20 years, depending on use frequency and maintenance.
Is LOPI a good brand?
Heating stoves from LOPI have decent heating efficiency and low reduced emissions. Their stoves are pretty affordable and simple to use.
Where is Blaze King made?
All heating stoves of Blaze King are made in Walla, WA.
How long does a LOPI wood stove last?
A LOPI wood stove is expected to easily last around 10 to 15 years. But if you take care of it properly, it can last 20 years or more.
Final Thoughts
So, what have you decided to choose after going through the comparison of Blaze King vs. LOPI? Both brands offer good-quality products. But LOPI comes at a low price with decent efficiency to match anyone's budget.
However, Blaze King is a better choice than any average heating stove if you prefer a more high-end option with better heating efficiency and longer burn time.