BLANCO Diamond kitchen sink has a corner drain. On the other hand, Diamond Equal Double Sink requires a minimum of 36 inches of cabinet size and 9.5 inches of bowl depth.
In contrast, the Precis Equal Double sink requires 33 inches of minimum cabinet size and 8 inches of bowl depth.
Have you ever noticed how often you have to go to your sink while making your everyday dish? That's why you need a kitchen sink that is practical and stylish at the same time and one that makes washing and prepping food easy for you.
This write-up is here to help you find the best sink for your kitchen.
A Quick Comparison Table
| | | |
| --- | --- | --- |
| Specifications | Diamond Kitchen Sink | Precis Kitchen Sink |
| Special Feature | Low Divides & Increased Functionality | ADA/ CSA-Compliant Models |
| Construction Material | Patented Silgranit | Patented Silgranit |
| Available Models | 13 Available Models | 11 Available Models |
| Sink Sizes | 3 Different Sizes | 6 Different Sizes |
| Warranty | Limited Lifetime Warranty | Limited Lifetime Warranty |
| Price | $297 to $588 | $398 to $632 |
Key Comparisons Between Blanco Diamond And Precis Kitchen Sink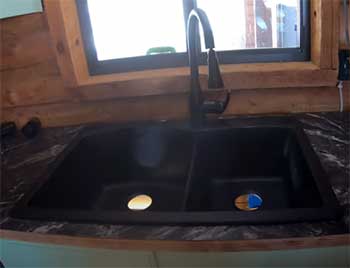 Blanco Diamond and Precis series kitchen sinks have many similarities in their features.
It's tough to differentiate between them.
However, Diamond kitchen sinks have low divides, and increased functionality in double bowl sinks.
You can wash large pots quite easily and conveniently in these sinks.
Besides, some Diamond series sinks have corner drains. It allows you to keep pots in the sink without blocking the drain. This is very clever thinking and a convenient feature.
On the other hand, the Blanco Precis series has ADA/ CSA-compliant model that is easily accessible to disabled people. These sinks come with a shallow 5 inches deep bowl and a rear-positioned drain to have sufficient knee clearance under the sink for a seated person.
Both Diamond and Precis series sinks are made from the same materials. That's the main reason these two series are so comparable.
All their sinks are made from patented Silgranit material. This engineered stone was developed with 30 years of research and study.
It is made from 80% premium natural granite, and then it's blended with a high-quality source of acrylic. As a result, these sinks become very tough while maintaining a smooth surface and natural stone beauty. It offers a non-porous surface that is scratch-resistant, heatproof, anti-bacterial, and durable.
There are about 13 models available from Diamond series kitchen sinks. They are Diamond 1¾, Diamond 1½ Dual Mount, Diamond 1 ¾ Dual Mount, Diamond 1 ¾ Low Divide, Diamond 1 ¾ Reverse Low Divide, and Diamond Bar Dual Mount.
You will also get Diamond Equal Double, Diamond Equal Double Dual Mount, Diamond Equal Double Low Divide, Diamond Single, Diamond Single Dual Mount, Diamond Super Single, and Diamond Super Single Dual Mount.
Blanco Precis Series kitchen sink models are Precis 1¾, Precis 1 ¾ Low Divide, Precis 21, Precis 24, Precis 27, Precis 30, Precis ADA, Precis Bar, Precis Cascade, Precis Equal Double, and Precis Super Single.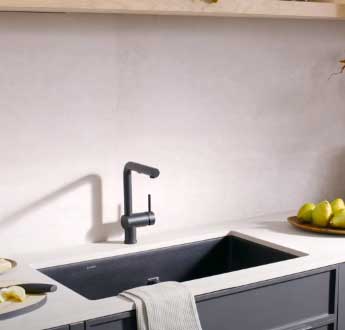 Sink size is significant as it determines how much space you need to install the sink in your kitchen cabinet.
Blanco Diamond series kitchen sinks come with 3 different cabinet sizes.
It starts from 15 inches minimum cabinet size.
Then there are 27 and 36 inches minimum cabinet sizes required for installing these sinks.
On the contrary, Precis Kitchen sinks come in 6 different sizes.
You will get sink sizes starting from 18 inches and going up to 36 inches. Between there are 24 inches, 27 inches, 30 inches, and 33 inches minimum cabinet size requirements.
The warranty is similar for both series of kitchen sinks as they belong to the same manufacturer. Blanco provides a Limited Lifetime Warranty on all the Diamond and Precis series sinks.
Besides, you will also get a 1-Year Warranty on any custom accessories you buy with your sink.
Diamond series kitchen sinks are cheaper than Precis. It's because Blanco has positioned them in that way. You will have to spend $297 to $588 for Diamond sinks and $398 to $632 for Precis sinks.
Which Kitchen Sink Will Be Best For You?
Considering the differences between these two series, I suggest you go with Diamond kitchen sinks. Not that it's superior in quality compared to Diamond; instead, the quality is pretty much the same.
But you will get more model options from Diamond series kitchen sinks, and it has corner drain sinks that can come in handy in your busy kitchen.
Frequently Asked Questions (FAQ)
What is the difference between BLANCO diamond and BLANCO precis?
There are very few differences between Blanco Diamond and Blanco Precis kitchen sinks. They are made from the same components and have similar features. However, there're some tiny differences between these two kitchen sink series. Diamond sinks require more installation space and have more depth than Precis sinks.
Do BLANCO sinks scratch easily?
No. Blanco kitchen sinks do not scratch. They are scratch and stain-resistant. It has been possible because of their construction materials. They are made from patented Silgranit material which comes from natural components. That's why Blanco sinks are very durable and do not scratch. 
Which sinks are better Franke or BLANCO?
Blanco kitchen sinks are made from granite. They come in various styles and colors. On the other hand, Franke has a limited selection of sinks. Again, Blanco sinks are pretty easy to clean and maintain. But Franke sinks have a sanitary coating that prevents bacteria growth on the surface.
Is BLANCO a good sink brand?
Blanco is an excellent kitchen sink brand. All its sinks are made from patented granite material. They come in various styles and finishes, giving your kitchen a sleek modern look. Most importantly, Blanco kitchen sinks are stain & scratch-proof, heatproof, and easy to clean.
Final Thoughts
There are very few differences between BLANCO Diamond and Precis kitchen sinks. So, you might have been into confusion about which one to get. But now you have a clear choice in front of you.
Diamond and Precis series represent the same quality, but you should get a Diamond series sink because it has more design options, features a corner drain, and, most importantly, costs lower than its counterpart.