When it comes to home furnishings, Birch Lane and Ashley Furniture are two of the biggest names in the business. Both offer a wide selection of furniture across every room in your home.
But with so many overlapping products, how do you decide which brand to buy from?
In this comprehensive guide, we'll compare Birch Lane and Ashley Furniture to help you determine the right furniture company for your needs and style. We'll cover the key differences between the two brands across factors like:
Product Quality
Style Aesthetic
Customization Options
Price and Value
Shopping Experience
Delivery and Assembly
By the end of this guide, you'll understand the core strengths and weaknesses of both Birch Lane and Ashley Furniture. Let's dive in!
A Brief Comparison Table
| | | |
| --- | --- | --- |
| Factor | Birch Lane | Ashley Furniture |
| Product Quality | Low to medium quality, inconsistent manufacturing | High quality standards, consistent construction |
| Style Selection | Mainly traditional styles, some modern | Vast selection across all styles |
| Customization | Limited fabric options only | Wide range of materials, finishes, upholstery and more |
| Price Range | Lower end of mid-price | Good, better, best tiered pricing |
| Value | Decent value for lower prices | Excellent value across price spectrum |
| Shopping Experience | Online only | Showrooms and robust online shopping |
| Delivery | Basic door drop-off | Premium in-home white glove |
| Assembly | DIY or paid add-on | Professional assembly service |
Overview of Birch Lane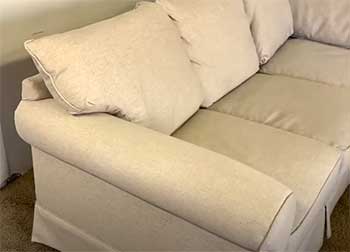 Birch Lane was founded in 2005 as a subsidiary of Wayfair.
It focuses specifically on traditional furniture across every room in your home.
The company sells furniture that leans classic and timeless over trendy.
You'll find lots of casual and farmhouse styles along with elegant traditional collections.
Birch Lane's furniture is mostly mid-priced but occasionally reaches into luxury price points. Products are often inspired by higher-end looks but made more affordable through cheaper materials and manufacturing methods. This makes the brand a go-to for attainable classic style on a budget.
Beyond furniture, Birch Lane sells a wide assortment of home accents. This includes art, mirrors, rugs, lighting, and decorative accessories in styles fitting their casual to elegant aesthetic. You can easily design an entire home with complementing furniture and decor from Birch Lane alone.
Birch Lane delivers its products all across the United States, so it's an accessible brand throughout the country. However, the brand does not physically manufacture most of its own products.
Manufacturing is outsourced to multiple third-party suppliers, most based overseas in countries like China and Vietnam. This helps keep production costs and retail prices low.
Overview of Ashley Furniture
Ashley Furniture was founded in 1945 and is one of the largest furniture manufacturers and retailers in the world today. Unlike Birch Lane, Ashley Furniture handles its own manufacturing, operating more than a dozen manufacturing facilities globally along with a distribution network of nearly 1,000 stores.
Ashley Furniture covers a very wide range of styles, mostly focused on more traditional and transitional looks as well as some contemporary pieces. Collections range from affordable to high-end luxury. This makes them a true one-stop shop for furnishing an entire home.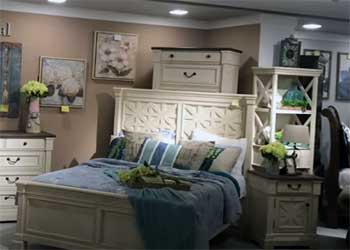 A major perk of Ashley Furniture is customizability.
Many of their products can be customized with different materials, finishes, and hardware options.
This allows you to tweak pieces to your exact preferences.
Beyond furniture, Ashley sells accessories, mattresses, lighting, rugs, and wall decor to complement their furniture collections.
Being a manufacturer, Ashley Furniture puts major emphasis on American-made products. Roughly 85% of products sold by Ashley are made in the company's U.S. manufacturing facilities. This appeals to many buyers looking for furniture made domestically versus overseas.
Key Differences Between Birch Lane And Ashley Furniture
Now that we've introduced both brands, let's directly compare Birch Lane and Ashley Furniture across the factors most important for furniture buying decisions.
Product Quality Comparison
When buying furniture, product quality should be one of the top considerations. You want pieces made from quality materials using sturdy construction for long-lasting durability and stability.
How do Birch Lane and Ashley Furniture compare when it comes to the build quality and longevity of their furniture?
Birch Lane
The quality of Birch Lane furniture is hit or miss. Some collections are decently made from durable materials like solid wood, metal, and high-grade veneers. But many lines rely on cheaper particleboard, engineered wood, and thin veneers prone to warping.
There are also some complaints of flimsy construction with things like wobbly tables and chairs. Quality control and consistency seems lacking. While you can find some gems, Birch Lane's low prices come from cutting corners in materials and manufacturing. Durability suffers as a result.
Ashley Furniture
Ashley Furniture is renowned for making high-quality, durable furniture designed to last for years to come. The company uses top-grade lumber, veneers, hardware, and other materials across their collections.
Construction is reliably solid and reinforced with corner blocks, dowels, glue, and other stability features absent from cheaper brands. Ashley's domestic manufacturing enables quality control monitoring through every step of production. This ensures their lofty quality standards are consistently met.
While an occasional lemon still slips through, Ashley Furniture as a whole maintains an exceptional reputation for furniture that withstands everyday use and lasts over time. The quality merits the higher price points.
Winner: Ashley Furniture
Ashley Furniture is the clear winner when it comes to quality and durability. While Birch Lane has some decently constructed collections, quality control is inconsistent. Ashley maintains reliably sturdy craftsmanship across the board using better construction methods and materials.
Style Aesthetic Comparison
Furniture should reflect your personal style and aesthetics. So which brand offers the best variety of stylish, attractive furniture designs? Let's see how Birch Lane and Ashley Furniture compare when it comes to overall look and variety of style.
Birch Lane
Birch Lane focuses primarily on traditional style furniture, but offers a nice depth within that niche. You'll find farmhouse, cottage, coastal, French country, and rustic inspired designs along with more polished traditional collections.
Most furniture has a casual, relaxed look but Birch Lane also offers some collections with a touch more elegance and glamour for formal spaces. The styling leans timeless rather than trendy. Neutral color palettes with light wood tones dominate, though some black and white accent pieces add contrast.
Those wanting a cohesive style throughout their home will appreciate Birch Lane's extensive assortment of complementing furniture, accents, and decor all aligned with the brand's traditional to casual elegance aesthetic. But selection is limited for other styles like modern and eclectic.
Ashley Furniture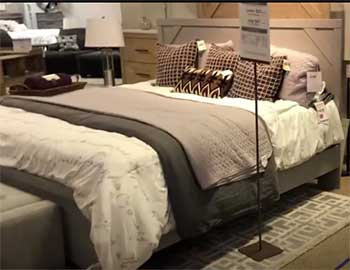 Ashley Furniture covers an exceptionally diverse range of style categories.
Along with traditional collections, you'll discover furniture embracing modern, contemporary, transitional, coastal, industrial, Scandinavian, and eclectic aesthetics.
Within each style category, Ashley offers both affordable and luxury tiers.
This makes them a one-stop shop if you like mixing high and low.
Their assortment has something fitting every decor theme and color palette. And you can easily blend pieces across contrasting styles for an eclectic look.
Ashley also partners with popular furniture designers like Tommy Bahama to offer branded collections exclusively through Ashley stores. This further expands the unique style offerings.
Winner: Ashley Furniture
Ashley Furniture wins for offer a vastly wider breadth of furniture styles. Their diverse collections cater to all aesthetics from pared-down modern to ornate traditional whereas Birch Lane heavily focuses on just traditional categories. Ashley also provides greater style versatility within tighter spaces.
Customization allows you to tweak furniture to match your personal vision. Let's see how Birch Lane and Ashley Furniture compare when it comes to options for customizing products.
Birch Lane
Customization is limited when shopping at Birch Lane. The products advertised on their website are what you get without modifications.
You can request a fabric change on their selection of upholstered items, but fabric options are pre-set by Birch Lane's designers. There is no freedom to select your own custom textiles.
Since Birch Lane utilizes third-party manufacturing partners, they don't offer modification of materials, finishes, dimensions, or design details. You must pick from their catalog of stock pieces. The only flexibility is swapping colors when available on select items.
Ashley Furniture
One of Ashley Furniture's biggest advantages is their sheer range of customization offerings. Many of their products across styles and price points can be modified to your specs.
Upholstered pieces can be ordered with hundreds of different fabric choices. If you don't like any of their in-stock fabrics, you can even send your own material for custom upholstering.
Wood pieces can be switched out to different stains, finishes, wood species, and paint colors. Hardware and accent details like nail heads trim can also be customized. And depending on the piece, some modifications to dimensions and designs are possible too.
This level of customization makes it easy to put your personal twist on Ashley's wide selection of furniture. You're not limited only to the default designs.
Winner: Ashley Furniture
Ashley Furniture dominates when it comes to customization flexibility. Birch Lane only allows minor fabric swaps in their pre-selected options. But Ashley gives you creative freedom to truly tailor pieces across materials, finishes, and design details to make them your own.
Price and Value Comparison
Price and perceived value go hand in hand. A higher price tag is acceptable if the quality and benefits measure up. Let's see how Birch Lane and Ashley Furniture stack up for price points and overall value.
Birch Lane
As a budget-friendly brand, Birch Lane positions itself as an affordable supplier of classic stylish furniture. Prices sit at the lower end of mid-tier.
You can shop individual pieces like a sofa or dining table for $300 to $700. Full collections land in the $1000 to $3000 range. Considering the realistic quality, these prices deliver decent value. You get an attractive look and usable furniture without overspending.
Sales and specials up to 50% off also keep Birch Lane affordable. Just don't expect heirloom construction at their price points. It's disposable furniture, but fairly priced as such.
Ashley Furniture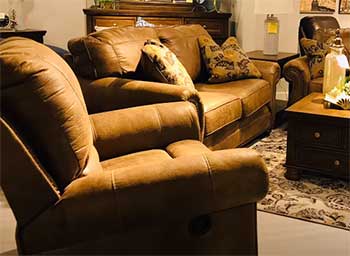 Ashley Furniture covers a wide spectrum of price points and corresponding quality levels.
In their affordable collections, prices parallel Birch Lane but deliver noticeably better construction.
Mid-tier collections with better materials and construction land in the $1000 to $3000 range for individual pieces and $3000 to $7000 for full room packages.
Finally, Ashley's luxury tier offer premium American-made furniture priced above $4000 for sofas and $10,000+ for collections.
Considering Ashley's tiered quality and lifetime warranties on even budget pieces, their prices across low, mid, and high tier offer strong value. You get excellent quality furniture for years rather than disposable fast furniture. That merits the higher prices over cheap import brands.
Winner: Ashley Furniture
While both brands provide decent bang for your buck, Ashley Furniture pulls ahead for offering better construction quality and durability across all price points. And their wide spectrum gives great value options even if you have champagne taste on a beer budget.
Shopping Experience Comparison
Beyond the furniture itself, a brand's overall shopping experience affects which company consumers prefer. Let's see how Birch Lane and Ashley Furniture compare when it comes to the shopping journey.
Birch Lane
Birch Lane operates as an online-only furniture brand without brick-and-mortar showrooms. All shopping must be done through their website.
The digital shopping experience is well-executed. Convenient category and filter options allow easily narrowing down their catalog to your style and function needs. Detailed product descriptions provide sufficient information for making informed purchases.
Birch Lane offers free fabric swatches to help visualize upholstery colors and patterns in person rather than just digitally. This enhances the online experience.
The website could benefit from expanded photography showing products in realistic living spaces. But overall, Birch Lane makes online furniture shopping smooth and accessible.
Ashley Furniture
With nearly 1,000 showrooms throughout the U.S., Ashley Furniture gives shoppers the helpful option to browse in-person before buying furniture. Trying out pieces can prevent disappointment over things like comfort or scale.
Their showrooms showcase a broad selection of products in well-styled room displays. Knowledgeable sales associates can answer questions and provide decor advice. This makes furniture shopping a more consultative experience versus just clicking and ordering items online.
For online shoppers, Ashley provides an excellent e-commerce site with detailed product descriptions, thorough imagery, and enhanced visualization features like 3D room planning. They seamlessly blend digital and in-store experiences.
Winner: Ashley Furniture
The inclusion of physical showrooms tips this category in favor of Ashley Furniture. Birch Lane solely offers online shopping – convenient but limiting without seeing and trying products first. Ashley gives consumers the best of both worlds with robust online ordering backed by real-world showrooms.
Delivery and Assembly Comparison
Getting furniture safely delivered and assembled is a vital part of the shopping process. Here's how Birch Lane and Ashley Furniture compare when it comes to delivery and assembly.
Birch Lane
Birch Lane offers free standard shipping on all orders. This includes basic doorstep delivery by common freight carriers like FedEx and UPS. White glove in-home delivery can be added for an extra fee.
Assembly is available on most furniture for another additional charge of around $79 per item. If you decline assembly, Birch Lane furniture arrives boxed in pieces with included hardware and instructions for DIY assembly. This works for simpler products like tables and benches but can prove challenging for complex pieces like sectionals.
Reliability of delivery times and quality of assembly are hit or miss according to customer reviews. Damage claims also happen but are addressed promptly by Birch Lane's customer service department.
Ashley Furniture
Ashley Furniture offers premium white glove delivery on all furniture orders. This includes scheduled delivery dates, in-home placement of items, and removal of packaging debris. Extra fees apply for stair carries and other specialty services.
Professional assembly by their licensed installers can be added to your order for reasonable fees. DIY assembly is not recommended for Ashley's solid wood furniture. Even if you assemble yourself, you'll receive an installation guide with tips for getting everything level and reinforced properly. This prevents issues like wobbly tables.
Reviews praise Ashley's delivery teams for providing careful, courteous service. And their pro assembly service results in furniture correctly constructed for long-lasting durability.
Winner: Ashley Furniture
Ashley Furniture pulls ahead for providing premium delivery with professional assembly reliably done right the first time. Birch Lane's delivery process is more prone to hiccups with damage and DIY assembly challenges. Ashley's seasoned teams take the headache out of furniture setup.
Which Is Better?
Now that we've compared these two popular furniture brands across the factors most important for buyers, which ultimately wins out as the better choice?
For budget-friendly casual style furniture, Birch Lane provides decent quality at very affordable prices. If you just want cute style on a budget, they deliver good value.
However, for long-lasting furniture with custom options, higher-end style looks, and excellent service, Ashley Furniture is worth the extra investment. You can outfit an entire home with quality furniture built to last for years while enjoying a stellar shopping experience.
While both brands will meet different needs, Ashley Furniture emerges as the winner when comparing overall product quality, selection, customization, value, and service. Investing a little more nets a significant bump up in the furniture buying experience.
So in summary:
Birch Lane offers a more limited but affordable range of casual traditional furniture primarily online.
Ashley Furniture provides expansive style selection with luxe options, superior quality, and excellent service through showrooms or online.
For great furniture that lasts, Ashley Furniture is worth the higher prices over fast furniture brands like Birch Lane.
Frequently Asked Questions (FAQ)
Still deciding between Birch Lane and Ashley Furniture? Here are answers to some of the most commonly asked questions about these two brands.
Is Birch Lane a good company?
Birch Lane is a reasonably good company in the budget-friendly furniture space. They offer attractive traditional style furniture at very affordable prices. However, their quality is inconsistent and lower than other mid-priced brands. But for cheap pieces that just need to look good temporarily, Birch Lane delivers decent value. Just don't expect heirloom quality at their low price points.
Are Birch Lane and Wayfair the same?
Birch Lane is owned by Wayfair but operates as its own distinct furniture brand. Wayfair sells furniture across many brands whereas Birch Lane focuses specifically on traditional style furniture and home decor. The shopping experience is also different – Birch Lane has its own website separate from Wayfair's. So while related, Birch Lane and Wayfair offer two different furniture shopping experiences.
Did Wayfair buy Birch Lane?
Yes, Wayfair acquired Birch Lane in 2005 when Birch Lane was just getting started. Becoming part of Wayfair helped Birch Lane grow rapidly because they gained access to Wayfair's infrastructure, supply chains, and manufacturing partners. Wayfair currently owns Birch Lane and uses it as their traditional furniture specialty brand.
How is Birch Lane related to Wayfair?
Birch Lane is a subsidiary brand fully owned by Wayfair. Wayfair provides the manufacturing relationships, operational infrastructure, supply chain, and marketing resources that allow Birch Lane to function and sell furniture online. So while Birch Lane operates independently in terms of branding and web presence, they rely on Wayfair's backend business operations and framework. Think of Birch Lane as Wayfair's specialty traditional furniture arm.
Final Thoughts
Whichever you choose, always carefully measure spaces and read product details to ensure the best fit. With some smart comparison shopping, you can furnish your home in affordable style and comfort.
Happy shopping!