Farming had come a long way from those days when everything needed to be done by the farmer manually. New technology and machinery have completely changed agriculture, and one of the most significant examples is seed tender.
When the planting window is narrowed, especially for some crops, seed tenders can come in handy by reducing the planting downtime. For this reason, farmers are becoming more interested in seed tenders. If you are also an interested farmer, here are some tenders you can check out.
Top Seed Tenders
Before we get to review, here is the list of a few great seed tenders out there:
Patriot 220 Bulk Seed Tenders
Travis Seed Cart
Unverferth Bulk Pro Box Seed Tender
Killbros SeedVeyor Seed Tender
SpeedTender™ Pro 251 Box Seed Tenders
Parker Seed Chariot Seed Tender
You'll find seed tenders from various categories and price ranges on this list. Whether you have a large or small farming project, you'll find the perfect match.
Patriot 220 Bulk Seed Tenders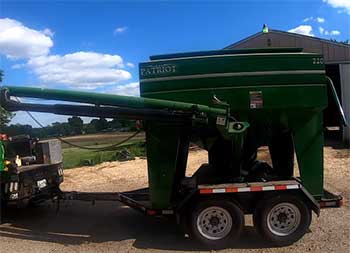 Patriot 220 bulk seed tender will be the perfect option for you if you are looking for a high-performance seed tender for large projects.
You can use it for transferring other dry foldable products too. This tender can also draw seed from the bin, making it more time efficient.
This seed tender has various useful features to make your investment worthwhile.
The hopper helps control the flowability, while the ground-controlled lid keeps the seed from moisture. Besides, the shut-off gate allows you to control hoppers while carrying various seeds under one load.
Travis seed kart is another familiar name in the agricultural industry. This Minnesota-based brand has been manufacturing tenders since 2022, and till today, thousands of farmers got benefitted from their products. There are six seed tender options you can choose from according to your need.
The best part about Travis seed carts is that they come in various sizes and carrying capacities. These options to choose freely and the quality of the seen tenders made with all-American steel made Travis a reliable name in the industry.
Unverferth Bulk Pro Box Seed Tender
This particular seed tender has an advanced feature that puts it above the rest of the seed tender options on this list.
Not only does Bulk Pro Box Seed Tender deliver seeds into the pant, but it also conveying between two sources too.
There are several models of Unverferthe with different seed unit box capacities.
The construction is top-notch, too, with high-quality steel. The conveyor has a smooth operation with speed control to adjust the delivery speed from the engine.
Killbros SeedVeyor Seed Tender
The main goal of using seed tender is to cultivate efficiently. If you are planning to plant seeds and save valuable time efficiently, you should check out Killbros SeedVeyor seed tenders. Every part of the tender is made with advanced technology.
For starters, the hoppers have dual compartments with different seed unit capacities. Then there are two viewing windows to inspect seed loading and unloading. Killbros also paid particular attention to making operation easier with height adjustment, gas engine, and 180° conveyer roller pivot. 
SpeedTender™ Pro 251 Box Seed Tenders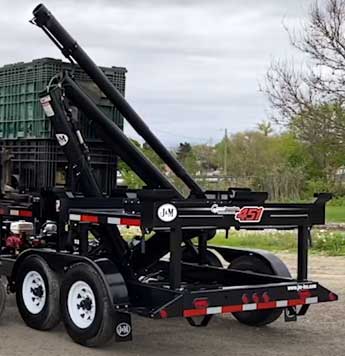 Seed protection is one of the most crucial aspects of any seed tender.
If you want that protection alongside uncompromised performance, you should check out this J&M SpeedTender Pro™ 251.
This seed tender has an exclusive bottom-less pit design, minimizing seed damage.
Then this seed tender comes with a low deck height of 4'‑2″. This way, it has more stability on an uneven surface and during transportation.
Lastly, the poly-cupped shape of the auger significantly improves carrying the seed gently and quickly up the auger.
Parker Seed Chariot Seed Tender
The last option on this list is from Parker. The seed chariot seed tender will save your cost and time during cultivation big time. Whether it's delivery speed, seed capacity, or convenience, Chariot models like 2620 and 3620 will make your life easier.
These tenders have two-compartment boxes with 260 and 260 units of seed capacity. Then the conveyer has a 180-degree conveyor swing with winch-controlled height adjustment to unload seeds efficiently. Lastly, the operation is straightforward, thanks to the conveyer belt seed regulator and on-off control.
Frequently Asked Questions (FAQ)
Is there a seed tender in fs22?
FS22 has a lot of attachment and towing mods for various vehicles, including tractors, trucks, cars, etc. However, if you are looking for seed tender mods in FS22, you'll find quite a few options under the trailer tab.
What does a seed tender do?
Sid tender is a machinery widely used in modern agriculture to plant seeds automatically. Farmers had to carry seeds and feed the planters manually, which could be time-consuming. Moreover, when the planting window is narrow for some crops, seed tenders come into play by carrying bulk seeds and feeding them to the planters.
How fast can you pull a seed tender?
The answer to this question entirely depends on the particular seed tender unit you have. Typically seed tenders come with auger and belt conveyors, or the latter allows faster planting. For noncommercial seed tenders, you can try to unload 10 to 45 bushels per minute. If you plan to tow a loaded tender, you should stay under 45 MPH.
Are seed banks worth it?
Different plants and crops are going extinct rapidly worldwide. A seed bank is just a way of ensuring that this extinction doesn't happen by preserving the seeds in a controlled environment. Though a seed bank isn't viable for all plants, it's significant insurance for protection against the extinction of genetic diversity.
Final Thought
That's a wrap for today. I hope my article about top-quality seed tenders will help you to cultivate seeds more efficiently. You can quickly transfer and carry seeds in bulk, reducing the time to refill planters and plant altogether.
Moreover, the proper planting conditions don't stay for long, and efficiency through seed tender can help you take full advantage of that condition. Now that you know the options pick one that suits your need and take your cultivation to the next level.