BEHR Dry Plus is a Styrene Acrylic based waterproofer, whereas DRYLOK is a latex-based waterproofer. BEHR Dry Plus covers up to 75 to 125 square foot area, but DRYLOK covers 70 to 100 square foot area per gallon.
Waterproofing your interior and exterior surfaces can go wrong because of a poor selection of products. Only a waterproofer will give you the expected result. In this write-up, I'll discuss and compare two very good waterproofers- BEHR Dry Plus and DRYLOK.
So, let's get into it.
A Quick Comparison Table
| | | |
| --- | --- | --- |
| Specifications | BEHR Dry Plus | DRYLOK |
| Special Feature | Has NanoGuard Technology | Resists Mildew And Radon Gas Penetration |
| Applications | Exterior & Interior | Exterior & Interior |
| Coverage | 75 to 125 Square Foot Per Gallon | 70 to 100 Square Foot Per Gallon |
| Dry Time | 1 Hour Touch Dry & 4 Hour Recoat | Recoat After 2 to 3 Hours |
| Available Sizes | 4 Available Sizes | 4 Available Sizes |
| Warranty | 10-Year Customer Satisfaction Guarantee | Fully Transferable 10-Year Warranty |
| Price | Around $158 for 5 Gallon | Around $134 for 5 Gallon |
Key Differences Between BEHR Dry Plus And DRYLOK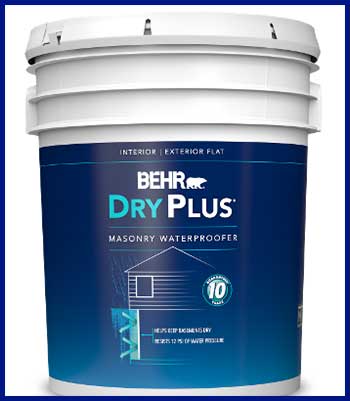 Behr Dry Plus is a styrene acrylic-based advanced masonry waterproofer for interior and exterior use.
It is specially designed for porous concrete surfaces and is suitable for basement and retaining walls.
This premium waterproofer forms a solid waterproof barrier on your exterior and interior surface and, at the same time, provides a smooth and decorative finish.
On the other hand, Drylok is a concrete & masonry waterproofer that prevents and controls water seepage problems.
This latex-based solution does not require any pre-mixing or pre-wetting; you can apply it directly out of the box.
It guarantees to stop up to 15 PSI water, 98 MPH wind-driven rain, and Category 4 hurricane wind. Besides, Drylok also resists mildew and radon gas penetration.
Both Behr Dry Plus and Drylok work above or below grade on interior and exterior surfaces. You can use Behr Dry Plus on basement walls, garage walls, retaining walls, foundation walls, landscape walls, etc.
Besides, it's suitable for masonry, concrete, concrete blocks, bricks, fiber cement, stucco, etc., surfaces.
Similarly, the Drylok waterproofer is applicable to masonry walls, bricks, stucco, cinder and concrete blocks, poured concrete surfaces, etc.
You will require at least two coats of these waterproofers to squeeze the best result out of them. The first coat of Behr Dry Plus will cover up to 75 square feet per gallon. You can cover up to 125 square feet per gallon in the second coat.
In the case of Drylok, the first coat will cover up to 70 to 75 square feet per gallon. The second coat will cover 75 to 100 square feet per gallon. But the amount can change for both products depending on the weather, temperature, and application method.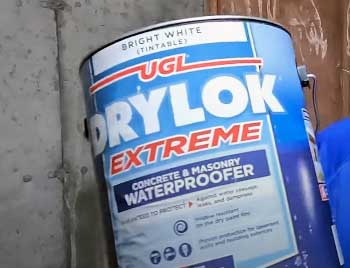 Behr Dry Plus takes about 1 hour to become touch dry. You can recoat again in 4 hours.
To become fully cured, this waterproofer will take 7 to 14 days.
In contrast, the Drylok waterproofer takes about 2 to 3 hours to dry, and after that, you can recoat it.
However, both the waterproofers' drying time is subject to weather, temperature, humidity, and film thickness.
The 4 available sizes of Behr Dry Plus are an 8 oz. sample, 1 Gallon container, 1 Quart container, and a 5-gallon container.
On the contrary, the 4 container sizes of Drylok waterproofer are 1 Quart, 1 Gallon, 2 Gallon, and 5 Gallon.
Warranty is very crucial for a product like a surface waterproofer. With Behr Dry Plus, you will get 10 Year Customer Satisfaction Warranty.
In contrast to Behr Dry Plus, Drylok comes with a 10-Year Transferable Limited Warranty. Besides, it has a 5 years shelf life. However, you must apply both waterproofers per the manufacturers' instructions to get the warranty.
Behr Dry Plus waterproofer is a bit more expensive than Drylok. You will have to spend around $158 for a 5-gallon white Behr Dry Lock container.
A similar size container in Drylok will cost you around $136. So, your overall waterproofing project will cost less with Drylok waterproofer.
Which Waterproofer Will Be Best For You?
In terms of quality, both Behr Dry Plus and Drylok waterproofers are pretty good. But in terms of performance and reliability, Drylok Waterproofer is better.
So, I would suggest you go with Drylok. It will protect your surface from water and prevent mildew and dangerous radon gas penetration.
Besides, you will better protect your exterior surfaces in harsh weather like storms and hurricanes. So, even though Behr will cover more area and dry faster, you should use Drylok to protect your home from water infiltration.
Frequently Asked Questions (FAQ)
Should I use DRYLOK in my basement?
Yes. You can use DRYLOK in your basement. Drylok Masonry Waterproofer is a good solution for preventing and controlling water infiltration through your basement wall. Besides, it's pretty easy to apply as well.
Can You Paint Over Behr Dry Plus?
Behr Dry Plus comes in a wide range of colors and tints. So, the necessity to paint over this waterproofer is very low. But you can paint over this waterproofer if you want.
Which is better DRYLOK or Drylok extreme?
The main difference between Drylok and Drylok Extreme Waterproofers is that Drylok Extreme has a better water-resistant capability than Drylok. So, you can say that Drylok Extreme is the better waterproofer.
Do you need 2 coats of DRYLOK?
Yes. Drylok waterproofer requires two coatings to perform at its best ability. Apart from that, you must apply at least 2 coatings of Drylok to avail of the fully transferable warranty. But you can apply more coating if your surface requires it.
Final Thoughts
There are some significant differences between Behr Dry Plus and Drylok, and I've laid them wide open for you. So, it shouldn't be tough to find the best product. Drylok has been around for a much more time and is relied upon by many professionals.
Most importantly, Drylok costs lower than its counterpart, and you can reduce your project cost by a good amount of money with Drylok waterproofer. So, it's your best bait.