Choosing one stain for your deck or roof among so many amazing stains available in the market is quite difficult, right?  For which we've come up with two -Arborcoat vs. Woodscapes. Both of it has amazing features.
Arborcoat stain has different resilient power, which doesn't allow it to grow mold. But unfortunately, in WoodScapes, mold grows, or the stain can crack if water comes in contact with it.
More differences in them will help one distinguish which to choose while purchasing. Let's check the comparison table to know more about their differences-
A Quick Comparison Table
| | | |
| --- | --- | --- |
| Specifications | ARBORCOAT | WoodScapes |
| Fits evidently | Outdoor and indoor furniture | Indoor furniture |
| Protection layer | Ensures superior UV protection layer | No such protection is present. |
| Resists cracking | Yes | No |
| VOCs | Low | High |
| Mildew Growth | Provides a resisting coating. | Doesn't provide a resisting coating. |
| Pricing | Higher | Lower |
Key differences Between ARBORCOAT And Woodscapes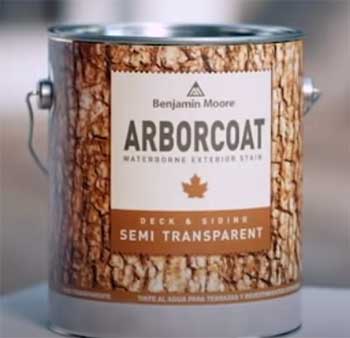 Arborcoat has better color retention, which doesn't allow the color to fade away quickly.
In the harshest weather, even from the UV rays, your furniture will remain protected by ARBORCOAT stain.
Moreover, the stain has resilient properties, which can protect the decks too.
Whereas, if we talk about WoodScapes, it can be an ideal choice for your indoor furniture.
Why so?
The resilient power of WoodScapes is comparatively less, and mildew growth is noticed in damp weather.
Though it's not mandatory that you can't use it for outdoor furniture, using it indoors can become the ideal option.
Besides being able to cover the imperfections of your wood surface, Arborcoat coating gives your properties protection against UV rays too. Due to the UV ray protection, you'll notice no blistering or peeling of stains in the furniture.
Whereas, if proper surface preparation is taken, then in Woodscapes, there will not be any peeling off in layers. It's a bit contradictory, but when in doubt, using water-based instead of oil-based WoodScapes is the right choice.
Excluding the protection layer or which environment it suits, there is a tiny difference in cracking too. Who wants to crack in their fresh stain? Nobody, right?
For it, ARBORCOAT oil finishing is a barrier to cracking, and peeling protects your properties from harmful UV rays. The oil finishing penetrates deeper and keeps it safe from cracking.
And gives the finishing of the stain a glazy look while your wood texture will be upheld brighter!
While on the contrary, the WoodScapes stain peels or cracks whenever the stain is used on a dirty, wet, or glossy surface.
Vocs basically refers to the "volatile organic compounds." Definitely, we can't use products that may harm our environment.
You'll be glad to hear that the VOC of Arborcoat is lower comparatively. That signifies it's safe for both environment and living organisms.
Unfortunately, Woodscapes have potentially higher VOC, which might be a bit harsh for the environment.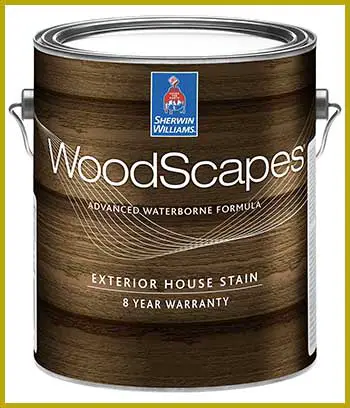 Sometimes black spots and green streaks due to mildew growth can entirely damage our whole effort.
But ARBORCOAT is a 100% acrylic exterior wood stain, which ensures there is resistance to mildew growth.
As we've mentioned, this one allows you to use the stain anywhere you want.
Thus, even in the fence or backyard where there is less sunlight relying on Arborcoat can solve half of the problems.
The growth of mildew is seen in the stain of WoodScapes as the resistant capability is less.
If the wood is not cleaned or dried properly, it might increase extensively.
There is a phrase, "good things cost a bit more." As it backfires, customers mind whether the extra cost is worth the money.
Both of the stains have their significance which speaks about their differences too. But the price is comparatively higher than other stains present in the market.
However, if you're tight on budget and want to shave some money off the cost, Woodscape can become your escape!
Which Stain Will Be Perfect For You?
Let's merge the entire discussion and bring it up into an important question: which one will be perfect for me?
Before jumping into an answer, it's essential to, first of all, understand your requirements. One factor will definitely be the pricing, and the other will be the feature.
If you're looking for a simple stain that will be on your budget and gives the traditional coverage you're seeking, looking in Woodscapes will be the right choice.
But if you are precise about no peeling, cracking, and durability along with its entire performance,  Arborcoat is the answer for you.
The whole decision depends on personal requirements, which will guide you in choosing which one will be the perfect stain for you.
Frequently Asked Questions (FAQ)
How long does Sherwin Williams Woodscapes last?
Sherwin Williams Woodscapes comes with a 5-year-long guarantee. That also includes long-term color fading protection in adverse weather too.
Is Arborcoat stain good?
Well, the answer will be in the affirmative, as it ensures long-term durability. Moreover, it takes almost the most less time to dry up. Lastly, the final thing which makes it the good one is its resistance properties which keep the stain and your wood health better for an extended period.
What is WoodScapes stain?
Woodscapes is an exterior wood stain with two versions -oil and waterborne-based. This stain penetrates the wood and protects the actual beauty of the wood.
Is Woodscapes good for decks?
Unfortunately, no! Woodscapes are for vertical surfaces not for horizontal surfaces such as decks where there is a chance of accumulation of water. You've to look for other options in case it happens.
Conclusion
In conclusion, we hope that in the upward section the comparison of Arborcoat and Woodscapes comparison has cleared your queries.
However, we can definitely claim that ARBORCOAT stains have comparatively better features than WoodScapes. Rather be it resisting properties, or it's the ability to serve most properties.
Arborcoat can be your savior of the day, but if you're looking for something simple, going for WoodScapes can become your standard option.
Happy coloring!