Are you sick and tired of interior moisture damage in your house? 
Think of it as a war, and you need the right weapon to win. I've been there are, and I will give you a detailed review on Aquabar "B" vs. felt paper. 
To be honest, both of them are pretty good, while Aquabar B is a new product compared to felt paper that has been around for a long time. But you can only choose one when you know their features and differences. 
Let's check them out.  
A Quick Comparison Table 
Repairing moisture damage or installing a damage prevention sheet is a huge decision that requires a meticulously selected product. It is only possible when you know details on the best available options. 
Here is a quick comparison table between Aquabar B and Felt paper: 
| | | |
| --- | --- | --- |
| Aspects | Aquabar B | Felt Paper |
| Special Feature | SEMI-PERMEABLE CLASS II MEMBRANE | Asphalt-saturated and works as a Moisture Barrier |
| Composition | Grade B Asphalt Laminated Duplex Type Kraft Paper | Mixture Of Sawdust And Recycled Corrugated Paper |
| Performance | Extremely High Performing | High Performing |
| Size & Weight | 36" X 167'36" X 334'Weight: 3 lbs/ 100 Sq Ft | 15-Asphalt Felt: 7-14 Pounds.30-Asphalt Felt: 16.5-17 Pounds |
| Availability | Widely Available | Widely Available |
Key Differences Between Aquabar "B" And Felt Paper 
Fortifiber Building System Group produces a well-performing and effective moisture vapor retarder Aqua B. It has been around for not so long. 
Yet its vapor resistance performance in various interior construction has proceeded it. 
On the other hand, Felt paper has been around for hundreds of years, primarily used for roofing. Now people use them as underlayment for walls too. 
Let's dive deeper: 
Aquabar B is a high moisture-resistant sheet with very low vapor permeance.
Its semi-permeable class II membrane sheet features easy installation under your wall, and besides, you can clean it effortlessly. 
In addition to all these, Aquabar B has passed the California CA01350 Indoor Air Quality Requirement test. 
On the other hand, saturated with asphalt, felt papers work as vapor barriers. Initially, it was designed for roofing. But authorities have allowed it to be used for wall underlayment as well. 
Felt paper has two variants. One is 15 asphalt felt, and the other is 30 asphalt felt. 
Being a semi-permeable class II vapor retarder or cleavage membrane, Aquabar B is used under wooden floors and behind or below tiles substrates. It is a Kraft paper with 30/30/30 grade B asphalt lamination.  
On the contrary, Felt paper is also asphalt-saturated, and people have used it for centuries. With a long legacy, traditional clothing felt was widely available for roofing, from recycled cotton rags. 
But modern-day asphalt-saturated felt papers are made from sawdust and recycled corrugated paper, making them lightweight and durable.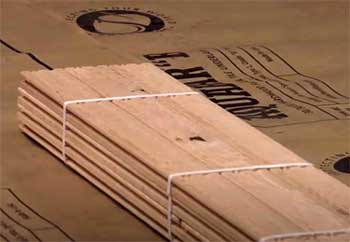 Forifiber Building Solution Group has more than seventy-five years of history and expertise.
With this expertise and proven performance, they have designed Aquabar B. 
It features a superior vapor retarding under the wooden floor and wall that helps slow down the moisture vapor. 
Besides, they work like a slip sheet and minimize dust and noise. It is tested for and thereby rated as moderate water-vapor resistance.
In contrast, felt papers are well-known for absorbing water and then slowly evaporating the moisture to the exterior. A dry asphalt felt paper's permeance is 5 perm, but a wet asphalt felt's permeance is as high as 60 perms. 
So, if water passes through a felt paper, it will soak it up and gradually dry to the exterior. 
Size and weights are very important metrics for transportation and installation. Aquabar B is available in two sizes. The 36 inches wide and 167 feet long sheet can cover up to 500 square feet, while the 36 inches by 334 feet sheet can cover a 1000 square feet area. 
With a 3 Ibs/ 100 square feet weight, Aquabar B is way lighter than its competitor felt paper. 
Talking of which, felt paper offers two weights for its two variants. The 15 asphalt felt weighs around seven to fourteen pounds per 100 square feet. 
But the 30 asphalt felt paper weighs between 16.5 and 17 pounds for the same 100 square feet. 
Although Aquabar B is comparatively new, its manufacturer isn't. Being on the market for a long time has allowed them to create a robust supply chain. Aquabar B is available on retails shops and to distributors nationwide. 
Similarly, felt papers are also widely available in the market. Many manufacturers make them, and thus you will get them at your doorstep. 
Which One Is Best For You? 
It shouldn't be hard for you to decide what you want with all the information. But if you are still in a dilemma, take my suggestion and go for Aquabar B. 
Not only does it has all the superior features, but it also represents higher quality and materials. 
Still not convinced? Look for how to install them. You will find that Aquabar B is far easier to install than felt papers. 
Frequently Asked Question (FAQ) 
What is Aquabar B underlayment?
Aquabar B is a laminated asphalt paper that works as tile and floor underlayment. It is consists of two layers of Kraft paper and is a highly effective moisture vapor retarder.  
Is Aquabar a vapor barrier?
Aquabar B is a vapor retarder, not a vapor barrier or a waterproof membrane. You cannot use this asphalt laminated Kraft paper for waterproofing. 
What is Aquabar used for?
Aquabar B is a vapor retarder. Because of asphalt lamination, you can use this Kraft paper as a moisture retardant membrane under walls or tiles.
What is the hardest flooring material?
With a 16.4 kilonewton force, the hardest flooring material is Lapacho or lpe. However, they are challenging to find. 
Conclusion 
Selecting moisture damage prevention sheets is a huge decision and requires a lot of consideration. But I hope my Aquabar "B" vs. felt paper review comes in handy. 
I've already made it easier for you to decide with all the necessary information. 
But the bottom line is, buy one that suits your house the most. I've given the information, and now it's your call.