Are you looking for the proper cleaning and finishing material? 
Embrace yourself because you have found the right place! My Scotch Brite vs. Sandpaper review brings you the comparison between the two best cleaner and finisher pad. 
Think of yourself when you're trying to clean something off or apply finishes to a surface, but stubborn stains just won't let go. We all have faced that unbounded frustration. It happens because your cleaning pad isn't that good. 
Here I'll show you comparisons between the two best cleaners and finisher pads. So, let's get into it. 
A Quick Comparison Table 
A quick comparison table between Scotch Brite and Sandpaper will help you understand how they are different from one another. Plus, you can come up with a quick decision if you are short on time. 
| | | |
| --- | --- | --- |
| Aspects | Scotch Brite | Sandpaper |
| Type | Hand Pad | Fine Grit Sanding Sponge |
| Material | Aluminum Oxide | Aluminum Oxide, Silicon Carbide |
| Special Feature | A Unique Surface Conditioning Product | Produced In A Range Of Grit Sizes |
| Benefit | Precise Hand Control | Resists clogging |
| Usage | Various | Various |
| Available Sizes | Fewer Size Option | Many Size Option |
| Color Family | Maroon | Beige, Black, Purple, White |
In-Depth Comparison Table Between Scotch Brite And Sandpaper
You have gathered a basic idea about these two abrasive pads and their differences. But you need more information to pick up the right product. 
So, here's an in-depth comparison between Scotch Brite and Sandpaper: 
Scotch Brite is a hand pad that allows you to hand sanding on various surfaces.
It is a superior alternative to many abrasive products, including Sandpaper, steel wool, wire brushes, and many other non-woven products for finishing tasks. 
This reusable pad is designed to resist tearing, splintering, shredding, and loading. Plus, you can use it for a long time because it never rusts. 
On the other hand, Sandpaper is an alternative abrasive pad for cleaning and finishing.
More specifically, it is a fine-grit sanding sponge. You will find it's available in medium, fine, or extra-fine grits. 
Both abrasive pads are designed to serve similar purposes: cleaning and finishing. But they are made from slightly different materials. 
Scotch Brite is made of non-woven or synthetic fabrics and Aluminum Oxide abrasive material. With an excellent grade aluminum oxide abrasive, you can easily clean, finish, grain, denibs and defuses using this pad.  
On the contrary, Sandpaper is a foam with Aluminum Oxide and Silicon Carbide incorporated into it. You will find various grit counts for Sandpaper, including 80, 180, 400, 800/1000, and 1200 grits. The larger the grit count, the more abrasive the pad becomes. 
Looking at the features, you will find that Scotch Brite combines flexibility and effective cutting action for better performance.
The difference between Scotch Brite and Steel Wood is that Scotch Brite pads won't shred during use and rust after use. 
Besides, it's a unique surface conditioning product with a combination of fine abrasive and non-woven nylon or other synthetic fibers. 
In contrast, Sandpaper offers sanding with the surface grain and works through a sequence of grits. It is produced in various grit sizes and uses to remove material from surfaces. 
Interestingly you will find Sandpapers with both 1 side and 4 sides abrasive. Besides, it's designed to work on most surfaces. 
Both Scotch Brite and Sandpaper offer a handful of benefits while you use them for cleaning any surfaces or finishing any substrates. 
Scotch Brite will give you precise hand control. You can fold, stack, and roll it for effective cleaning or conditioning on flat, irregular, or contoured surfaces. 
Use this reusable pad on a variety of surfaces and substrates. Besides, you will receive many benefits of open-web abrasives. 
On the other hand, Sandpaper conforms to any surface type for easy sanding. It effectively resists clogging. Plus, you can rinse and reuse this abrasive sanding pad time and again. 
You will get several applications from Scotch Brite and Sandpaper. Although they are designed to clean and finish, there have some differences in usage and application surfaces.   
Scotch Brite is suitable for use on various surfaces, including wood, plastics, porcelain, metal, ceramics, composites, and rubber. Apart from those, you can use this on all types of metals, carbon steel, coating, paint, etc. 
On the contrary, Sandpaper is used on wood, paint, metal, plastic, and drywall. Most importantly, you can use Sandpaper for general purpose sanding. 
Because of its materials and formation, it offers excellent performance in both wet and dry forms. Besides, you will get excellent dent finishing from this abrasive sanding paper. 
A lot of sizes are available for Scotch Brite and Sandpaper. You can choose any size based on your project. Generally, professionals use assorted Scotch Brite pads and Sandpapers to finish the project effectively and fast. 
Scotch Brite pads are available in 4.5 inches by 6 inches, 6 inches by 9 inches, and various other sizes. 
In contrast to Scotch Brite, Sandpapers are available in significantly more sizes. Some of them are 2.6 in by 3.7 in, 2.6 in by 4.5 in, 2.8 in by 4.8 in, 2.8 in by 8 in, 3.3 in x 9 in, and various others. 
Scotch Brite belongs to the Maroon color family. On the other hand, Sandpaper belongs to the Beige, Black, Purple, and White color family. Besides, you will find Sandpapers in Tan and White color. 
Which Product Is Best For You?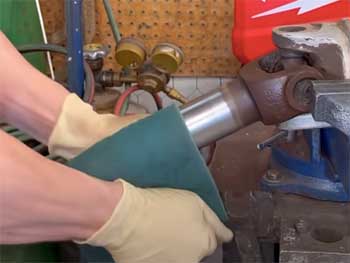 Now that you know the comprehensive differences between these two abrasive cleanings and finishing pads, you can easily pick up the best one.
But if you are still baffled, I'll help you choose the best product. 
Considering all facts, you should use Scotch Brite pads for your cleaning and finishing tasks because they are more stable and flexible than Sandpaper.
So you can easily hold it and use it on any shape of the surface. 
Besides, Scotch Brite offers more abrasion because of its design. Plus, it does not too much smooth out your surfaces and preserves the contour of your surfaces and substrates. 
Frequently Asked Question (FAQ)
What grit sandpaper is Scotch-Brite?
You will find various grit numbers for Scotch Brite. For example, Green Scotch Brite has 600 grits; Blue Scotch Brite has around 1000 grits; Maroon Scotch Brite has 280-320 fine grits. 
Can you wet sand with Scotch-Brite pad?
Yes, you can wet sand with your Scotch Brite pad. You will have to cut your larger pad into smaller pieces. Then you have to wet the whole surface and dip your pad in water. 
What grit is red Scotch-Brite equal to?
A red Scotch Brite is very rough as it is equivalent to 360 grit. You shouldn't use it on glossy and smooth areas. Only use it for jamb areas that are away from our sight. 
Can you sand wood with Scotch-Brite?
Yes, you can sand the wood with Scotch Brite. It is the best option for light sanding and abrading over Sandpaper for surfaces like wood. 
Final Thoughts 
Cleaning and finishing can quickly become messy if you do not use the right tools. You must need the best abrasive pad for such a task with other equipment. 
I'm glad that my Scotch Brite vs. Sandpaper review came in handy. 
Now that you know the best abrasive pad, you can efficiently complete your task. I wish you good luck.